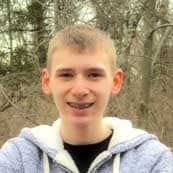 "My favorite teacher is Ms. Haught, because I love her LiveLesson® sessions. She plays music for us all the time at the beginning and end of our lessons too. We also get a weekly newsletter that is fun to read.
I like the field trips. The one to Hocking Hills was the best! It was a lot of fun and very pretty there!

What I like best about Ohio Connections Academy is how my lessons are set up each day for me to do. It makes it easy for me to follow.

— Zachary