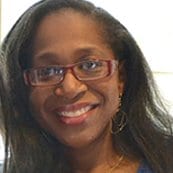 "Both of my children attended a bricks-and-mortar school. Their experiences in the traditional school setting were not great. They were not challenged, and at times, they were ridiculed. Since joining OCA, the change has literally been night and day. They are confident, excited about school, and recognized in ways they were not before.
What interested us in OCA was the flexibility to be able to learn at your own pace. The program works well for my children because the teacher and the curriculum are transparent. We can look ahead to see what will be coming up and start reviewing it early. Also, the Teachlet Tutorials are phenomenal! I like that my children reviewed it as many times as needed to solidify the concepts. The proof that OCA is a great fit for my children is that they thrived; they were both on the Honor Roll and are civic-minded.

Since joining OCA it is literally night and day. They are confident, excited about school, and are recognized in ways which many times were not recognized before.

— Carla
My favorite part of being a Learning Coach was definitely doing the science experiments. My daughter, Kelsey, absolutely loves science. We did the experiments together, and to be truthfully honest, I don't know who enjoyed it more, me or her. I feel that good communication is the key to aiding your child to be a successful student. The teachers at OCA are excellent—they are available to discuss problems, give assistance, or just to call and tell the student how well they are doing. OCA and online learning is quite frankly the future, and my children are more able to compete in the college level and beyond.
Kelsey is interested in digital photography, and will soon be taking up piano through our church. She is also an avid bowler. Caleb is interested in personal health and fitness, and will be taking classes to be a certified trainer. He is also interested in computer programming and making mobile phone apps. Since being with OCA and learning the skill of time-management, they were able to fit their personal interests into their daily schedule.
My daughter has dreams of being a veterinarian, and my son is going into the Air Force after college as a cyber forensics specialist. He chose the Air Force because his great uncle is an Original Documented Tuskegee Airman. OCA has not only provided them the foundation to be successful, but has also given them the confidence and technology skills to be able to make all of their dreams a reality. OCA and online learning is quite frankly the future, and my children are more able to compete at the college-level and beyond because of their experience at OCA."