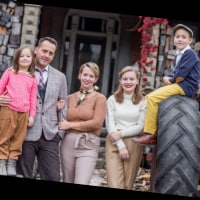 The family is always together and we enjoy spending time touring the Midwest and East Coast performing in our brand of "Midwestern Americana Soul" music. In 2010, we enrolled Nevaeh in Ohio Connections Academy. Shannon and Brittany share more below.

Why We Chose Ohio Connections Academy
We couldn't do what we do without Ohio Connections Academy. We can take school anywhere we go, and the kids really enjoy experiencing the different places. In many ways, it is just as educational for them. They've come to understand there's a lot more to this world. While my family may not be as structured as most other families, the children are very disciplined and self-motivated to get their work done on time.

The Online School Experience
They all know what needs to be done and they know their teachers are very accessible if they ever need help. When the time came for Castle to start kindergarten earlier this year, we had already prepared her for school online. While her sister and brother would be doing their online classes, Castle would be right there next to them pretending to be doing her own schoolwork.
Today Nevaeh is a sophomore and, in addition to her regular schoolwork, she is taking college courses at Edison Community College through the College Credit Plus program. I expect Nevaeh will earn her associate's degree in art by the time she graduates high school. Island is doing very well too. Being one who likes to tinker with things and find out how they work, Island recently participated in the 2020 Invention Convention, a program that challenges students to design creative solutions to problems. Working alongside his grandfather, Island designed and built a portable windmill and received an honorable mention in the statewide competition.