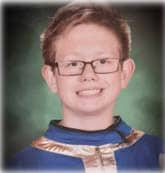 Why I Chose Ohio Connections Academy
One of the best differences with Ohio Connections Academy is the one-on-one personal attention and help he receives from all his teachers and the school staff. Andrew had no interest in participating in classes or activities at the traditional school, but the attention and support he is receiving at Ohio Connections Academy has broken him out of the shell. Ohio Connections Academy has helped build Andrew's confidence and self-esteem, which motivates him to work hard and do his best, something that never happened at his previous school.

My Online School Experience
This is Andy's first year at Ohio Connections Academy. He is always respectful and always participating and engaged in what we are doing, whether it's responding in the chat pod or using his microphone and camera," Mrs. Pauken said. "Not only does the online environment fit him and his learning style, but he can tell the teachers truly care and are sincerely interested in him and his education. As a student who thrives off that sort of affirmation, Andy has been more interested and motivated to do well.

— Andrew