10 Reasons Parents Switched to Virtual School
by Valerie Kirk
7 min to read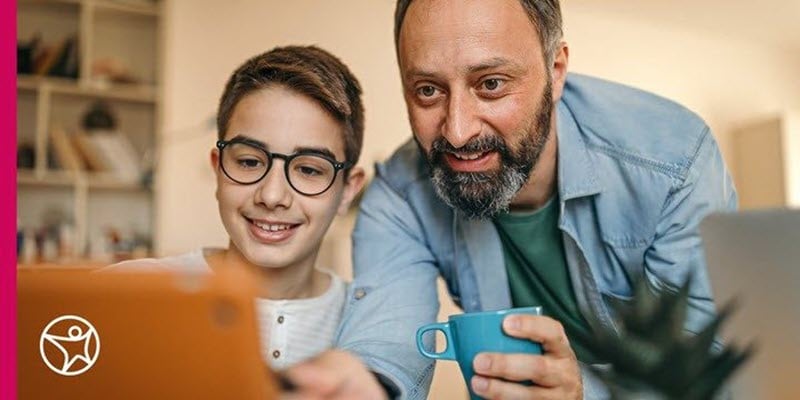 Choosing the right school for your student to grow and learn is one of the most important decisions you will have to make. With all the different school options, making the decision can be challenging. Brick-and-mortar public schools, charter schools, and private schools offer good learning environments for some students, but may not meet the unique needs of others. Homeschooling and learning pods are other good choices, but not all parents have the time or knowledge.  
Out of the home school options, many parents are turning to tuition free virtual public schools. While the number of students enrolled in virtual school was growing before the pandemic, many families discovered the benefits when brick-and-mortar schools were closed, and now embrace virtual learning for their students.  
Virtual public schools like Connections Academy offer high-quality curriculum and the resources and support parents need—  including teachers specially trained to teach online — while students learn from the comfort and safety of their home.  
If you are thinking about virtual school, here are ten reasons these parents made the switch.  
1. Virtual School Offers Flexible Daily School Schedules  
Virtual school offers flexible scheduling to work with your family's lifestyle. Brick-and-mortar school hours may not work for families who travel often or for students who are involved in activities that demand a lot of time, such as the arts or elite athletics. The flexible daily schedule also enables families to do more extracurricular activities.  
"Some kids work better in the morning and others after they relax a little. Some might even be night owls. It's ok to let them work at their best time! When they aren't doing schoolwork, toss in a board game, book time, or start a family garden. Hands-on learning has always been the best teacher." – Traci J., Connections Academy Parent and Learning Coach 
2. Students Learn at their Own Pace
Every student learns differently. With virtual school, students can complete lessons at their own pace. They can take extra time with subjects that are more difficult for them. Kids who excel can move ahead to the next lesson when they are ready – they don't have to complete busy work while they wait for the rest of the class to catch up.  
"We were able to work at the pace my daughter needed to go at and even work ahead. There is less extra busy work for the students to complete which in turn makes the school day take less time along with having no distractions from other students and the normal distractions found in a B&M school (pages, phone calls, fire drills, etc.)." – Tara H., Connections Academy Parent and Learning Coach 
3. Students with Special Needs can Thrive 
Virtual school takes place in the comfort – and familiarity – of your home. With your one-on-one attention and the support from online teachers, your student can enjoy learning in an environment that nurtures their learning abilities and accommodates their special needs. 
"At Connections Academy, my daughter has never been made to feel that her disabilities are what define her. She has come to realize that it is her knowledge and ability to learn that define her." – Mother of Sarah, Connections Academy Student 
4. Virtual School Has an Accredited Curriculum 
High-quality, accredited virtual public schools offer professionally developed curriculum and lessons taught by teachers specially trained to teach online. In many virtual schools, students also attend live, synchronous classes with their peers.  
"We like the advanced curriculum and the fact that our children can work at their own pace. I love that they can take extra time when they come to a lesson that they enjoy." – Amy S., Connections Academy Parent and Learning Coach  
5. Virtual Schools Offers a Variety of Courses
Virtual public schools often have a wider selection of courses. Most offer gifted and talented programs, and honors and Advanced Placement® courses. Students can also take career-readiness and college prep courses, and courses that incorporate specific disciplines like STEAM. Virtual school also offers a variety of electives for all grades that you can't find at a brick-and-mortar school, including coding classes and world languages.  
"The opportunities that Connections Academy has provided for our family has been great. My children both came from a very small district that didn't have lot of opportunities class-wise. My 11th grader was able to take classes like 2D Animation, 3D Computer Modeling, and Driver's Ed. My 7th grade son was able to take a class called CS Discoveries where he learned to do coding. My son also loves all of the STEM related clubs and extra activities/events that are offered."  – Brandi C.  Connections Academy Parent and Learning Coach  
6. Certified Teachers Who Effectively Teach Virtually
Teaching online is different than teaching in a brick-and-mortar classroom. Virtual public school teachers are certified and are specially trained to teach online. Students have regularly scheduled online instruction – including live classes – from teachers who are grade-level or subject matter experts, plus one-on-one support when needed.  
"This is our first year with Connections Academy. We weren't sure what to expect, but this year has been so wonderful that we will be staying at Connections from here forward! All of the teachers tailor the lessons to keep my son challenged, while always staying available to him for any questions and concerns. The live lessons are fun and engaging, and the portfolios allow for a hands on approach to learning instead of constantly being on screen." – Amie C., Connections Academy Parent and Learning Coach  
7. Reinforce Your Values 
Virtual school offers the opportunity to talk with your student about how the curriculum fits with your family's cultural and religious values. 
"Connections Academy allows us to continue doing what we love most--helping others--without sacrificing school." – Susana H., Connections Academy Parent and Learning Coach  
8. Virtual School Offers a Safe, Consistent Learning Environment 
Negative experiences such as bullying and peer pressure make it hard to learn. Also, as we saw during the pandemic, brick-and-mortar schools have to address health and safety concerns within a physical classroom. Students in online school don't have to deal with these unwelcome distractions. They learn from the comfort and safety of their own home and only take a snow day when your family decides one is needed! 
"I never imagined being able to communicate so freely with my teachers. The students seem to be more caring and friendly than they were in my brick-and-mortar school, and I still feel a part of a classroom when I attend LiveLesson sessions." – Luis A., Connections Academy Student  
9. Virtual School Provides Socialization Opportunities 
Most virtual schools offer socialization opportunities including live, synchronous classes, field trips, and clubs to help student explore their interests and meet like-minded friends.  
"I love Connections Academy because my teacher is nice. I love to go on the field trips, like to the candy factory." – Ian, Connections Academy Student 
10. Parents can be Involved
With virtual school, parent involvement is essential! Parents or other trusted adults play an important role in the student's education by being a Learning Coach. As a Learning Coach, you are a champion for your student. You can access the curriculum and gradebook to help keep your student on track. You can also set meetings with your student's teachers – and can witness your student learning, growing, and thriving. 
"I was impressed with the curriculum and the ability for me to be more involved in my kids' education." – Nellie L., Connections Academy Parent and Learning Coach  
Enrollment Requirements for Virtual School 
Now that you are armed with these schooling options, now is the time to look into your student's school choice and determine what is best for them for this school year and beyond. 
Interested in school from home through Connections Academy? You can still apply! Depending on your state, learn why it's never too late transfer to virtual school.  
You can also join one of Connections Academy's information sessions to learn more about our virtual public schools to see if they are a good fit for your student's learning journey.
Related Posts