How Do Virtual School Clubs and Extracurricular Activities Help Students Socialize?
by Beth Werrell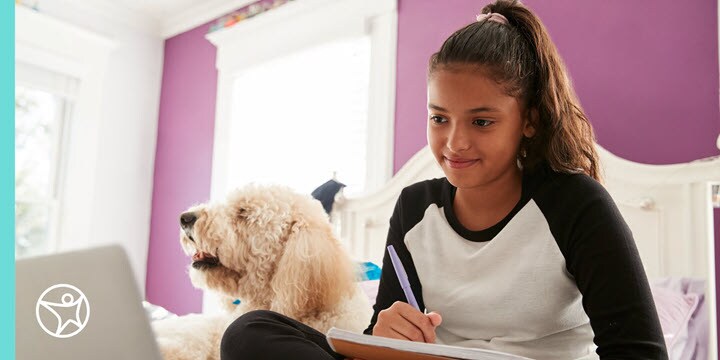 This article was originally published in March 2013. It has been updated for relevancy in August 2021. 
Parents who are new to online school or school from home often worry that their student will miss out on the social experiences of in-person clubs and extracurricular activities found in brick-and-mortar schools.  
Here are some answers to common questions you may have about the benefits of participating in online clubs and extracurricular activities. 
How does socialization in online learning work?
A: Online schools know that while attending class is a fundamental part of a student's education, socialization in the online classroom is vital to a student's growth and emotional development. Because of this, online schools like Connections Academy offer many different opportunities for students from kindergarten to high school to socialize and build personal relationships.  
Virtual live classes offer real-time interactions between teachers and students in online classrooms. Teachers, students, and families can also meet and get to know each other on field trips and other special in-person events. 
Many online schools also offer virtual clubs and extracurricular activities such as Art Club, Chess Club, Gaming &Technology Club, and other specialized middle school clubs and high school clubs that help students explore their interests while connecting with others and making lifelong school friends.  
Online K – 12 activities and clubs offer students the opportunity to have fun while learning valuable skills including leadership, collaboration, and communication skills that will help them find success after school. Plus, they just might discover a new activity or hobby they love! 
Q: Why should my online student get involved in a club or activity?  
A: Besides being a lot of fun, virtual clubs for students offer the needed socialization opportunities that concerns many parents. These activities benefit students by providing an avenue for pursuing their passions and exploring new things. Online school students collaborate, compete, exchange ideas, and learn teamwork and leadership skills—all while they enjoy friendly social interaction with others that share their common interests. 
Clubs and activities can also have a positive effect on student achievement. A study by The National Federation of State High School Associations showed that students who are involved in extracurricular activities perform better academically and develop skills and work habits that will pay off later in life. They are also more likely to continue their education.  
For online elementary school students, extracurricular activities contribute to a well-rounded learning experience and help nurture initiative, integrity, imagination, self-knowledge, and interpersonal skills. 
Q: What kind of clubs can be offered virtually? 
A: Many online schools offer the same clubs and activities that would be found in a brick-and-mortar school, including academic clubs, Chess Club, Robotics Club, Literary and Art Clubs, a student newspaper, and much more. If hobbies that interest your student aren't available at your online school, your student can talk to their teacher about possibly starting new online school club ideas—just like they would at a traditional brick-and-mortar school.  
There are also specialized middle school clubs and high school clubs to help students at that level make new connections and prepare for their journey after high school.  
Q: What's an online school club like? 
A: An online school club is just like an in-person club with one key difference – club meetings are held in a real-time virtual environment through video conferencing. In online school clubs, students interact with peers who share similar interests in live, online discussions, just as they would in-person. The bonus in the virtual world is that students can be from a variety of places, bringing diverse backgrounds and new perspectives. There is an expectation from both the club leader and other members that all students will actively participate in the club meetings and discussions.  
Q: Will joining a club help my child do better in school? 
A: Online school clubs aren't tied to grades and aren't designed to boost performance in a particular academic area, but they do help students stay engaged in school outside of their academic work and strengthen creative-thinking and problem-solving skills.  
A teacher typically facilitates an online school club, often offering additional learning activities tied to the club, such as writing an article for the student newspaper, playing in a chess tournament, completing a scientific experiment, or writing code. If the student is interested and enthusiastic, the online school club activities are a good supplement to their coursework. 
Q: How do parents choose the right online school club or extracurricular activity? 
 A: The answer to this depends on what their student is interested in doing. Parents should think about the things their student enjoys and the subjects that interest them. While the Debate Club is a great way to develop reasoning, logic, and research skills—if the student isn't interested in debate, it's just going to be another obligation and the student may feel resentful if forced to do it. Parents should discuss the various options with their online school student, then mutually agree on which online clubs and extracurricular activities to join. It's okay to try something new! Online clubs and activities offer students the opportunity to explore things they think they may be interested in, giving them a safe place to try new things.  
Q: Will extracurricular activities take time away from my student's daily schoolwork? 
A: While many parents may worry about the distractions online clubs and activities may cause, if a student is interested in a club, it's probably worth trying because of the many positive benefits. Before committing to an online club, take a look at your student's current schedule to make sure there is room to fit in a club. This is especially true for online high school students, who may be balancing part-time jobs as well as school. Parents and Learning Coaches should make sure their students understand that schoolwork always comes first. 
Are you interested in learning more about social activities for homeschoolers? Check out how one Connections Academy family supported their student's social and emotional development in this article and totally nailed homeschooling socialization!  
Related Posts