4 Life Skills Learned from Online College Prep Courses
by Beth Werrell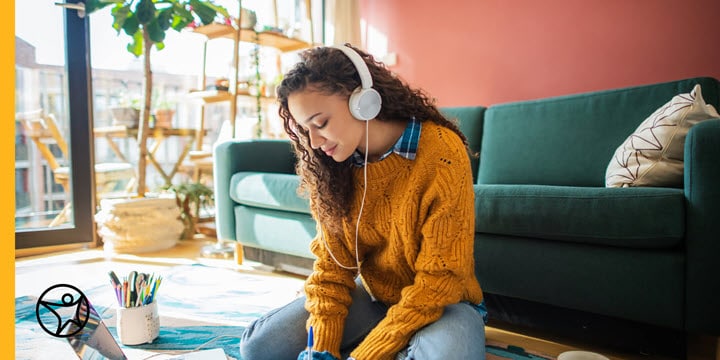 This article was originally published in September 2019. It was updated in August 2021 for relevancy.
At this time of year, many high school seniors are preparing to face their last nine months before they enter the "real world"—college or going to work for a living.  
The advantages of virtual courses, like those offered by Connections Academy®, provide innate college preparation to online high school students. In addition to offering a more personalized learning approach, they encourage students to take responsibility for their own educations. 
By learning to manage their own learning careers, online high school students equip themselves with the essential academics and personal skills that will help them succeed in college and career. This includes learning skills like: 
1. Time Management
Quality online homeschooling programs provide the flexibility to structure the school day according to each student's individual needs. Thanks to this flexibility, students learn to manage their time responsibly and juggle extracurricular activities. This real-world time management skill can enhance productivity for online students on a high school college prep track as well as for those who plan to enter the workforce immediately after high school. 
"One of the most important skills for success in a college setting is being able to appropriately manage your time," says Rebecca Schuster Kyazimzade, a school counseling consultant for Pearson Virtual Schools. "Many students struggle during their first year (and beyond) in college because traditional brick-and-mortar high schools manage time for students by creating their schedules and dictating when they should be in each assigned class, etc. 
"However, in a virtual setting, while students are still responsible for taking required courses to meet graduation requirements, they are often faced with the challenge of figuring out when and how much time to allot to each course—which is the same skill necessary to navigate college." 
2. Independent Study Skills 
Most online high school students learn how to set their own goals, which teaches responsibility. Opportunities for self-paced learning teaches students how to be independent in their studies—an important college prep and life skill to have for the more self-directed life ahead of them. 
Because online teachers aren't physically present with their students, online courses offer another level of college prep for high school students. Many college professors are lecturers who make classroom presentations but leave it up to the students to ask for help if they don't understand the content.  
Like college students, virtual learners must be able to work independently and develop the critical thinking skills necessary to determine whether they are learning the course material adequately or need to reach out for support, Kyazimzade says. 
3. Planning and Preparation
With access to online college planning resources and licensed school counselors, online school students plan and prepare a custom, four-year college preparation program, just like they would later in life.  
Students at a Connections Academy (CA) school have a wide variety of elective courses to choose from outside of the core subjects, Kyazimzade says. It is typically mandatory for students to take a certain number of elective courses to graduate (exact requirements differ by state). CA students learn to choose from:  
Arts 
Humanities 
Foreign language 
Career 
Technical education 
Health and P.E. 
Social sciences  
Proper guidance by counselors helps ensure students complete graduation requirements and assemble a college portfolio with their accomplishments and other information they'll need when preparing for college admissions and completing financial aid applications. 
'Virtual' & Online Skill
College prep courses online foster learning, communication, and technology skills that are must-haves for the 21st century. When online school students enter their virtual classrooms, they find that using online and virtual technology is an essential part of completing schoolwork, researching, and organizing information for essays, and communicating with teachers and fellow classmates.  
After the COVID-19 pandemic forced many traditional secondary and post-secondary schools online, a 2021 survey found(opens in a new tab) that 33% of post-secondary school administrators indicated they will continue to offer both remote and online course options even after their campuses have reopened and normal operations resumed. 
Online School College Preparation
Some Connections Academy online schools offer Freshman and Senior Success courses. These are courses uniquely set up to prepare students at the beginning of their time in high school for success all the way until they reach their senior year, Kyazimzade says.  
Senior Success focuses on the opportunities students have beyond high school, but Freshman Success focuses on important topics relevant to the high school years, such as: 
Four-year course plans 
Graduation requirements 
Grade point averages 
State testing requirements. 
By providing access to online, collaborative, and self-paced learning environments that teach students to manage their own learning careers, online schools' college prep for high school students lays the foundation for a life full of learning. When our online high school students graduate, they have much of the experience, skills, and academic knowledge needed to map out their own roads to success. 
To learn how you can be more involved in your student's education, visit the website for Connections Academy tuition-free online public school.  
Related Posts