3 Ways to Support Socialization When Your Student Learns Online
by Beth Werrell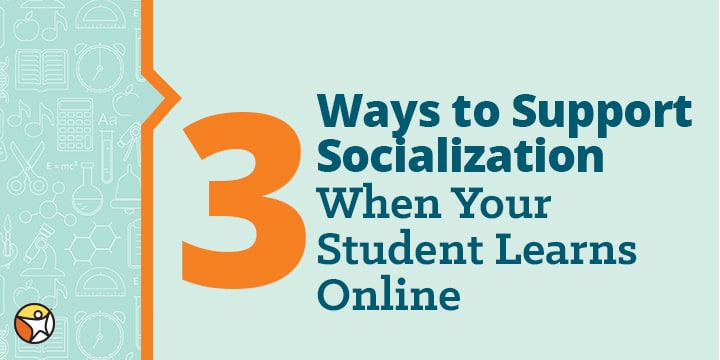 The global pandemic and the transition of millions of brick-and-mortar students to virtual learning has shined a light on something homeschool and online school parents have been working through for years: How much socialization do K–12 learners need, and how can we offer our students socialization opportunities with their peers?
While parents who grew up before social media, smartphones, and online chat tools might equate too much screen time to a lack of socialization, in today's world, these tools do provide a way for students to connect with each other. A group of elementary or middle school students can play an online game in a safe, private chat room, just as though they were sitting in the same physical room. High school students can have online study groups or book clubs, just as though they were sitting in a library or café. These activities all support student socialization even though they're done through a screen.
Why Socialization Is Important
Student success in school depends on the entire learning experience, beyond pure academics. For example, the more positive connections they have to their teachers and peers, the more motivated and likely they are to stay engaged and excel in their studies.
Students need more than just making connections though. While it's true that the positive experience of interacting with friends and peers improves mood and overall well-being, students also need to feel like they belong and have friends, viewing their school as their safe learning community where they can express their emotions. This feeling of belonging leads to long-term success in both academics and life.
Here are three ways to help create social connections and collaborative learning opportunities for your virtual learning student:
1. Join a Club or Activity
Extracurricular clubs and activities are a great way for students to explore their passions—and socialize with like-minded peers. Joining a club helps students build a sense of belonging in their extended community. Students can take part either online or in person, depending on the club.
Check out the opportunities in your area. If your student is athletic, explore local youth recreational leagues or the parks and rec programs offered by your city, county, or state. If your student enjoys art, several online art clubs have been formed in the wake of the pandemic, giving your student the opportunity to not only pursue their passion but meet and interact with students across the country. You can find online and in-person coding clubs, chess clubs, and cooking clubs. Whatever their interest, you can probably find a club full of like-minded students for them to join.
If you can't find a club, make one! If your student likes to travel and learn about new cultures, start a monthly travel club with classmates, friends, and neighbors. Students choose a travel destination each month, such as Thailand, then everyone picks something to research and share about that destination, such as culture, language, local food, geography, government, etc. If meeting in person, students can even cook food from their destination to share.
You can also organize a monthly hiking club, exploring different local trails. Another idea is to have a movie screening (either online or in person) to get students together in a more social environment. Think about what interests your student and build a club around that.
Don't forget to check out your local museums, zoos, nature centers, and parks. These venues are all open during COVID-19 with limited entrance capacity, so take advantage of those opportunities. They often host both online and in-person events at little or no charge to give your student a chance to interact with other people while experiencing something new and fun. If they do meet new friends, be sure to get their contact information so they can continue to connect after the event is over.
2. Create a Learning Pod
A learning pod is where a small group of students generally in the same grade or class gather in one physical location and learn under the supervision of a parent, tutor, hired teacher, Learning Coach, or other trusted adult. During the height of the pandemic, it was estimated that 15 percent of families with students doing virtual learning formed Learning Pods to support student socialization (among other reasons).
Learning pods can be created and run with what works for both the parents and students. You could choose to have a Learning pod that only meets a few times a week on a certain subject. Examples include having a learning pod devoted to gym class and run by a trained youth sports coach or active parent. You could also have a learning pod that serves as a book club to extend online school curriculum, meeting once a week to discuss assigned chapters and even creating writing assignments based on the book.
Learning pods can also meet daily and provide a more traditional classroom feel, giving students the opportunity to work collaboratively on school projects or assignments.
For learning pods to be successful, it's important to have clear communication with the other parents about what will happen in the pod. Setting expectations helps make sure everyone has a shared vision for how the pod will function. This includes when, where, and how often the pod will meet, who will supervise the pod and what their role will be, and what the pod will do when they're together. Consistency is also crucial for helping students in the pod stay and track and understand their expectations when the pod is together.
3. Find Peer-to-Peer Interactive Opportunities
Having students connect with each other can take many different forms, ranging from highly structured activities, informal study groups, or simply finding a few minutes in the day to check in with each other through chat or a video call. It's important to have these connections to support their social and emotional development. Research shows that students learn verbal and nonverbal communication strategies through video calls, similar to in-person interactions. Many online schools build collaborative projects into their curriculum, giving students the opportunity to work together in a small-group setting, which teaches them valuable life skills.
If your student is strong in a subject, have them tutor peers who may be having issues. This creates a social and learning opportunity for both students. Many online schools, including Connections Academy®, organize peer tutoring sessions to facilitate these kinds of interactions. You can also connect with a study buddy either online or in person to work through schoolwork (or to just chat about school!).
Remember, if you're at an event, taking part in a club, or meeting your neighbors at the playground, get their contact information. This will help you set up opportunities for your student to interact with their peers.
Interested in learning more about socialization and online school? Read how this Connections Academy family creates socialization opportunities for their online school students.
Related Posts