5 Steps Toward Independence in High School
by Beth Werrell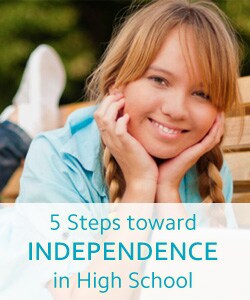 If you're ready to start the next phase of your education—and life—in high school, then you have plenty to anticipate. High school is a time when you can have fun, expand your interests, and gain new responsibilities. In other words, high school is when you start transitioning into adulthood.
Parents and Learning Coaches, it's time to step back and offer your support while your student navigates through his or her high school years.
Here are five steps that students can take to become more independent.
Take control of your education.
By now, you're pretty good at handling your schoolwork each week. You can follow your schedule and get your work done on time. Now that you're in high school, it's time for you to evaluate just how independent you are.
Look at the list below and see how many statements are true about you:
You can follow routines and establish your own schedule.
You can recognize procrastination and stop it before you fall behind.
You remove distractions from the home classroom and maintain your focus throughout the day.
You don't need a lot of help from your Learning Coach.
You don't hesitate to contact your teacher when you have questions.
Do you have all of these independent study skills? If not, you know which ones to work on so you can prove yourself as an independent student.
Find your first job.
After you gain more independence in the classroom, you can start gaining more responsibility outside of school. Consider asking your parents to help you find a part-time job.
Having a job means having your own income, but there's more to having a job than developing your sense of financial responsibility. The process of searching for job opportunities and then working both allow you to experience the realities of the professional world and put your skills into practice. By seeking and finding a part-time job, you can:
Learn how to prepare for interviews
Develop your professional communication skills
Create your first resume
Design a schedule that balances work and school
Establish and reach goals, such as building your savings account
Keep in mind that your flexible schedule could open up more job opportunities. If you don't pursue a job, you could also dedicate your extra time to a volunteer organization or an internship and still gain valuable experience.
Get your driver's license.
Learning how to drive is a rite of initiation during your high school years. But keep in mind that it's a privilege as well as a responsibility. Instead of waiting for your parents or Learning Coach to hand over the keys, take charge and show that you're ready to start driving.
Here are some things you can do to get started:
Learn how to apply for a temporary permit in your state.
Find out when and where you can take your driver's education course.
Study driving rules and start asking your parent or Learning Coach questions.
See what you need to do to prepare to take the driving test.
Ask a parent or Learning Coach to help you practice driving.
Decide how to fit driving practice into your schedule.
In some states, Connections Academy offers a driver's education course, which helps to prepare you for local course requirements and driving exams. The course covers road rules and signs, accident avoidance, the Highway Transportation System, and more. Make sure you have a talk with your parents or Learning Coach about driving to see if they think you're ready to get started.
Plan for the future.
As a responsible high school student, your next step in gaining more independence is to start preparing for your future beyond high school. What are you interested in doing? Which careers interest you? Do you plan to continue your education in college or vocational school, or will you pursue a different path?
To explore your interests and start developing a plan, do the following:
Choose new elective courses, such as Sports Management, Journalism, Marine Science, Psychology, Digital Arts, Web Design, Digital Photography, and Chinese.
Seek new academic challenges and prepare for higher education by enrolling in Honors and Advanced Placement (AP) courses
Explore different career paths, prepare for college, and develop work skills by taking career technical education (CTE) courses.
Talk to your parents, Learning Coach, and school counselor about different career options. If you're interested in going to college, discuss how to prepare for college during high school.
Remember to work with your Learning Coach and teachers each year to create a personalized learning program that reflects what you want to achieve in high school and beyond.
Graduate.
Although you've had plenty of help over the years from teachers, Learning Coaches, parents, and school counselors, graduation is ultimately your responsibility. If you've successfully grown throughout high school, then you're ready for the future ahead. Your experience in virtual school has also allowed you to develop skills for lifelong success. And you also know how to be a leader and take charge—so take this opportunity to embrace your day.
Talk to your family about attending your commencement ceremony, and make sure to notify your school—they'll ask for RSVPs. Decide how you want to celebrate. Go out to dinner, have a party, or simply find your own way to have fun.
Just remember to look back on everything you've accomplished and consider all of the things you want to do next.
With the right combination of attitude and effort, you can show everyone that you're ready for the choices, challenges, and changes you'll face in high school.
Related Posts