Helping High School Students Explore Nontraditional Career Options
by Beth Werrell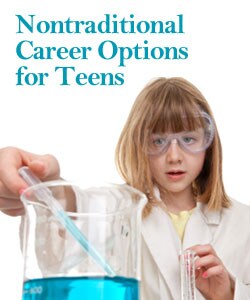 With high school graduation season upon us and a long break from school ahead, summer is a natural time to encourage graduates and teens to continue their research of careers that interest them. As proud parents, most of us want those choices to be unlimited! And yet, while the calendar says we've entered the 21st century, there are still occupations in the workforce that are viewed as traditionally "male" or "female." Why not challenge your high school student—and yourself—to look beyond these artificial barriers?
In today's challenging job market, it can be beneficial for both males and females to take a look at some of the great nontraditional job options available. The information and resources provided here can assist you in clearing the way for children of either gender to consider a world of great (and equal) opportunities.
Dispel Gender Myths
Do you limit your child's career options because of his or her gender? While you may try to keep an open mind, it's possible that your exposure to what's traditional in our society has caused you to steer your daughter away from the construction industry, for example. Likewise, your personal experiences may have you nudging your son away from career paths in service fields.
Whether you're counseling a girl or a boy, try to make your child aware of the exciting career opportunities that exist in fields that are traditionally dominated by the opposite sex. Here are a few ideas to get you started:
Encourage your daughter to explore careers in these traditionally male fields: engineering, science, technology, construction, management, law enforcement, auto repair.
Expose your son to the possibilities of these traditionally female fields: education, nursing, library science, occupational or physical therapy, court reporting.
Explore more nontraditional career options for both genders, and learn about the skill sets and education required for success.
Research the labor market for nontraditional careers, and use goal-setting and planning tools.
Learn all about college and career planning, including financial aid, the college application process, and more!
Consider Skills and Interests
Workforce research has proven that people enjoy the highest levels of job satisfaction when they choose careers that closely match their skills and interests. A person's gender is not a factor.
The best career guidance you can provide for identifying appropriate paths is to help your child develop an understanding of who he or she is. Ideally, this self-knowledge should include things like personal values, interests, abilities, traits, and desired lifestyle. To help your high school teens get a handle on these aspects of themselves, connect them with the resources below:
Encourage your child to take an interest and motivation survey, then explore occupations that align with his or her results.
Taking a personality type quiz, such as the Myers-Briggs Type Indicator,® can provide your child with valuable insights and enable him or her to review jobs commonly held by people with similar personality profiles.
Visit the career resources at Monster.com, where your student can investigate career "snapshots" and read about the required skill sets and educational backgrounds for various fields.
Download Top 10 Reasons to Choose a Nontraditional Career for free.
Don't forget to consult your student's school counselor for assistance.
Career-Specific Resources
Many industries dominated by one gender actively mentor and recruit the opposite sex. To diversify their workforce, these employers sponsor websites, membership organizations, and mentoring opportunities. The following resources provide a wealth of information on specific career paths.
Wherever your high schoolers' interests may lie, your support can help establish a firm foundation on which he or she may build a fantastic career. So keep an open mind and give your child the tools and the encouragement he or she needs to succeed!
What tips and resources have you used to help your children research their career options?
Related Posts