How to Help Your Teenager Find a Part-Time Job
by Beth Werrell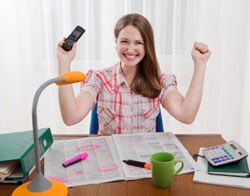 If you and your teenager have decided it's time for that all-important first job, you may wonder how you, as a parent, can support the process. Chances are, it's been a while since you looked for your first job—and the employment market has changed quite a bit since then. The following tips should provide a good refresher course for you, while serving as a guide to help your child launch a successful job search.
Get to know the laws of employment.
If your child is younger than 18, you'll want to learn what the labor laws for minors are in your area through your state's labor department. Employers must meet applicable federal minimum wage, work hour, and safety requirements for minors. Be aware that you may need work permit documents, which can be obtained at the local high school's guidance or career office or your local One Stop office.
Provide a "reality check."
Before your teen applies anywhere, you need to prepare him or her for rejection. Nobody, and I mean nobody, gets hired at every single place they apply for a job, but as a first-time job seeker, your child may not know this. Coach your child on making a polite response, such as "Well, if you do need someone in the future, please give me a call. I'll leave you a copy of my resume. Thanks for your time."
Help with advance preparation.
Have your child pick up a job application at a local retail store (or find one online) to get familiar with what's typically required. Encourage him or her to gather the information needed for completing applications, such as:
Proof of age, such as a birth certificate or driver's license
Social Security number
Address and contact information of school
Address and contact information for previous jobs, internships, and volunteer service
Names, addresses, and contact information of one to three references
Make sure your child contacts his or her personal references to be sure they're willing to participate. It's also important to keep references informed, so they know when to expect a call from a potential employer.
Guide your teen in creating a resume.
While the typical fast food or mall job may not require a resume, teenagers approaching other types of businesses will want to have this document available to send with a cover letter in email and "snail mail" applications for jobs or internships. A resume can also be used as a leave-behind reminder of his or her qualifications after an interview.
Have your teen start by making a list of his or her work, school, internship, extracurricular, and volunteer activities. Next, coach your teen to make brief descriptions of each. (Be sure to remind your teen to use standard, formal English in this and all communications with potential employers—even in an email.) If you need inspiration, a variety of resources and guides are available online, including sample resume and cover letter templates.
Cast a wide net.
Encourage your child to search for job leads in as many places as possible. In addition to old-school methods like looking in the newspaper, teens should search online for their part-time jobs on local websites, as well as employment sites like Monster.com. In addition, both you and your teen should put the power of networking to use by letting your social contacts know he or she is seeking employment.
Help your teen prepare for interviews.
Interviews can rattle even the most experienced job seekers! Role-playing with your teen can be a great way to help your child rehearse before a real interview. Help your son or daughter plan how to answer some of the most typical job interview questions, then conduct a mock interview. If you have any constructive criticism or feedback, provide it afterward. This practice session should help calm nerves and boost confidence.
Offer interview "fashion pointers."
Remind your teenager to dress for success! While adults may not expect a teen to job hunt wearing a gray pinstriped suit, they will have expectations that a job applicant be neat and well-groomed. Coach your child to wear clothing appropriate to a workplace, avoiding off-color T-shirt slogans, ripped jeans, and low-cut tops.
Provide an interview checklist.
Print out this handy list for your teen to reference before the big day.
Dress nicely and pay attention to grooming.
Arrive early.
Turn cell phone OFF.
Stand up straight.
Greet people with a smile and a firm handshake.
Maintain good eye contact.
Speak clearly and address the topic you're asked about.
Use formal language and avoid filler words such as "um," "like," and "yeah."
NEVER discuss salary until offered the job.
At the end of the interview, thank the interviewer, shake hands, and confirm interest in the position.
Prompt your teen to follow up.
Encourage your teen to send a thank-you note after an interview. If your son or daughter hasn't heard anything after a week, suggest that he or she make a follow-up call to the business and speak with the person who will be hiring. Demonstrating effective follow-up skills can often help reinforce the good impression made during the interview.
Provide continuing encouragement.
In today's economy, finding a job can be difficult for anyone. Remind your teen that he or she needn't be discouraged by a few rejections, and help brainstorm for additional businesses to approach and methods to try.
Whether the goal is to save for college or a car, or simply to have some money of his or her own, a part-time job will teach your teenager important lessons in responsibility, time management, and interpersonal relationships. With these tips, practice, persistence, and a positive attitude, your teen should be on the path to gainful employment.
Related Posts