Starting Strong: Organization Tips for New Online Learning Coaches
by Dan Reiner
3 min to read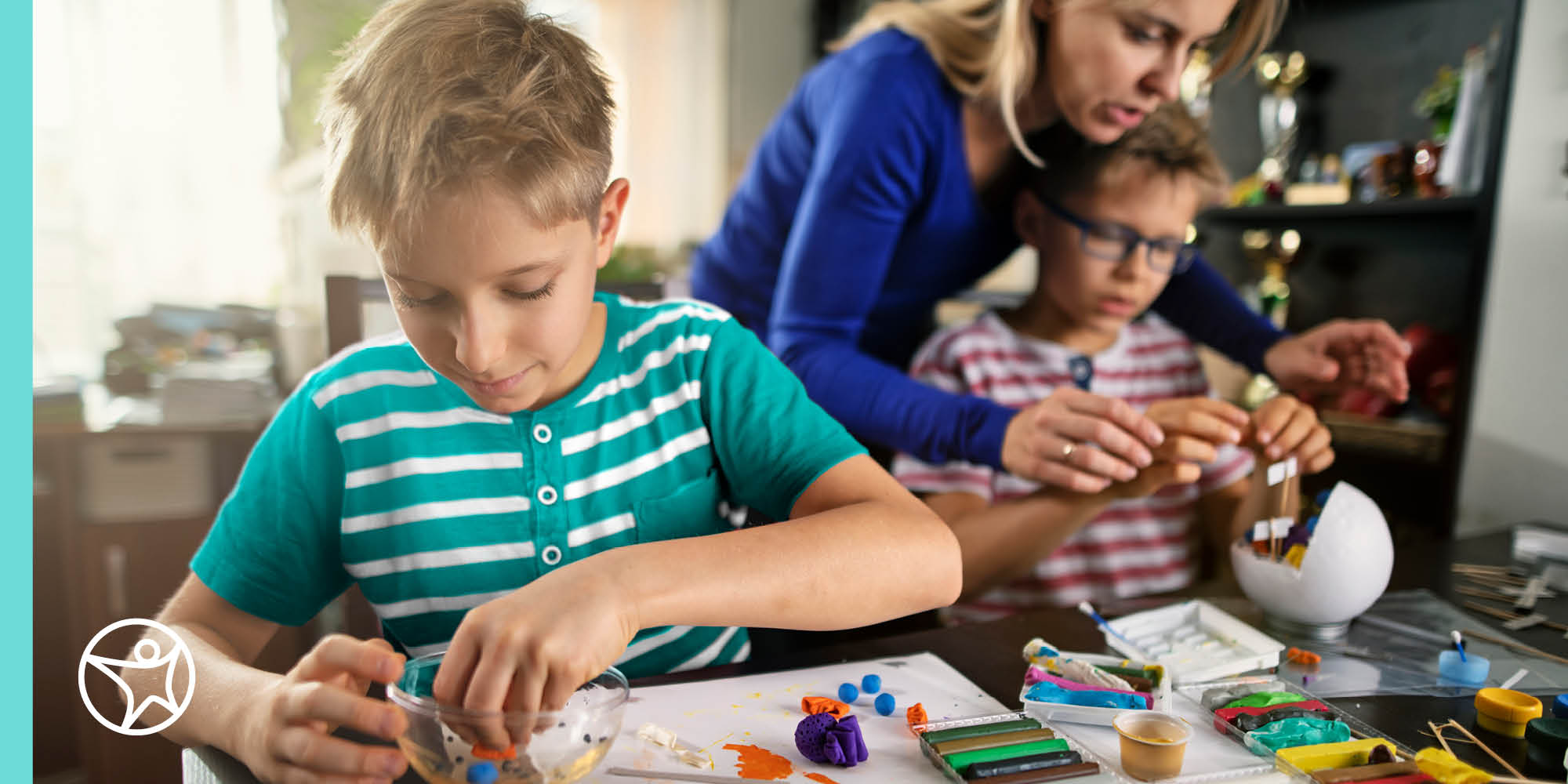 If your student is starting K–12 online school full time and you're becoming a Learning Coach for the first time, you may take a look at your child's curriculum, texts, school supplies, and other learning materials and wonder how you'll manage it all. While the first few months of online school can be challenging, particularly with multiple children, learning a few tried-and-true organization strategies used by other families can help you have a successful start. Here are some pointers to help you keep children's education on track—and their clutter under control—as you embark on this rewarding new learning path:
Sort by subject.
Many families find it helpful to separate online school learning materials by student, and then sort each student's materials by subject. To keep it all organized, each child will need a labeled container for each school subject. Depending on the size of your home classroom(opens in a new tab) or storage area, you could use "dollar store" bins, milk crates, tote bags, or magazine filing boxes to separate the subjects.
Plan ahead.
Many Learning Coaches advise taking an hour or two each weekend to get prepared for virtual school lessons scheduled for the coming week. This sneak peek gives you the opportunity to print out assignments, make note of deadlines and assessments (such as tests and quizzes), purchase any needed supplies, and adjust your children's schedule for more time-consuming projects.
Divide and conquer—by day!
To keep everyone moving in the right direction, many experienced Learning Coaches give each child a daily list of his or her online school assignments, plus any appointments and responsibilities. Some create a form to fill out; others use a special notebook or binder for each student's assignments. Some Learning Coaches take an additional step by placing the assignment sheet in a folder along with the printed worksheets and study questions.
Set a flexible schedule.
Most families do recommend establishing a schedule for online schooling—but your daily planner may not look anything like a traditional school schedule! While you might start with a conventional plan—perhaps scheduling an hour for each course each day—that may not be your ideal solution, so feel free to make changes that fit your student's and family's style.
If your student works better with less frequent interruptions, try planning in larger blocks of time. For example, you might want to pencil in science only twice a week—two longer sessions in which your child works through several lessons.
You may also want to schedule schoolwork around your children's energy levels. For the early bird, schedule challenging subjects in the morning; for your night owl, delay the challenges until later in the day.
Having a schedule will also help you remember that children—and Learning Coaches—need breaks for physical activity, lunch, and play!
End the day on a positive note.
Even on days when you are struggling, remind yourself to end each school day by giving your child a bit of praise, encouragement, or affection. You've both worked hard to adjust to a new way of learning, so you've earned it!
If you need help adjusting to online school, be sure to talk to your student's online school teachers; they're there to help your child succeed. And if you're a Connections Academy family, you can find lots of helpful information and friendly advice on the Connexus® message boards. Above all, be patient with yourself; it may take you and your children a while to find a system and schedule that works for you, but the rewards of being involved in your child's learning each day will be worth the effort!
To learn how you can participate in shaping your children's education with more opportunities to provide meaningful input, visit the website for Connections AcademyⓇ online public school. Or to learn about online private school, visit Pearson Online Academy 's website.
Related Posts