Find In-Person and Online Volunteer Opportunities for Teens
by Valerie Kirk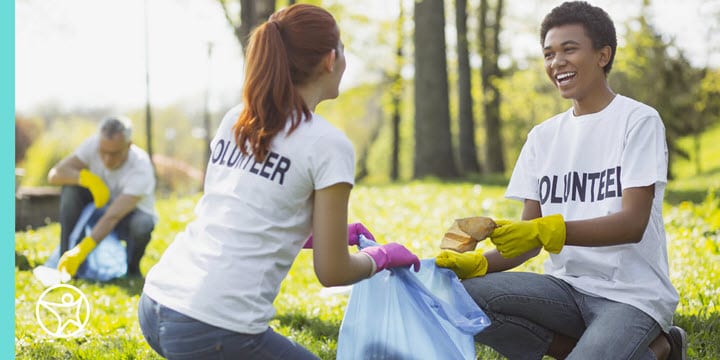 High schoolers have a lot on their plates already—from college preparation and sports to extracurricular activities. But what if their passions don't line up with what their school offers? Consider finding volunteer ideas for teens near you or online.
Volunteering for teens is a great line item to add while building their college portfolio—especially for virtual school students like the ones at Connections Academy. Fulfilling community service hours can even help them shadow professionals and try out potential jobs as they decide on college majors or other post-high school options.
We've compiled a list of five resources to help you and your teen find both in-person and virtual community service ideas today.
Finding Virtual Volunteer Ideas for High School Students
1. Smithsonian Digital Volunteers
Great for: Students with an interest in museums, zoos, history, sciences, math, literature, arts, and more
Community Service Type: In-person and virtual
Let's make an impact while learning something new! The Smithsonian Institution is the world's largest museum, education, and research complex. From transcribing historical documents (and making them more accessible), to identifying and labeling plants, there is an array of virtual volunteer opportunities that can be done in support of the Smithsonian's mission. And if you prefer a mix of hands-on experience, there is still plenty of in-person community service opportunities available as well.
2. Best Buddies
Great for: Students with an interest in museums, zoos, history, sciences, math, literature, arts, and more
Community Service Type: In-person and virtual
Being kind isn't just a saying, it's something we do, and it's as easy as making a new friend. Best Buddies is the world's largest organization dedicated to ending the social, physical, and economic isolation of 200 million people with intellectual and developmental disabilities (IDD). Their virtual volunteer opportunities include joining (or starting) a virtual school chapter, being a virtual speech coach, and more. And if you would like to take action in person, they have fundraisers, friendship walks, and more.
Pro tip: Working with people with IDD can create empathy in your students. Let them practice this newfound self-awareness of special needs students in an online school setting or brick-and-mortar school setting daily.
3. Zooniverse
Great for: Students with an interest in biology, history, language, literature, arts, nature and climate, medicine, physics, space, and the social sciences
Community Service Type: Virtual
Zooniverse is an exciting platform for people-powered research(opens in a new tab) that allows for everything from discovering new exoplanets and studying placenta profiles, to classifying animals and translating ancient Hebrew texts. Just download the app(opens in a new tab) to conduct research anywhere, and spend as much or as little time as you'd like learning something new—while fulfilling your community service requirements!
4. Catchafire
Great for: Students with an interest in developing professional business skills within fields such as marketing, IT, social media, development, HR, graphic design, website development, coding, and more
Community Service Type: Virtual
Catchafire is a volunteer search tool(opens in a new tab) on a mission to mobilize the world's talent for good and is exclusively for online volunteer projects. Each one has a timeline that can range anywhere from an hour to a few weeks. So, whether you have an afternoon or several, you can help various organizations with tasks like running their social media accounts, editing photos, writing thank-you letters, and more.
Pro tip: this a great platform to find opportunities that also help build your college portfolio and future professional resume!
5. Teen Life
Great for: Students with a passion for helping animals, those with special needs, the homeless, providing international relief, preserving the environment, teaching literacy and education, and more
Community Service Type: Virtual and In-Person
A gateway to over 10,000 academic and experiential learning opportunities for teens, the Teenlife platform(opens in a new tab) is a robust search tool that connects parents, teens, and counselors across the U.S. Targeted for grades 7-12, their community service projects are offered both in-person and in virtual opportunities.
If your high school student is looking for more volunteer opportunities that they can do in person, they can check out other programs like those offered by the Humane Society (for animal lovers) or their local library (for book lovers).
Why Community Service Is Important
While many high school students volunteer to fulfill required community service hours for school or extracurricular clubs, there are many benefits to encouraging community service for teens. Here are six reasons why you should help your student find an interest in high school volunteering:
Improve their mental health
Expand your teen's social circle
Connect teens to mentors
Explore future career paths
Learn soft skills
Looks good on college applications and resumes
How School Choice Can Help Your Teen
Helping your child become the best version of themselves is no easy task—and school choice plays a big role in that. Sometimes a rigid school schedule could inhibit a budding career interest or a passion to make an impact.
If you'd like to be more involved in your teenager's education and give them the flexibility to invest time in their passions, learn what makes an online school different from a traditional brick-and-mortar school. Whether they're starting businesses, training for the Olympics, or needing additional learning accommodations, our 20+ years of experience in the virtual school space might be a good fit for you and your family.
Related Posts