Essential Ingredients Every College Portfolio Needs
byAlyssa Austin
6 min to read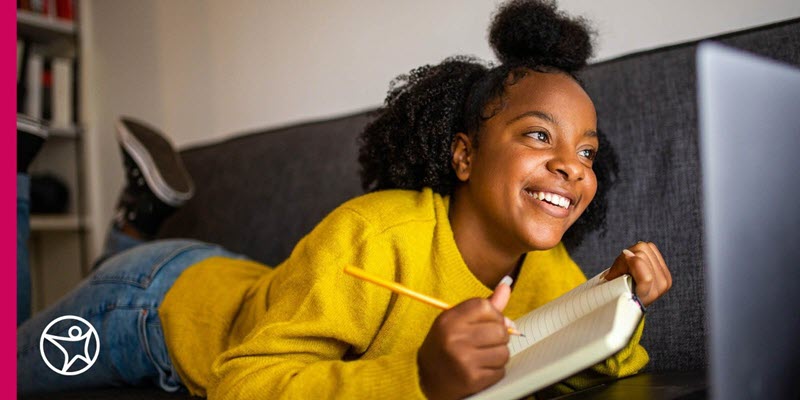 Applying for admission to college can be stressful for high school seniors, particularly if their preferred schools are competitive. How can students make themselves stand out from the crowd? A college admissions portfolio, a well-known requirement for art schools, can be a valuable tool for applicants to other colleges and universities too. And right now, with social distancing precautions affecting SAT testing, campus tours, and admissions interviews, building an online college portfolio may be more important than ever. But what is a college portfolio, and how exactly can students put one together? Read on to learn more.

What is a college portfolio? 
A college admissions portfolio is a collection of documents that proves a high school student's accomplishments, enabling the student to showcase goals, talents, interests, and values. Naturally, a portfolio can include a well-written research paper or other school project, but it can also feature items that showcase many other types of achievement. Here are some examples of what to put in a portfolio for college:
résumé 
statement of goals or purpose 
articles, essays, or opinion pieces written for student publications 
creative works, such as paintings, poetry, or musical performances 
a photo or video essay about personal interests, clubs, or activities 
information about community service or leadership roles 
statistics about athletic accomplishments 
letters of reference or recommendation 
copies of any awards, scholarships, or other honors received 
insights or accomplishments gained through extracurricular activities, jobs, internships, or family life 
Why should you build a college portfolio? 
While good grades and test scores are important, they aren't the only considerations for college admissions committees. Demonstrating that you are a well-rounded person with goals and interests can be helpful in showing the committee that you're a good fit for their school or a particular program.   
For example, online school students at Connections Academy® might showcase involvement in a variety of our online clubs, as well as organizations and extracurricular activities in their neighborhoods. For our students who are already pursuing careers as Olympic athletes, ballet dancers, and in other professions, a carefully curated portfolio can be an excellent way to tell their story.  
A high school student's academic portfolio for school can give the committee a more complete picture of an applicant, rather than just an SAT score or a high school transcript. This is also the case for students who are homeschooled or in non-traditional education situations—a homeschool portfolio for college can help tell a more complete story as to your value as an applicant. A traditional schooling or homeschool high school portfolio provides a window into an applicant's values and character and makes the student memorable. In addition, taking the time to gather and prepare a portfolio in support of a college application demonstrates your ability to work hard. Any of these characteristics can help make a difference! 
When should students start working on a college portfolio? 
Ideally, students should begin planning their involvement in extracurricular activities to enhance their college applications while still in middle school, or at the latest, during their first year of high school.   
Rather than rely on memory, they should document their involvement as they progress by taking notes, photographing events, and saving files and memorabilia. Making a safe place to keep these items together will save time and frustration when it's time to create the portfolio. Curious about what an online student would put in a portfolio? Check out these organizations and extracurricular events that our students take part in.  
To ensure that the college admissions portfolio is as polished and perfect as possible, students should begin organizing and designing it four to six months before college applications are due. This will help prevent a last-minute rush! 
Are there guidelines for building an online college portfolio? 
Schools that require college portfolios as part of an application package will provide guidelines that specify what must be included and how submissions should be prepared. 
For colleges and universities where a portfolio is optional, students can search online for college portfolio examples of people applying in the same or related fields of study. Overall, a student should first aim to demonstrate interest and talent in their chosen field, then supplement that message with additional activities that show their personality, growth, and character.
Download Guide to Building a College Portfolio
How do you organize a college application portfolio? 
There are many ways to organize the elements of a portfolio for school, so students need to carefully consider which way will best highlight their achievements. If you're wondering how to create a portfolio for university, here are some of the most popular methods:
Chronological. Organizing items by date can be a good way to show increasing responsibility or growth in one primary interest.  
Category. Sorting by topic or category works well for students who have several areas of strength to showcase.  
Thematic. For creative works, or for students who wish to emphasize how their various interests mesh together, developing one cohesive theme for the whole portfolio may be the best approach.  
For any of the organization methods, students should develop and embed a caption to identify each item and explain its significance.  
 
What platform is best for creating an online college portfolio? 
There isn't a one-size-fits-all answer to this question, because the needs—and budgets—of every student are different. But there are lots of options, many of them free or inexpensive.   
Some students opt to create a personal website to house their portfolio. A dedicated portfolio website can be an effective way to show off technical, design, and marketing skills. Some handy tools to use to develop a website include Wix, Tailor Brands, and WordPress. Sharing a website portfolio is easy: Just send a link or include it in your college applications.   
Depending on a student's data storage and privacy requirements, some social media sites may also work as high school portfolio platforms. For instance, WordPress, Pinterest, and LinkedIn have been used successfully. For portfolios devoted to photography or video, Flickr and Vimeo are also options. It's important to set up a profile for the online college portfolio that's kept strictly professional, without cute animal memes or silly selfies.  
And of course, there are online spaces developed specifically for creating visual arts portfolios that may also work for other types of content. Many are free or low cost. Some of the most popular online portfolio apps include Behance, Adobe Portfolio, Squarespace, and Weebly.  
How can you make your high school portfolio for college admissions stand out? 
While having a significant volume of activities and items in a portfolio may look impressive, it's likely that other college applicants will have just as many. What can set a student apart—and above—is the quality and depth of those assets. To distinguish themselves, students need to reflect on their projects and experiences:  
What did they learn?  
What problem did they solve?  
How does the insight inspire or influence their future plans?  
Including some of these insights can elevate a portfolio from glorified scrapbook to being a powerful tool that shows a student's personality, character, and values. 
Getting students interested in potential careers early can help motivate them for their futures— and make the college application process a bit easier. Learn more about supporting students' career exploration from home! 
Related Posts