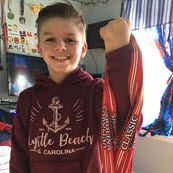 Rutger M. is an elementary student at South Carolina Connections Academy (SCCA). He is also a level 6, divistion 1 gymnast who is the South Carolina state champion for his division. Rutger's family had searched for an alternative to traditional school, and they enrolled him in SCCA for his kindergarten year. Hear more from his mother below about why they chose SCCA:
"We were interested in Connections Academy because of the flexible schedule and being able to travel and do lessons. Rutger has only done school through Connections Academy, which works well for him because of the flexible hours and the help from the LiveLesson® sessions. Rutger has had a very good relationship with all of his teachers. His favorite subject is math because he loves to work with numbers; he also loves reading.
Rutger is most passionate about gymnastics, and his teammates are his friends. He also loves playing baseball and is a lefty pitcher!"

What I like the most about Connections Academy is that I can get my work done when I need to and then go to the gym!

— Rutger