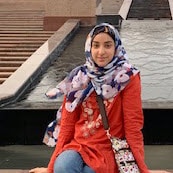 Why I Chose South Carolina Connections Academy
"I wanted to be placed in more advanced courses in order to be more challenged. Luckily, my mom heard about this virtual school which really met my expectations. Learning is becoming more exciting. I have been in Connections Academy since 7th grade, and I'm currently a freshman taking two sophomore classes. I wish I knew about Connections Academy a long time ago.
This school allows me to move to the next level, while my previous school didn't offer such an opportunity, even when I excelled. And my transition to Connections Academy was easy, as I felt very welcomed.
My favorite moment in Connections Academy was during my first year as a 7th grader. My homeroom teacher was Mrs. Crooks who invited me to NJHS and allowed me to start tutoring my classmates.

My Online School Experience
I absolutely love these subjects because they can be applied in real-life situations.

— Noor
About Me