The Most Important Time Management Tips for Learning Coaches
byStephanie Osorno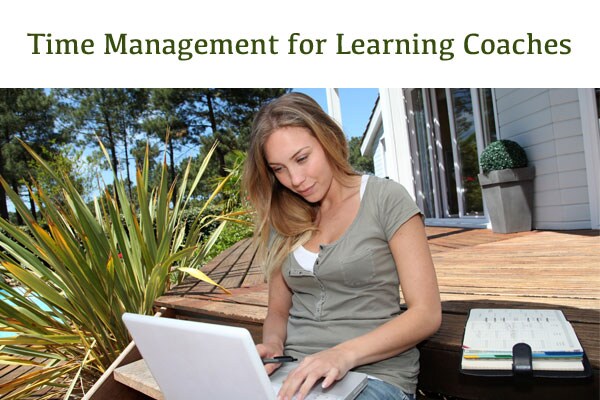 Last week, we offered students five easy steps for staying organized and managing their time. So what about your time as a parent or Learning Coach? Being a Learning Coach requires some time and effort, so using time management skills will make each day easier. It's also important to note that as students get older, your role will evolve and the time you spend supporting your student will decrease.
We want to help you stay on track with our simple guide to time management for online school Learning Coaches. The key to success is breaking up your day into sections.
Here's what you can do …
… Right Now
Know your time management personality. This way, you can organize each day based on your innate time management skills. This will also help you pinpoint which situations may set you back and how to avoid them.


Make sure you and your student both have designated learning areas. Whether it be a desk, a table, or a couch, having separate working spaces where you can spread out and work independently creates structure and individual workspace boundaries. If you're managing multiple students, it's also important for each student to have his or her own learning area. Make sure each learning area has minimal noise and distractions, adequate lighting, and comfortable furnishings.


Prepare your toolbox. Plan for your student's school year by keeping certain resources on hand. Some examples include a list of school rules, a computer maintenance checklist, snack ideas, and physical activities. Keep these year-round resources in a separate folder that you can access at any time. As you grow as a Learning Coach, your toolbox should grow. So, review regularly.
… Every Evening
Take a few moments to help your student get organized. This will save you time each morning when you are helping him or her prepare for the day. Make sure everything is in its designated spot and unnecessary items are removed from the workspace so that in the morning, you are all ready for school. Organizing classroom materials and having reference items for tracking due dates and other activities within reach will help your student become more independent and allow you to be more hands-off over time.


Create a schedule with anchored activities. The end of each day is the beginning of your time management plan for the next day. As you make your schedule, anchor your time. Assign each errand or activity for the next day to an event that is a part of your routine, such as lunch or bedtime. For example, before you eat breakfast, which is your anchor activity, go over the daily schedule each morning. Make sure your student has access to this calendar so you are always on the same page, but let him or her know that you are always around to help or answer questions. You can also try to utilize a family calendar app for help.
… Every Morning
Review your student's schedule at the beginning of each day. If your student is younger, he or she will need you to be more involved in the day-to-day routine. Create a checklist for your student so that, throughout the day, he or she can mark each activity as completed. If you have an older student, make sure he or she is prepared for the day by simply asking if any assistance is needed. Remember to encourage independent study skills as your student gets older. You can do this by using tools like a Learning Coach–Student contract, which can include items such as break time agreements and rewards.
Develop a routine and stick to it. Routines create predictability for students and Learning Coaches, which can make the day go much more smoothly. Having a routine also reinforces a learning environment based on day-to-day expectations, which can help your student succeed in online school. For example, have a set schedule for each meal and a set time for when your students must be out of bed so that they learn accountability and responsibility.
… Throughout the Day
Monitor your student as he or she works through assignments, checking for comprehension and verifying lesson completion.. If your student is in elementary school, assist with lessons and make time to communicate with his or her teacher as needed. Gather any supplies that will be needed for experiments or other activities, such as food coloring, construction paper, or colored pencils. As your student progresses through middle school and moves into high school, be sure to gauge your student's independence and allow him or her to tackle most of the preparation independently.


Make time to take care of yourself. You will wear yourself out if you don't take time to relax or do the things you love. For example, you can relieve stress by going for a jog or doing some exercises with your student, such as an obstacle course challenge or a Hula-Hooping contest. Also, don't be afraid to ask a friend, fellow Learning Coach, family member, or even a teacher for help when you need a day, or even just a few hours, to yourself. You should also share Learning Coach responsibilities with your spouse if possible, and have a plan in place for times when you are away from home. Since one Learning Coach should always be present during your student's class hours, sharing responsibility can be a huge bonus when it comes to managing your time. You should also note that being a working parent and a Learning Coach may require some extra planning.


Keep your head clear with breaks. Take breaks often and experiment with different time increments, such as 10-minute breaks every hour or 30-minute breaks every hour and a half—whatever works best for you and your student. You should incorporate snacks, walks, social time, and creative activities into some of your breaks. Also, make sure that as you and your student are working, your learning areas are free of noise and distractions. Limit use of cellphones (unless you contact teachers), TVs, and other technology during the day. Use these only as learning tools, such as instructional videos and educational computer games during designated school-time.
As you practice these time management tips, keep in mind that your day may not go as planned. Do your best to prepare for the unexpected, and remember to make learning fun!
Related Posts