Learning Coach Secrets: Managing Multiple Students
by Beth Werrell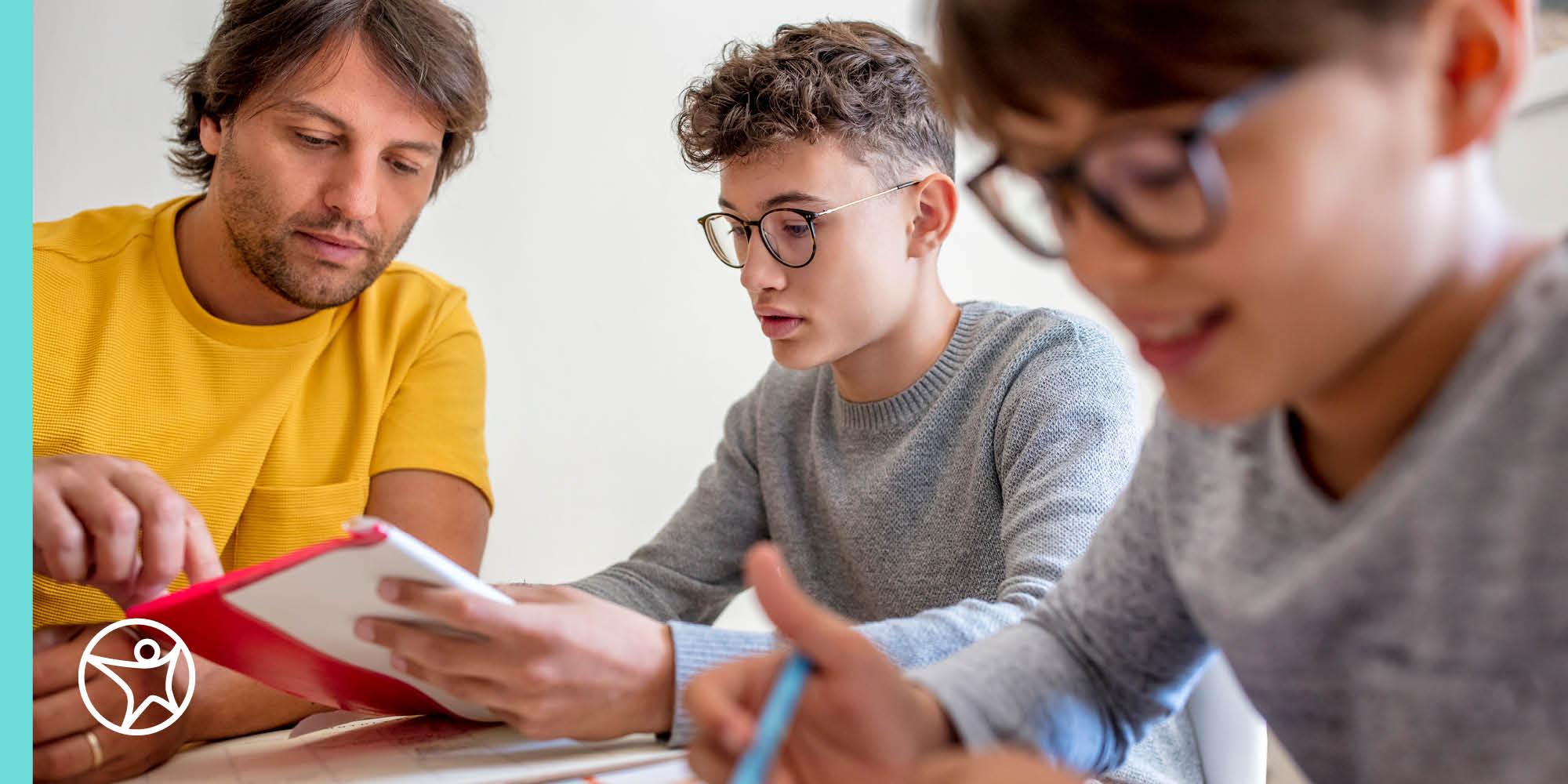 How do seasoned Learning Coaches successfully balance their students' needs and share coaching responsibilities when they take a day off? Learn how to best help your students' learn and manage your time with the tips and strategies below:
How to Manage Multiple Students
Plan Ahead to Maximize Student Learning Time
Make the most of online tools like the student planner and family calendar to plan ahead. Begin by entering vacations and other events into the family calendar so they appear in each student's planner. Then take a week-by-week look at the upcoming lessons and assignments for each of your students. Map out in advance when one student can work independently or attend a LiveLesson® session while you work one-on-one with his or her sibling(s).
Group Lessons by Theme, and Work Together
Look for opportunities that allow you to work with your students as a group—whether on art projects that require similar materials or on reading assignments and book reports that share common themes. Make sure to preview each day's lessons and assignments the night before so everyone can "hit the ground running" when class begins.
Create a Schedule that Works for Everyone
Develop a schedule that works for multiple students and you. Leverage the flexibility of online learning to match the "rhythm" of your family's daily life and your students' individual learning styles and grade levels. Be prepared for some trial and error as you figure out the time of day each student does his or her best work and how to stagger the schedule to enable each to get the most out of your time and his or her own time.
Block Schedule Like a Pro
To maximize your own energies as Learning Coach, consider block-scheduling subjects together on certain days rather than supervising work on multiple subjects across multiple grades in a single day. You may find "switching coaching gears" between third and sixth grade reading assignments easier than switching gears between third grade reading and sixth grade math.Remember, your role as Learning Coach will differ according to your students' ages. So don't be unduly daunted by the idea of supervising a first-grader and a middle schooler. With strategic scheduling, those age differences actually work to your advantage and theirs!
Set Rules for Online School at Home
Establish mutually understood house rules for school hours.Guided by what works for your family, you should all agree on the following: daily start and end times; scheduled break times for breakfast, lunch, and play; the lessons to be completed each day; and expectations for behavior while school is in session. If other family members are home during the school day, make sure they're on board with the rules, too.
Minimize Distractions to Learning
Organize your learning space(s) to keep distractions, including those that occur between student siblings, to a minimum. Set up separate learning zones for each student, or create different types of learning spaces for different age groups and activities—like a crafts area for elementary students, a computer area for middle and high school students, a common area for group projects, or a designated quiet zone for independent study. (Check out Home Classroom Ideas on our Pinterest page for creative, space-saving ideas! And don't forget that yard sales are great places to pick up inexpensive supplies and furniture for your classroom!)
Schedule Breaks During the Day
Schedule breaks and be flexible about taking impromptu breaks that let students burn off excess energy and blow off steam when they've become distracted. Discipline is important, but there's no point in figuratively bashing your head against a wall when a short break can help interrupt a distracting dynamic. Just be careful that your students don't get the idea that misbehavior earns them break time!
How to Share Learning Coach Responsibilities
In Connections Academy families, Learning Coaches may share responsibilities as part of their daily routine, or they may occasionally shift responsibilities when the primary Learning Coach is unavailable. Here are some insights on both of these topics from those who have "been there, done that."
If you're routinely sharing responsibilities …
Play to your subject-matter strengths. Dividing responsibilities based on your strengths and interests can enrich everyone's experience. A working parent/part-time subject area coach gets to share his or her expertise and spend valuable time with the student. The student gets to experience a different coaching style. The primary Learning Coach gets more time to coach other students, do other tasks, or even take a break!
Communicate. Make sure that you and your partner are on the same page in terms of schedule, classroom discipline, student learning styles, and expectations. Privately share any concerns about your student(s) with your partner to avoid inadvertently undermining students' confidence.
Enlist your older students to help younger students with assignments. They'll reinforce their own learning while helping their siblings and lightening your load.
If you're temporarily shifting responsibilities …
Let your homeroom teacher(s) know about the upcoming shift, and ask for any support you may need.
Bring your Learning Coach partner up to speed on upcoming assignments, the daily routine, and important contact information. Post that information prominently so that your partner doesn't have to scramble to find it in your absence.
Schedule a family meeting to make sure that everyone understands how they'll need to work together to make the transition go smoothly.
Connect with other Learning Coaches and Connections Academy families at https://www.facebook.com/ConnectionsAcademy/.
To find a Connections Academy school in your state, visit Connections Academy online public school. Or to learn about online private school, visit Pearson Online Academy 's website.
Related Posts