Help Your Teen Transition Successfully to High School
by Beth Werrell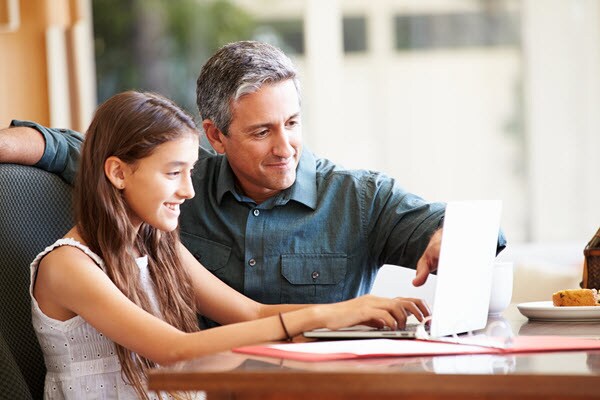 Starting high school is a huge milestone for students and parents alike. Just as teens are asserting their growing independence, the academic demands placed on them expand—and with college just around the corner, the stakes are quite high. Fortunately, there are many ways parents can help ensure that their students make a smooth transition to high school. Use the teacher-approved tips below to coach your teen through the first semester and lay a strong foundation for academic success.
Get the Latest School News
Remind your teen of the importance of staying up to date on school events—and keeping you posted, too. For students attending traditional high school, this means paying attention during homeroom and the morning announcements, and checking out the information posted in strategic locations throughout the school. An online high school will have this information posted online. Check out the school's website to see if parents can sign up for e-newsletters, text alerts, and other notifications of important events such as parent-teacher conferences or course selection deadlines. The guidance office and school counselors are a good source of information about college fairs, SAT/ACT testing, and related topics.
Scope Out the Syllabus
In a traditional or online high school, most teachers will provide a course syllabus that outlines what the class will study and how students will be graded. Sit down with your teen to review each syllabus for key information such as test dates and due dates for projects or papers. Make sure your student records these dates on a calendar or digital planner, and jot them down for yourself so you can support your student with reminders. Emphasize the importance of keeping the syllabus handy for reference—or bookmarking its location if it's online.
Create a Step-by-Step Plan
Now that you've identified important deadlines for class requirements, talk to your high school student about making a plan for accomplishing them. Encourage your student to list the steps involved in each project, or brainstorm to figure out what they should be. For example, for a high school research paper, your teen might need to do some reading, gather research sources online or at a library, create an outline, write a rough draft (maybe in sections), polish the draft, create footnotes/bibliography, and proofread. Together, work backward from the due date to set deadlines for completing each step.
Strengthen Note-taking Skills
If you suspect your teen hasn't really mastered the important skill of taking notes, introduce him or her to a few of the most widely used note-taking methods. Even students who already take good notes can benefit from brushing up on their skills or trying new approaches. Students may find that one approach works for taking notes during class but that they prefer a different method for taking notes while reading a textbook.
Create a Study Habit
Chat with your teen about establishing an official study time each day. You may also want to have an official study location that's distraction-free and equipped with school supplies, computer, reference materials, etc. The start of a new school year is a good time to establish positive new habits, so discuss what those might be. For example, encourage your student to begin study time by reviewing the notes he or she took in class that day, which will reinforce learning and provide the opportunity to clarify points as needed.
Promote Active Learning
Because of the setup of online high school, students are naturally encouraged to be in the driver's seat for their own education. While a classroom setting usually puts the teacher in the role of directing learning, you can also coach your bricks-and-mortar high school student to use active learning and time-tested study skills—both are great preparation for college, trade school, and even career. Suggest that your student scan a new textbook chapter before reading to understand what the goals are. If he or she jots down important new vocabulary on note cards, the cards can be used when reviewing for a test. Encourage students to summarize what they've learned at the end of their reading, and to self-evaluate how well they understand the material. If they don't understand, realizing it at this point allows them the time to seek help.
Empower Struggling Students to Seek Help
While online high school students have the ability to reach out to their teachers individually with questions, some struggling students in large traditional high schools may feel self-conscious about seeking out the teacher or raising a hand in class to ask questions, fearing they'll look "dumb" in front of their peers. While this mind-set can be difficult to overcome, try to explain that asking questions is actually the smartest action to take because it's the quickest way to find an answer. If your struggling student won't ask questions during class, encourage him or her to jot down any questions, then ask the teacher for help after class or during a free period. (Particularly shy or self-conscious students may need help figuring out what to say.) If the problem seems relatively small and isn't that frequent, peer tutoring or finding a "study buddy" who excels in the subject could be another helpful approach.
Hold Students Accountable
Make sure your student understands that he or she will be held accountable for doing schoolwork and earning grades that are acceptable to you. The parents of online school students have access to grades and curriculum, but parents whose teens attend a traditional school may need to do some detective work. Talk to your student about schoolwork regularly, and ask to see graded tests and papers. Find out if there are resources such as a homework hotline or online site with information for parents. Check in with your student's teachers during conference time. And if your student falls short in grades, rather than reacting with anger, help him or her make a plan for getting back on track.
To learn how you can be more involved in your high school student's education, visit the website for Connections AcademyⓇ online public school. Or to learn about online private school, visit Pearson Online Academy 's website.
Related Posts