5 Differences Between Homeschool and Online School
by Beth Werrell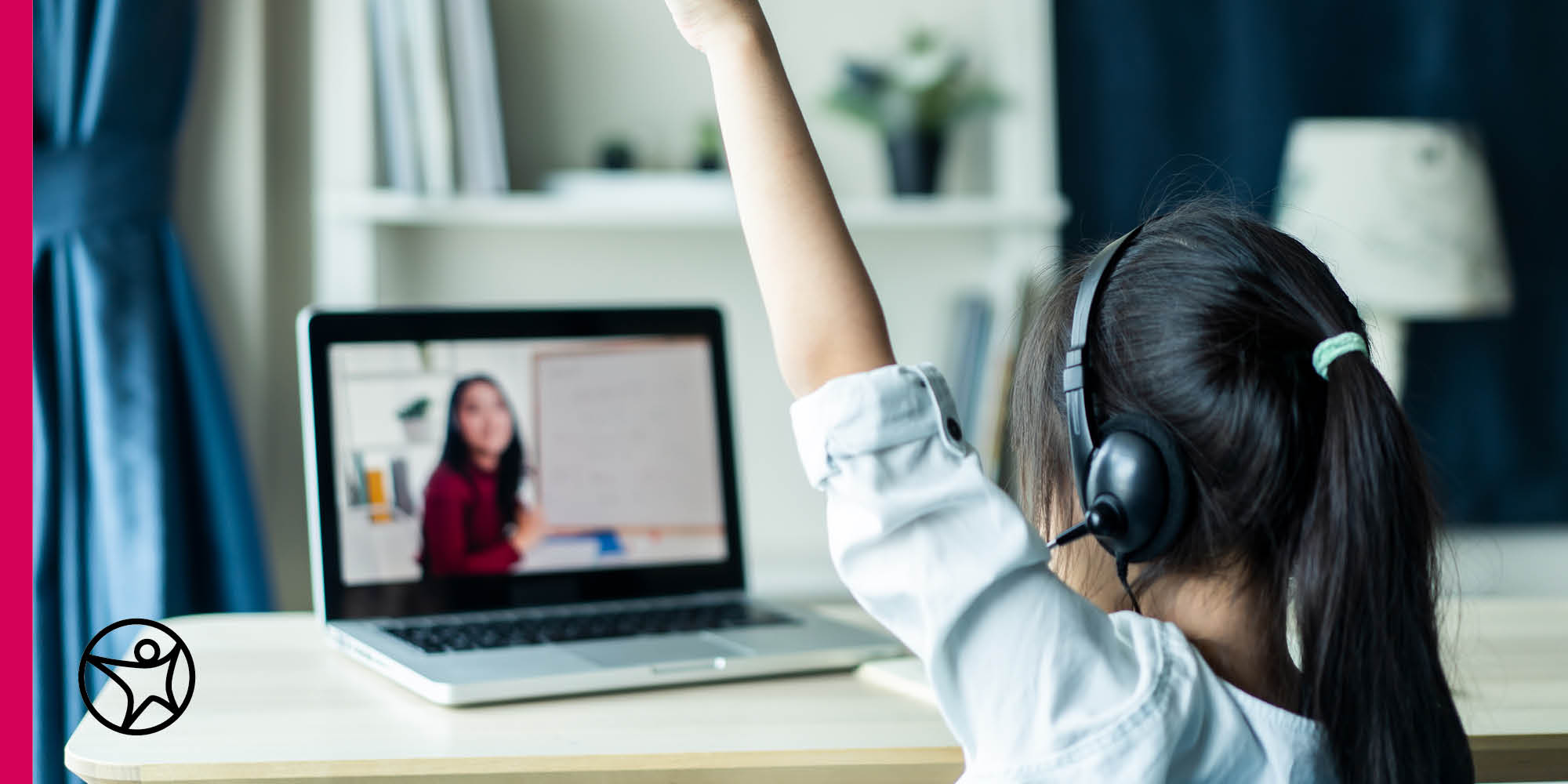 As parents research options for their children's education, many confuse online school with homeschool and ask themselves how does homeschooling work? Their confusion is understandable, because online school is homeschooling, and both require more focused parental involvement than brick-and-mortar schooling. The most important benefit that online homeschooling offers is that children learn from the comfort and safety of their own home. 
But there are five key differences to keep in mind when considering a traditional homeschool vs. online school. Understanding them can help you recognize why an online public school like those offered by Connections Academy®, a leader in this space providing free online homeschool, can be an excellent choice for many families wanting their children to learn at home.
1.Caring, Expert Teachers in Online School
With homeschooling, parents serve as the child's teacher for all K–12 subjects. They plan all lessons, assignments, and tests. To monitor the comprehension and academic achievement of a distance-learning student, parents must also grade all student work.
At Connections Academy-supported online public schools, homeschool students work with caring, certified teachers who are specially trained to engage students in online learning by developing a personalized learning plan for each of their students. 
Online school teachers periodically meet with students for real-time reviews or instruction in a virtual classroom. They also grade student assignments, evaluate comprehension, and provide ongoing feedback to students by phone and email. They're available to parents and students to answer questions and may give extra one-on-one help when needed.
A Connection Academy parent participates in their child's education as a Learning Coach. Although every family does this a little differently, many Learning Coaches choose to help kids stay on track by structuring the daily schedule, making sure schoolwork gets done, and providing reminders, encouragement, and motivation when needed.
Virtual school makes it easy for parents to know exactly what their child is learning, because they have easy access to the curriculum and assignments through the school's website. This enables them to tie school learning to real-life situations and discuss topics in terms of the family's values and beliefs. Parents can also check the online grade book to keep track of their student's progress.
2. Professionally Developed Curriculum for Online School
Homeschool parents often research and develop their own curriculum. Searching for and buying texts and materials for every subject can be very time-consuming—on top of the expense. Many parents new to homeschooling don't realize the cost of homeschooling vs. public school.
Some of the most common expenses homeschooling families may pay for include:
Curriculum and learning materials. 
School supplies (for example, pencils, notebooks, and more). 
Field trips. 
Extracurricular activities (for example, sports, art lessons, music lessons, and more). 
Co-operative fees for families who belong to a homeschool co-operative. 
Testing fees, if state homeschooling guidelines mandate regular testing. 
For a family of four with two school-aged children, homeschooling may cost, on average, anywhere from $1,400 to $3,600 per year.
Some homeschool families buy an existing curriculum, but must still map out a learning schedule and prepare lesson plans for the year. The demands of these responsibilities, plus anxiety about whether their learners are getting everything they'll need for college, are common reasons cited by homeschoolers who have switched to virtual school.
Families who select an online public school don't pay for tuition or texts, learning materials, or the professionally planned curriculum; these are provided free of charge by the school district, state education board, or other authorizing organization. Most of these organizations require students to take standardized achievement tests. For an online private school, parents pay tuition that includes curriculum and learning materials, and standardized testing isn't required.
At Connections Academy online schools, students learn using a comprehensive curriculum planned by experienced, professional educators and subject-matter experts. They select appropriate texts, resources, and learning materials, and then create lessons and meaningful practice activities designed to help students master each objective. Lessons may also include multimedia presentations and interactive learning tools.
Students who attend Connections Academy schools also have a wide selection of courses. Electives available at all grade levels, such as music, art history, career exploration, computer programming, marine biology, and six world languages, round out the curriculum. Honors and Advanced Placement®* for high school students, and gifted and talented courses in elementary and middle school are available to deepen or accelerate learning for students working above grade level.
3. Socialization Through Online School Clubs and Activities
Like a homeschool parent, the parent of an online school student can layer opportunities for socialization into their child's schedule in a variety of ways. Some homeschool families do this through sports, scouting, 4-H, volunteering, or faith-based activities. Others take part in homeschool meetup groups. You can customize your socialization plan according to your child's interests and be present to guide the interaction.
Online school students have time to interact and collaborate with other students during virtual classroom sessions. Online clubs and activities are a great way for kids to connect with others who share their interests. There may also be field trips, celebrations, or other school events available. Learn more from one parent about how socialization worked for her child while enrolled in a Connections Academy-supported school.
4. Flexible Scheduling of Online Schooling—Within Limits
Homeschool families have the highest degree of freedom to schedule their learning and socialization activities whenever and wherever they prefer. When enrolled in an online public school, attendance is based on a typical school calendar, and it's important to stay on track to complete courses on time.
A set calendar requires some virtual classroom sessions to be scheduled at fixed times, particularly in online high school and middle school. Former homeschoolers may take some time to adapt to new deadlines or routines, but most feel that it's a reasonable trade-off, considering the other benefits they gain.
Families accustomed to traditional public schooling find that virtual school offers a surprising amount of scheduling flexibility. Lessons can be completed at any time of day and from any location that has an Internet connection. Students can also study subjects in any order, can work on each subject daily, or have a different schedule every day. They can speed up the pace for lessons they understand easily and slow down for topics that require more study to master.
Virtual school allows kids to keep up with their education while also pursuing interests and reaching for their dreams. The learning day can be scheduled around ballet rehearsals, soccer practice, part-time jobs, and community involvement. Online school students who are elite athletes, concert musicians, professional actors, and world travelers have taken advantage of this ease of scheduling.
Check out these sample schedules by virtual school families to get an idea of how flexible online schooling can be.
Graduation From Online School and Life Beyond Is Different 
Another important fact about homeschool vs. online school is that, while many homeschooled or distance-learning students go on to achieve remarkable things, they may be required to take the GED exam to enter an accredited university or the workforce. Students graduating from a high-quality virtual school can earn an official online high school diploma without this extra step. In most years, they also have the chance to receive it at an in-person graduation ceremony, wearing a cap and gown with all the pomp and circumstance.
Although many colleges and universities have begun welcoming online school graduates and homeschoolers, students enrolled in online school have the advantage of licensed school counselors who can coach and support them during the application and financial aid processes.
In education, results can be defined in many ways, but the strongest measure of success is a graduate who is well prepared for college, career, and life. Regardless of which approach to in-home education your family selects, we hope these homeschool vs. public school differences and reasons to be homeschooled online will help you choose to get involved—and stay involved—in guiding your child toward a bright future filled with promise!
Are you ready to make the switch for your child? Let us help you find a tuition-free online public school. 
*Advanced Placement® is a registered trademark of the College Board. Used with permission. 
Related Posts