7 Ways Online Students Can Socialize Outside of the Classroom
by Beth Werrell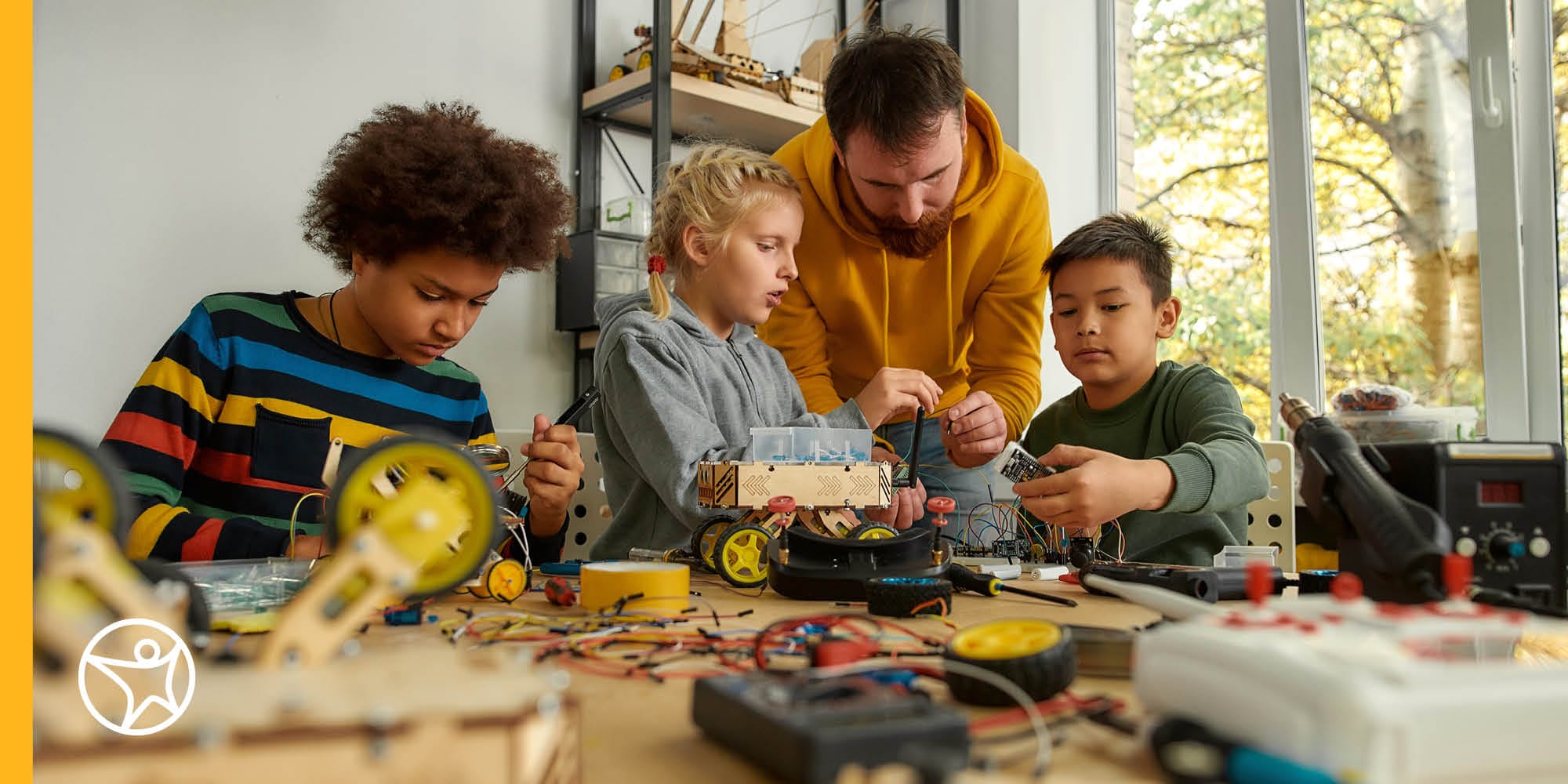 When you think about socializing in school, you probably envision children playing at recess or working together in the classroom. While these are accurate depictions of socialization in brick-and-mortar schools, peer-to-peer interaction can occur anywhere—even outside of a traditional classroom setting.  
Many people assume there are limited opportunities for online students to develop friendships; however, the opposite is true. These days, people often use technology to form relationships. For example, 57% of teens have made a new friend online. Though digital connection is a key component of today's social life, there are many other ways for online students to establish and maintain relationships while attending online school. Here are seven ways online learners can establish and maintain socialization outside of school: 
1. Join an Educational Club 
Clubs are an opportunity for students to connect with peers who share similar interests. From pursuing their favorite activity to exploring a new hobby, extracurriculars serve as a positive outlet. Academic clubs in particular allow students who excel in a specific subject area to further explore that subject and meet like-minded individuals. For instance, if a Connections Academy® student loves science, they could join Science Sleuths. In this group, students meet virtually to have discussions centered around the scientific method and how it relates to the world around them. They also conduct experiments at home, share insights with peers, and compete in contests—building on skills learned in virtual school while making new friends.  
In addition to a variety of online clubs to choose from, students can further grow their social circle by joining educational groups outside of school. Most communities have local programs such as 4-H and STEM clubs designed to empower youth and encourage leadership skills and teamwork. Whether in or outside of school, online learners can thrive and socialize in educational clubs. 
2. Attend Field Trips 
The world is a school and there is so much for students to do and see. Field trips are another great way to teach online students how to stay social while being homeschooled. Trips offer time away from virtual and traditional classrooms, and provide the perfect environment for students to learn and build relationships in a more informal atmosphere. 
Studies show that social isolation can significantly impact kids' mental health. That's why it's important that children have multiple opportunities to connect with other kids. Luckily, students at Connections Academy have the option to attend voluntary field trips where they're exposed to historical sites, museums, and so much more! As they go on adventures alongside their peers, they are bonding with them and seeing the world. After forming an initial connection, parents can even coordinate monthly field trips to maintain social connections while students explore, learn, and have fun together. 
3. Participate in a Learning Pod 
Some people think homeschooling and socialization can't coexist, but learning pods may help sway doubts. Pods can be hosted by Learning Coaches during the day, or after school to keep students engaged and connected with peers and classmates. Because learning pods are designed for collaborative learning, they allow online students to work together with their classmates to stay on task. For example, if a student is struggling to understand a concept, they can easily ask their peers for help. Students can also opt to take breaks with one another, whether that is eating lunch together or having a 15-minute snack and chat time in between a LiveLesson® session.  
Although most learning pods are hosted virtually because students don't always live in the same location, Learning Coaches can choose to host in-person groups where students can complete assignments, work together on projects, and socialize throughout the day. Being in a pod makes it possible for students to learn in virtual school while still being connected to others. 
4. Volunteer in the Community  
One of the best ways to build new friendships and strengthen existing ones is through a shared activity like volunteering. Because online learners do most of their schooling from home, finding a community organization or facility to give their time to is bound to have extensive benefits. In addition to strengthening neighborhood ties, volunteer work can help online students boost their social skills. This is particularly helpful if a student is shy. And, it's more simple than you think to get started. Begin by asking your student what they are interested in. If they like animals, they could volunteer at the zoo, and if they like reading, they could help out at the library.  
Since volunteer work occurs regularly, continued interactions allow students to become familiar with others and make genuine friends. Once they have momentum and build their confidence, it'll be easier for them to branch out in online school to make even more contacts. Research also shows that donating time makes people feel more socially connected. 
5. Prioritize Family Time 
Culture and family play a key role in shaping a student's socialization skills. And, family is a child's first foundational social group. Parents have the responsibility of teaching children how to converse as well as how to form and maintain relationships.  
One of the key benefits of online school is that students have increased family interaction. That means simply engaging in conversation at dinner time or spending a brain break with their Learning Coach will significantly increase their interpersonal skills. Building on the foundation of family, students learn how to communicate with others and are more comfortable with seeking out friendships.  
Let's take a look at how online students can do this practically. If they're in an after-school club and notice that a peer shares the same interests as them, they could message them and ask if they'd like to plan an outing or attend the next field trip. It all starts with conversation, and family socialization makes building foundational interaction skills much easier. 
6. Make Local Connections 
A sense of community is incredibly beneficial for day-to-day social well-being. Therefore, getting involved in the neighborhood is a great way for students to socialize.  
Getting involved will look different for each online learner, but one fun and engaging option is through community sports. Many neighborhoods have local sports teams to help youth stay connected. From cheerleading to soccer, online students can learn teamwork and also develop strong social bonds. Students can also find mentors through community sports teams who may help them interact more effectively with peers, furthering their social skills.  
Another fun way to make local connections is through community events. That could be anything from participating in a 5K race to a talent show. Shared experiences like events help students build profound relationships and solidify their sense of identity and belonging. As online learners join local activities, they can find their place in the community while flourishing as social individuals. 
7. Go to Summer Camp 
Online students' social life should be a priority year-round, but especially during summer break when classroom interaction is often absent. Although some students attend summer school, an ideal seasonal opportunity to socialize is summer camp. Camp can be extremely beneficial for virtual learners if they struggle to maintain friendships while out of school. 
Top benefits of summer camp for children include socializing and friendship-building, eliminating screen time and getting exercise, making memories, and learning from positive adult role models. In camp, youth participate in group activities like read-alouds, scavenger hunts, and field day. By the end of the summer, students know what it means to work in a team, accept others, and express themselves, which is key for future communication with their peers.  
Online students don't need a physical classroom to have a healthy social life and build meaningful relationships. If your child is just getting started with online school, and you're interested in learning how to socialize homeschool students or want to learn more about Connections Academy parents' perspective on online school socialization, explore our resources page. 
Related Posts