How Online Education Builds Career Readiness with the 4 Cs
by Beth Werrell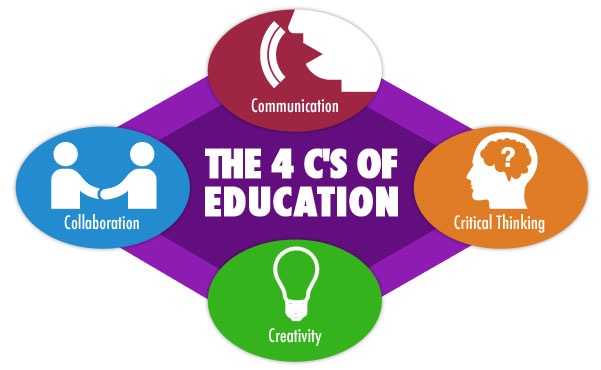 Fifty years ago, it wasn't unusual for a person to start a job fresh out of school and to continue working for the same company until retirement. When today's students enter the workforce, they can expect to change jobs and employers multiple times during their careers. They'll face an evolving workplace influenced both by technology and the global marketplace. In order to face these challenges, the next generation of workers will need advanced knowledge and skills—and virtual school and blended learning high school can play a significant role in helping them gain these skills.
The traditional three Rs, "reading, 'riting, and 'rithmetic," are no longer enough. Today, these subjects are joined by foreign languages, the arts, geography, science, and social studies. Even more important is that educators, in helping students to prepare for successful careers, are supplementing the content students must learn with the "four Cs(opens in a new tab)" of the 21st century:
communication

critical thinking

creativity

collaboration
In high-quality virtual and blended learning schools, students have many opportunities to develop these important skills during lessons and while completing projects for a variety of subjects. For example, while communication skills would naturally fit into a language arts class, students may also practice explaining mathematical concepts orally during their algebra class, or writing about scientific principles during Earth Science. By integrating the four Cs into many subjects, teachers ensure that students learn to exercise their skills and adapt them to a variety of audiences, purposes, and media.
Below, take a closer look at what these skills include, and discover how virtual learning is helping students gain them.
Communication

Standard reading and writing instruction addresses only a part of the communication skill set. In the modern information age, people need to process data not only from printed sources like books, magazines, and newspapers, but also from a variety of digital and broadcast media. Students must learn to compare information from various sources and evaluate the reliability of each one. In an increasingly service-based economy, they must be able to speak and write clearly, thereby effectively expressing their ideas to others. Listening, persuasion, and negotiation skills also come into play.

Because of their technology-based platforms, virtual and blended learning schools naturally enable students to become comfortable with drawing information from a variety of media. In the virtual classroom, teachers can easily connect students to videos, interactive tools, and online resources, in addition to their texts and online lessons.

Students learning online also practice communication skills by using online text or voice chat (the latter requires the computer's microphone). Guided by the teacher, students can ask or answer questions, express their opinions, and contribute ideas during class discussions. They also have opportunities to connect and socialize with other students through clubs and activities or during in-person field trips.

Critical Thinking

Being able to think critically is a skill that includes many methods of reasoning and problem solving. Developing sound reasoning helps students succeed not only in college, but also in career and life. In a world where many jobs are being automated, knowing how to think critically is vital to job security because it's a skill that cannot be performed by a computer! In addition, these abilities will help today's students adapt to career and marketplace changes.

Online teachers in nearly every subject can integrate critical thinking into their lessons through discussions or written assignments. In language arts, students might read and interpret the meaning of a literary or informational text. In history classes, they may analyze the beliefs of a political figure and then support—or disprove—them with evidence. Teachers may also combine subject matter, for example by asking students to examine the connections between a piece of fiction and the scientific discoveries, world events, or popular music of the era when the text was written.

Longer-term, project-based learning also encourages critical thinking. Working individually or in groups, kids are encouraged to develop their own theories or arguments, discuss them with the class, and then refine their work in a persuasive essay or presentation.

Science classes provide many opportunities to exercise critical-thinking and problem-solving abilities. Online teachers might challenge students to predict the outcome of a kitchen science experiment performed in the virtual classroom. They might brainstorm with the class for ideas to solve the problem of global climate change or water pollution. They may also ask students to practice their science skills in a fun hands-on activity, test their own theories, and then analyze the results.

In mathematics, too, students can learn by trying new approaches to solving a math problem, by developing their own math problems, or by applying a new mathematical concept to a real-world situation. The high-tech setting of virtual and blended learning schools makes it easy to connect students to the resources they need for pursuing these learning activities.

Creativity

Far beyond the act of drawing a picture or writing a poem, creativity is at the heart of every innovation and discovery! People who can "think outside the box" and come up with new solutions, approaches, or products are in demand in every business and industry.

Virtual school and blended learning high school support creativity by providing kids with many choices for learning activities. Both also give students the opportunity to work at their own pace. Children can move ahead once a concept is mastered so they don't become bored with their learning. They can slow down for something that is more difficult—or for a subject that captures their interest. Gifted and talented students may have the opportunity to delve deeper or to accelerate into more advanced study.

The personalization of both virtual and blended learning schools also make it possible to tailor learning to a student's interests. These alternate school options offer a wider selection of courses, including music, art history, world languages, career/technical classes, and electives that may be unavailable in some traditional bricks-and-mortar schools. Teachers can also work closely with parents and students to adjust assignments to suit a child's strengths, weaknesses, personal interests, or learning style. A budding film producer might want to create a video about the life of Abraham Lincoln as a history project, or a talented musician might take a poem written for language arts and turn it into a song.

With many traditional limitations removed—and by combining critical thinking and problem solving—students can practice creativity and innovation in just about any virtual school course. In addition, with the more flexible schedules of virtual and blended learning schools, it's possible for students to learn and apply what they've learned in new and creative ways through volunteering, internships, and other hands-on experiences.

Collaboration

Because many offices now offer employees the ability to telecommute, and since workers often participate on teams with people who are on the other side of the world, the time children spend in the virtual classroom may present them with a distinct advantage in the workplace of the future.

Virtual school students may not sit in the same room with their peers, but they do enjoy many opportunities to socialize and work with them. In blended learning schools, students may meet some classmates online and others in person. In either situation, teachers regularly divide their classes into smaller groups for discussions and projects. Instant messaging and video conferencing software enables students who are miles apart to communicate in real time. Working as a team, they brainstorm and discuss assignments, share and develop ideas, solve problems, divide tasks, and exchange information. With the teacher's guidance, students learn to negotiate and compromise as they work together effectively and respectfully.

Virtual and blended learning students also develop close, collaborative relationships with their teachers. As they enter middle school, they learn to rely less on their parent or Learning Coach, and to work directly with their teachers. These positive interactions build a student's confidence and independence. This also lays a strong foundation for future relationships with co-workers and supervisors.
While the 4 Cs don't replace traditional academics, they are vital to a student's success in the modern, fast-paced, information- and technology-based world. With so many ways to support these skills, virtual and blended learning schools can be excellent options for making the next generation ready for successful careers in the workforce.
Related Posts