What You Should Know About Online AP Courses
by Beth Werrell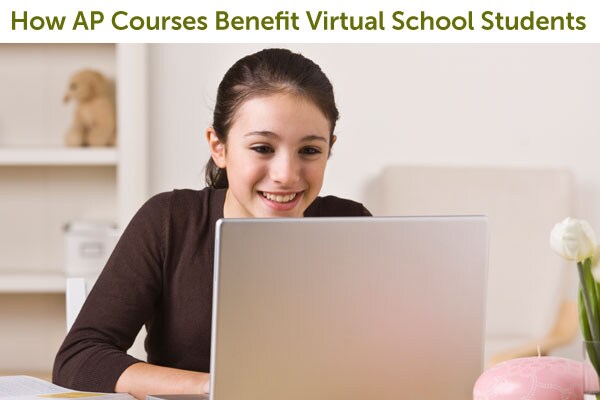 Do you have a talent for or a special interest in a particular subject in school? For high school and, sometimes, middle school students, Advanced Placement (AP) courses offer a more challenging course experience. Additionally, AP courses can boost college applications, nurture critical-thinking skills, and help students achieve higher standardized test scores.
Here are some things to keep in mind when reviewing the available courses at your school, including what you should know about the differences and similarities of traditional classroom and online AP courses.
What Are AP Courses, and Who Should Take Them?
Advanced Placement courses are demanding college-level courses developed by the College Board, a nonprofit organization that helps students transition to higher education. AP classes can range from art history to calculus and are based on your child's school course offerings. These courses help students prepare for the national AP exams. Depending on a student's scores and the college or university he or she will attend, AP exams can count toward early college credit.
Will High School Students Get the Same AP Education Online?
There are very few differences between taking AP courses online and in a brick-and-mortar classroom, yet you should be aware of these differences.
In order for an AP course to be approved, the syllabus must be submitted and approved by the College Board. In a traditional school setting, the AP course teacher submits the syllabus. However, in an online school setting, the curriculum department submits the syllabi for all AP courses in each subject offered. In this instance, all online teachers use the same approved syllabus.
In terms of prerequisites, each traditional and online school makes its own rules. While the College Board has recommendations for prerequisite courses, each school has the flexibility to decide which prerequisite courses it will require a student to pass before he or she may take an AP course.
It is possible for AP tests to be administered by online schools, but this is uncommon. While the College Board grants traditional schools the ability to administer AP tests, online schools are not granted this privilege automatically. Many online students are generally referred to local brick-and-mortar schools to take these exams.
Should Students Take an AP Course Right Now?
This depends on the individual. Students can start considering taking AP classes as early as middle school, but there are some things to take into account no matter what stage of education a student is in.
Middle school students can start preparing for high school AP courses by considering their personal strengths and interests. If a middle school student has a particularly strong interest in a certain subject, then he or she can talk with school counselors and teachers to determine which classes will provide an academically rigorous foundation.
High school students should look into AP course options by speaking with their school counselors and teachers, who will be able to answer any questions a student may have about prerequisites, which courses are offered, and which classes may be ideal for his or her interests. The goal should be for a student to take Honors and AP courses in areas in which he or she can maintain an "A" or "B" while also achieving high grades in his or her standard classes.
Why Should High School Students Take AP Courses?
Students who take AP courses often have an advantage when it comes to college admissions, for several reasons.
Taking an AP class demonstrates an interest in the particular subject. By taking advantage of the most rigorous courses in a particular subject area, the student will likely demonstrate to college admissions advisors that he or she has already started pursuing extra coursework in his or her area of interest.
Many students earn higher scores on SAT and ACT exams after completing AP courses. The critical-thinking, analytical, reading, and writing skills that are developed in AP courses can help a student achieve higher standardized test scores.
AP classes are typically weighted. Instead of the typical grading method in which an "A" earns four points, an "A" in an AP course may earn five points. This allows students to achieve GPAs that are higher than the traditional 4.0. Grading scales are determined by each school site, so students should check with their counselor.
College applications often contain a Secondary School Report, completed by the school counselor. This provides insight into the high school community, including where the school is located, the types of courses offered, the passing grade at the school, the highest GPA in the class, and more. If a school is offering a large number of Honors and AP-level courses, then colleges will expect students from that school to have taken advantage of some, but not all, of the more rigorous courses.
Related Posts