Books That Teach Kids about Kindness
by Beth Werrell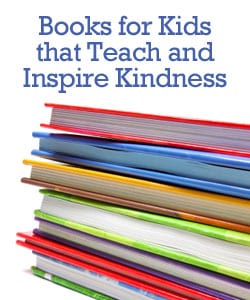 Selecting books that show positive character traits is a great way to teach your child about your
family's values. Reading a good story together will not only reinforce reading skills, but also open the door to talk about the characters and their actions. In recognition of National Bullying Awareness Month, we suggest that you begin by discussing bullying and the importance of being kind and compassionate toward others.
One easy way to start is by participating in Jumpstart and Pearson Foundation's Read for the Record campaign on October 3 at 12:00 noon ET. This year's featured book, Otis, by Loren Long, is a timeless story of friendship and kindness. The book and activity guides will be available to you online—for free!—when you complete the pledge to read.
Afterward, you can keep your kids reading and thinking about kindness by selecting age-appropriate books from the list we've compiled below.
Ages 4 to 6
A Sick Day for Amos McGee by Philip Stead
Hey, Little Ant by Philip and Hannah Hoose
How Do Dinosaurs Play with Their Friends? by Jane Yolen
How Kind by Mary Murphy
The Lion and the Mouse by Jerry Pinkney
The Mine-O-Saur by Sudipta Bardhan-Quallen
Stone Soup by Jon J. Muth
Stellaluna by Janell Cannon
Toot & Puddle by Holly Hobbie
Ages 7 to 8
All Families Are Special by Norma Simon
The Ant Bully by John Nickle
Enemy Pie by Derek Munson
Have You Filled a Bucket Today? by Carol McCloud
Horace and Morris But Mostly Dolores by James Howe
The Giving Tree by Shel Silverstein
The Golden Rule by Ilene Cooper; illustrated by Gabi Swiatowska
Kindness Is Cooler, Mrs. Ruler by Margery Cuyler
Ordinary Mary's Extraordinary Deed by Emily Pearson
Prince William by Gloria Rand
When Sophie Gets Angry–Really, Really Angry by Molly Bang
Wilfrid Gordon McDonald Partridge by Mem Fox
Somebody Loves You, Mr. Hatch by Eileen Spinelli
The Story of Ruby Bridges by Robert Coles
Thank You, Mr. Falker by Patricia Polacco
Ages 9 to 11
Bluish by Virginia Hamilton
Hanna's Suitcase by Karen Levine
Number the Stars by Lois Lowry
Ryan and Jimmy and the Well in Africa That Brought Them Together by Herb Shoveller
Ages 12 and Up
Dear Bully: 70 Authors Tell Their Stories by Dawn Metcalf
Freak the Mighty by Rodman Philbrick
Mockingbird by Kathryn Erskine
To Kill a Mockingbird by Harper Lee
When selecting books, be sure to include your child—that's half the fun! Whichever books you choose, reading together will not only reinforce comprehension and skills but will also open the door to good conversations and strengthen family bonds. Overall, it's a winning combination for parents and kids alike!
What books have you read with your child to encourage positive character traits?
Related Posts