Host a Virtual Graduation Party
byConnections Academy
3 min to read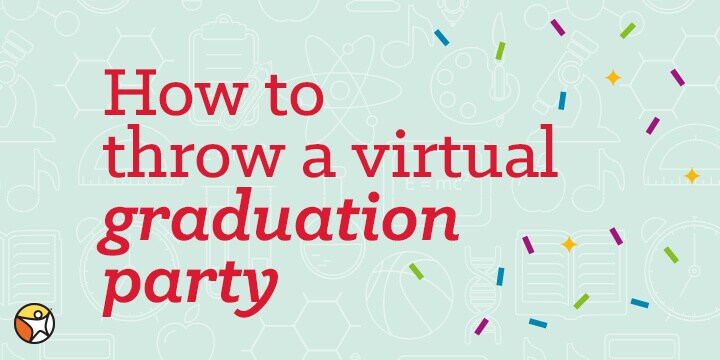 The school year for the class of 2020 is not ending as expected, with in-person classes canceled and many milestone celebrations not taking place in traditional ways. But that doesn't mean you can't make your grad feel special. With over 20 years of teaching students in online school, Connections Academy students have had in-person and virtual ceremonies as well as graduation parties. 
We know that change can be hard, so it's important for students to build resiliency and make new traditions. Here are some ways you can introduce change and celebrate your student by hosting a virtual graduation party.
Gather for a Zoom Party
Whether you choose Zoom, FaceTime, or some other platform for your virtual celebration, you can: 
1. Make a slideshow to highlight your student's journey
You probably have photos going back to pre-K, the first day of kindergarten, field trips, school dances, sports competitions, or music performances. To complete the look-back, ask your child's friends for additional pics or video clips to include in your slideshow.
A slideshow app gives you a great way to share memories of your student's school journey. The best part of this idea is that you can use it to celebrate birthdays or other milestone celebrations.
2. Create a special graduation background
You can make a special graduation background and share it with all of your partygoers. The background is a fun way to unite everyone in a shared experience and give your graduate special recognition. To create a graduation background, find an image online that you'd like to use and then go to Controls in the More menu. You will next choose Virtual Backgrounds and select an image to upload. You can also browse and download a ready-made background from Minted for free.
3. Play a group game
Many families and friends are gathering virtually to sing karaoke, play bingo, or other games together. The point is to make this time fun and to create memories.
4. Dress up for the occasion
High school graduation is a major life milestone, and if your grad wants to celebrate in style, encourage this natural desire of self-expression and joy. Just because you'll be home, your student can still wear a special outfit for a virtual celebration.
5. Share memories online
After the party is over, encourage everyone to post screen grabs or other pics of your shared experiences. Not only does this chase away loneliness, but it'll keep the conversation going.
Organize a Drive-by Parade
Car parades and drive-by graduation ceremonies and parties are trending right now. Check your state or local guidance on nonessential travel before you get started organizing your grad's parade.
1. Put up yard signs
Mark the special day with yard signs that let the whole neighborhood know you have a 2020 high school grad in your house!
2. Make a photo "booth" or backdrop in your yard
While your party attendees won't be able to mingle with the grad or with other attendees, you can create an area for selfies. The easiest way is to decorate your doorframe, outside entryway, fence, or arch with banners, garlands, flowers, or balloons. This gives your guests a backdrop for the perfect photo.
3. Leave out grab-and-go snacks or party favors
As your graduation party guests leave, they can grab a snack or party favor bag to take with them. Ideas for party bags: photo albums, cupcakes in a jar, and other individually wrapped snacks. 
Whether our grads were enrolled full time at Connections Academy or were supplementing their education through Pearson Online Academy, we congratulate everyone graduating in the class of 2020!
Related Posts