5 Ways to Easily Add PE Lesson Plans to Your Child's Day
byConnections Academy
5 min to read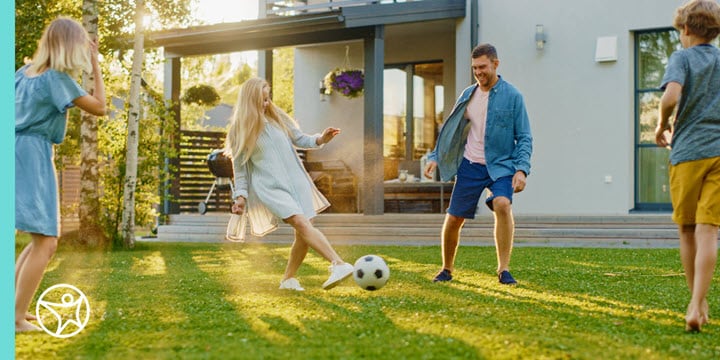 From improving a student's mood to helping them focus better during their lessons, physical education (PE) classes offer so many health benefits to students from kindergarten to high school. In addition to the physical benefits of spending time playing sports and other fun games, PE activities also offer great opportunities for virtual school and homeschool students to build socialization skills.  
If you are compiling homeschool PE ideas or are looking for ways to help your virtual school or homeschool student meet friends and build socialization skills, here are five ways to add PE lesson plans to your child's day that will get them moving—and interacting! 
1. Start or Join a PE Learning Pod 
A learning pod is a small group of students with similar ages that get together and learn under the direction and guidance of one or more trusted adults, like a tutor, teacher, or parent. Learning pods are great for PE classes because many PE activities are designed for groups of students, like tag, beanbag toss, relay races, and most ball sports like soccer or basketball.  
Virtual school or homeschool parents looking for additional socialization opportunities for their students can connect with others in their area to either join or create a PE class learning pod. Families can take turns with hosting and running the class, or each class can be run by the same parent or other trusted adult (such as a youth sports coach) who develops the PE lesson plans. PE class learning pods help students connect with their peers while playing fun games and meeting PE class requirements—a win-win for virtual and homeschool families.  
2. Join a Youth Sports Team  
Communities across the country have youth sports programs that offer a wide range of sports for all skill levels from beginner to travel-level elite sports. For virtual school and homeschool families, participating on a youth sports team can be used to fulfill PE class requirements while offering great opportunities for students to meet and interact with kids their same age. Participation on a youth sports team also teaches resiliency and other important life skills, including communication and leadership, which will help them no matter where their life takes them after high school.  
If your student doesn't care for the more popular sports like soccer or baseball, check out your local bowling alley or golf course. Many offer youth programs that are perfect PE activities. There are also athletic facilities that offer weekly classes for homeschool and virtual school students.  
3. Go to the Park 
Public parks and playgrounds are perfect places to try new PE ideas and your student just may meet other kids while building their muscles on the monkey bars. When planning PE activities, include a visit to your local park. Bring friends you already know or go at a time when other children are likely to be there. Once you start playing games like tag, others are sure to join in, helping your student meet new friends. Even spending time on playground equipment can build socialization skills like learning how to share and take turns.  
When the weather turns too cold for the park, consider roller- or ice-skating rinks, which usually draw lots of kids. Racing around the rink for virtual school PE class gets the heart rate up while giving your student the opportunity to meet and interact with others their age.  
4. Find Volunteer Opportunities 
Like PE activities, there are so many benefits for your virtual school or homeschool student to get involved in volunteering. If you get creative, you can combine volunteering with physical education— both of which support student socialization. To help meet homeschool PE or online school PE class requirements, look for volunteer opportunities that require physical activity, such as picking up trash along a beach or riverbank, tending local gardens, or aiding in construction projects, like building housing. As a side benefit, volunteering is one of the essential ingredients for a college portfolio.  
5. Join a Running, Biking, or Hiking Club 
Running, biking, and hiking clubs have grown in popularity, with many now geared toward high school students. If your high school-aged student likes to run, bike, or hike, research local club opportunities in your area. These groups meet regularly, giving your student the opportunity to connect with others that have similar interests. If you can't find a club in your area, start one! Reach out to the local high school to help get yours started. Their students can participate after school.  
One of the key benefits of virtual school is the daily flexibility it provides students. For students who are more athletically inclined, a flexible virtual school schedule is what helped them invest time into training and competing at the highest levels. 
Check out Connections Academy alumni, Olympic medalist, and three-time World Champion figure skater Nathan Chen talk about his experience as a Connections Academy student. He shares how a flexible virtual school schedule allowed him to train and get to the top level of his sport.   
Any of the athletes you see competing at the top level of sports, including those we watch at the Olympic games, found their sport through physical education. By personalizing your child's day and adding PE lessons plans to it, they can participate in more extracurricular activities, explore their passions, and even invest the time needed to train and compete at the highest level. Take a look at some sample virtual school schedules for inspiration in designing your child's day! 
Related Posts