How Much is K12 Online School?
by Beth Werrell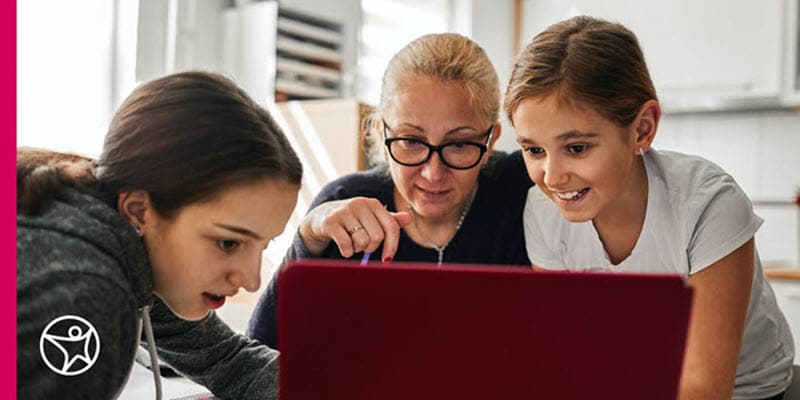 There are many things to consider when deciding on the right K–12 school for your child. With modern technology, parents today also have significantly more school choices. In-person or virtual school? Public or private? Homeschool or pod? 
As parents weigh what type of school and curriculum is best suited for their child, another key factor is what is supplied by the school and what families will need to supply. While the distinction is clear when comparing in-person public schools to traditional private schools, when looking at online school choices, many parents are left wondering—what will the benefit be for my child versus a traditional brick-and-mortar education?
Public and Private Online Schools
Many parents may be surprised to learn that just like brick-and-mortar schools, there are public and private online schools. Also, just like brick-and-mortar schools, there is a difference between public and private online schools. Public online schools are tuition-free—families do not have to pay for their student to attend an online public school. But tuition costs at online private schools can vary greatly. 
The similarities between brick-and-mortar and online schools don't end there. Public online schools are typically sponsored by a state regulator or local school district. They must meet state and/or district curriculum and attendance requirements, as well as teacher certifications. Like a brick-and-mortar school, public online schools have geographical boundaries—albeit bigger ones, since students must all come from the same state. Students in online public schools also take any state mandated tests.
Like their brick-and-mortar counterpart, online private schools(opens in a new tab) charge tuition, have more flexibility in their curriculum (like potentially incorporating religious teachings), students aren't restricted to geographical locations, and they don't take standardized tests.
Tuition-Free Public Online Schools – What's Provided to Students 
Technology plays a significant part in the online school experience. Many public tuition-free online schools like Connections Academy® provide computers to their students at no cost, depending on their state. Students may also use their own computers if they choose.
Required texts and instructional materials, which can be either digital or physical depending on your student's grade level and state, are also provided at no cost.  
… And What's Provided by Families 
Online school students need most of the same supplies as brick-and-mortar school students, which must be purchased by the family. This includes school supplies like pencils, erasers, and notebooks. Some online school families find having a working printer helpful to have near the student's learning space, but this isn't necessary since most of the work will be completed online and submitted as electronic documents.  
Online public schools typically offer optional in-person field trips throughout the year, providing opportunities for students to connect with their peers while supporting academic development. Families are responsible for any fees, such as the price of admission to a zoo, related to these additional field trips.  
How to Get Started
Now that you know the costs of an online school education, what would it look like to get started? 
1. Get your questions answered. 
Fill out an information form, review our e-guide, and talk to an enrollment specialist.  
2. Start the enrollment process. 
Again, just like a brick-and-mortar school, there are no fees associated with enrollment and getting started. 
3. Attend a virtual information session.
We have regularly scheduled webinars, virtual information sessions, and other opportunities to meet your state's online school representatives.
Still weighing school options? That's OK! Learn more about what online school provides families and why these parents made the switch. 
Related Posts