Will My Child Miss Out with Virtual School?
byConnections Academy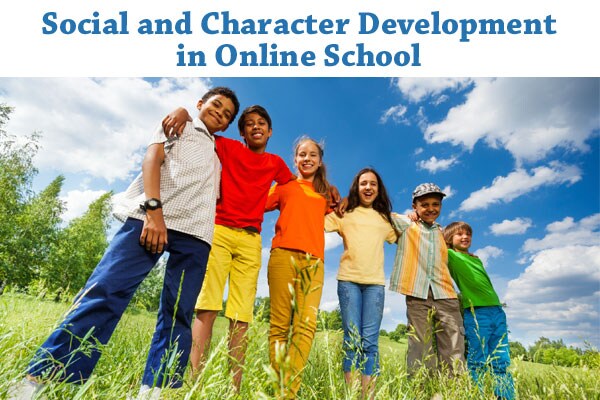 Your child's education is important, and so are his or her social skills and character development. If you're considering enrolling your child in a virtual school but are worried that he or she will not have the same opportunities as in a traditional classroom, think again!
Children who attend online school can have very similar socialization opportunities as they would in traditional school, while receiving a well-rounded education that prepares them for life after graduation. So what are some of the integration concerns parents may have about online school education? Let's address them together.
Socialization Opportunities
It's still a common misconception that online school limits social interaction for kids. Many of our enrolled families, however, dispel the lack of socialization myth. In reality, online students have access to student clubs, field trips, volunteer opportunities, and more. Some schools have designated community coordinators, who manage events for families, principals, and teachers to meet face-to-face. Virtual school technology creates collaborative learning environments and, through tools such as the LiveLesson® online classroom, enables real-time teacher-to-student and student-to-student interactions.
As virtual school students enter high school, they also may have the option of attending unique field trips to colleges, universities, college fairs, and businesses. And much like in a brick-and-mortar school setting, your child can typically choose from many student organizations to find activities that fit his or her interests and needs.
Character Development
Through an online education, students can develop essential life skills that may be harder to attain in a traditional school setting, such as independence and time management. Online schooling encourages students to make schoolwork a priority on their own, and many schools have opportunities for self-paced learning.
Parents of online learners can work with their children to create a daily routine and keep track of their own schedule, which, along with a virtual learning environment, can help your child gain maturity and independence. No matter what your educational philosophy may be, you most likely see personality and character development as an important part of your child's education. And as a virtual school parent, you have the opportunity to instill important character traits throughout your child's school day.
Curriculum
Online learners have the unique opportunity for a personalized learning experience. Many online schools offer programs that adapt to individualized instruction, so each student can learn at his or her own pace and in his or her distinctive learning style. For instance, some students may do well in a Gifted and Talented curriculum, while others may perform better with an age-appropriate curriculum structure. Some schools may also offer high school students the opportunity to take college courses while simultaneously earning high school credits.
For "Digital Generation" children, online education offers an extra dimension to learning. Integrating technology and educational content is a great way for students to gain media literacy, an important skill in today's technological world.
Teacher Accessibility
Students have access to certified teachers for instruction, grading, and support. Teachers are available via email, real-time classroom sessions, and telephone conversations, so parents can feel comfortable allowing teachers to do the teaching.
Online teachers are able to give each student individualized attention and meet students' academic needs. They can tend to different learning styles and incorporate the unique learning tools into lesson plans to address diverse student needs. An online learning environment also allows for more technology-focused instruction, which prepares students for college and beyond.
Parent Involvement
The person who supports the student's education at home is typically a parent or other trusted adult, also called the Learning Coach. With an active support role at home, the Learning Coach reinforces that education is a top priority and guides daily learning activities. While students in grades K–5 require more parent engagement, they become more responsible in grades 6 and beyond. Though the roles of parents and teachers shift throughout a child's virtual school education, parents are always a large source of student success and online learning integration.
Parent involvement can take many forms, such as helping your child plan each week, offering rewards and incentives for completing assignments, or pushing your child to try new clubs and activities. Depending on your child's personality and learning style, you will learn how much supervision and support he or she needs by partnering with teachers. Sometimes, your child may just need you to be his or her cheerleader and offer encouragement through difficult situations.
It's important to note that most online schools start open enrollment in March, so now is the time to do your research and find the school that is right for you and your family.
Related Posts