9 Skills That Make Great Online School Teachers
byChristopher E. Nelson
6 min to read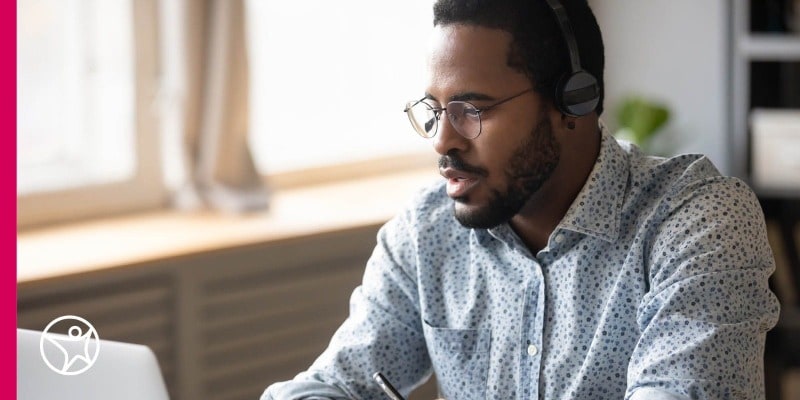 Now that millions of K–12 students are engaged in some form of online schooling, educators everywhere are wondering how to be a great online teacher. What works in a traditional brick-and-mortar school doesn't always translate when becoming a virtual teacher. 

Today's online teachers know the role of teacher in a virtual classroom is essential to student success, and it requires a slightly different skill set than in-person learning. The best teachers know that the common qualities of a successful online teacher are creativity, specialized training, knowledge of the curriculum, and lots of preparation. 
Download the infographic to see how Connections Academy's teachers are uniquely suited to deliver a world class online education.  
Instead of setting up a physical classroom, online teachers prepare by learning new technologies, developing lesson plans designed for remote instruction, and coming up with new ways to keep students engaged. 
If you are an educator exploring how to become an online teacher or a parent wondering what to expect from your child's online teacher, read on. We've explained nine online teaching primary skills and overall qualities that help the best online teachers keep students learning all year long. 
What Makes a Good Online Instructor: Teaching Expertise

1. Online Teachers Have Certification & Curriculum Expertise
All teachers, whether they're in an online or in-person environment, should have state certification, which indicates they're qualified to teach. While state requirements vary, getting a professional teaching certification requires at least a bachelor's degree and a certificate in the grade and subject areas the individual plans to teach. Many teachers at Connections Academy® hold master's degrees and are experts in their subject areas. Whether online teaching primary school or calculus, Connections Academy teachers are exceptionally knowledgeable and ready to deliver an excellent education. 
2. Online Teachers Have Tech Skills
Because classes are taught using the internet, online teachers need to be tech savvy and comfortable with the latest online tools and technology. Teachers may need to help students and parents learn new tools, especially at the beginning of the school year. Using technology regularly in their day-to-day lives helps teachers stay up to date with the latest innovations. 
The main piece of technology online teachers need to understand is their school's learning management system, or LMS. There are various online tools and education technology platforms that schools use to deliver lessons and communicate with families throughout the year.  
Many teachers also use data visualization and analysis programs (e.g., spreadsheets and pivot tables) to track student progress and create data-based personalized learning plans. What makes a good online instructor is not only mastering the basics but being ready to keep learning as needs change and technology evolves to meet them. 
3. Online Teachers Teach Creatively
In a digital learning environment, teachers who think outside of the box and prioritize creative thinking are well suited to help students succeed. Online learning creates opportunities for teachers to innovate and create engaging learning experiences for their students. It takes creativity, but every type of lesson or class, from science to social studies and physical education, can be taught in a virtual environment with an online curriculum. 
Creative uses of online learning technology can even help students retain information more effectively. An online school environment allows for a mix of live virtual instruction, individual assignments, and project-based activities, so students have regular opportunities to try new things. 
What Makes a Good Online Instructor: Strong Communication Skills

4. Online Teachers Are Welcoming
Online learning may feel new to many students and parents, so building trust and community is key. Teachers who have a knack for friendly, clear communication help students feel supported to succeed. Connections Academy teachers let every student know they belong by building personal connections and a supportive learning environment, starting on the first day of school. 
5. Online Teachers Make Themselves Available
A big part of an online teacher's job is to be available when students have questions or need help. Since classes aren't held in person, responding quickly to provide assistance whenever someone reaches out is how to be a great online teacher. 
Teachers should provide multiple ways to contact them, such as via email, texting, video conferencing, and phone calls. Some Connections Academy teachers even hold regular office hours for students who need one-on-one help or just want an additional challenge. 
6. Online Teachers Provide Proactive Feedback
Regular and consistent feedback becomes even more important when children are being educated in a virtual classroom. While there may not be tests or quizzes every day, there are many ways for online teachers to evaluate student performance and step in before they get behind. Connections Academy teachers check in with students and Learning Coaches regularly to measure progress, anticipate problems, and offer suggestions. 
What Makes a Good Online Instructor: Supportive Personal Qualities

7. Online Teachers Are Encouraging
The best online teachers make every interaction a positive experience, even from a distance. When students know they have a dedicated and supportive teacher, they're empowered to try new things, inspired to ask questions, and comfortable seeking help when they need it. At Connections Academy, our teachers get to know every student personally, and they partner with parents to ensure students get the attention and assistance they need. Especially if a student is struggling or falling behind, our teachers are there to provide extra support and encouragement to help them stay motivated. 
8. Online Teachers Are Adaptable
Online teachers need to think fast when things don't go as planned. When the unexpected occurs, like a tech issue or interruption, resourceful teachers quickly adjust their lesson plans and instruction methods, without missing a beat. If a presentation is loading slowly or a video conferencing glitch occurs, online teachers need to have a backup and troubleshooting plan that's ready to go. 
Being flexible and personalizing instruction when needed ensures every student can grasp fundamental concepts. Guiding a student through a challenging concept sometimes takes a few tries and different approaches. Teachers can work with students over the phone or use online tools or video conferencing software to ensure every question gets answered. 
9. Online Teachers Teach with Passion
In virtual school, students can feel their teachers' enthusiasm for the subject matter through every live online lesson and interaction. Excellent online teachers show their enthusiasm by coming up with exciting ways to keep students engaged with the curriculum. At Connections Academy, our teachers are fueled by their passion for teaching, and they go above and beyond to support every student's unique needs. 
Connections Academy is a unique, tuition-free, online K-12 public school with 20 years of expertise in online learning. We pride ourselves on knowing what makes a good online instructor and selecting teachers who exhibit these skills and qualities every day. Let us help you with your child's education, whether you're enrolling in one of our accredited online schools this year or simply looking for resources to help students succeed with online learning. 
Related Posts