How to Help Kids Cope with Anxiety
byChristopher E. Nelson
7 min to read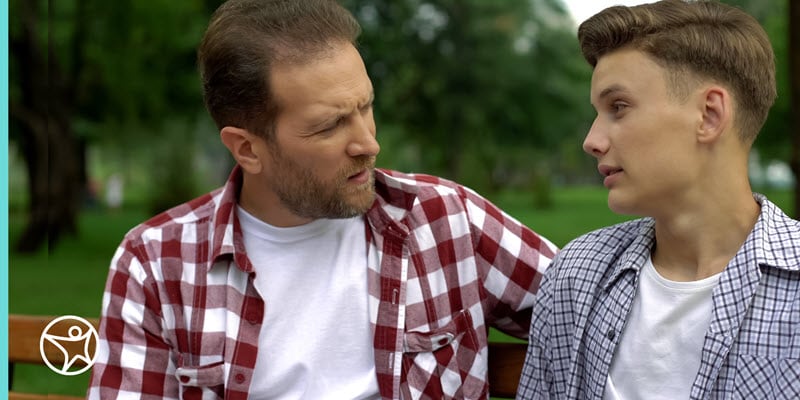 Children may not follow or understand everything in the news, but they do notice changes in their own worlds. Disruptions that change expectations, such as not planning the family's annual summer vacation, or traumatic changes, such as the loss of loved ones, can cause feelings of insecurity that become long-lasting anxiety in young children.  
May is National Mental Health Month, and if your child is anxious, try to ease their feelings of anxiety by using these time-tested approaches recommended by Connections Academy® online school counselors and other experts(opens in a new tab). 
What Does Anxiety Look Like in Kids?
To properly deal with the issue of mental health, you first need to learn to recognize the signs of anxiety in children. Some concern or fear about the world is natural and appropriate for a child, such as a fear of strangers. But true anxiety manifests when these fears are amplified and long-lasting. An anxious child is constantly on the lookout for a looming threat, locked in a state of exhausting vigilance. 
A few weeks of fear or worry in a child usually isn't cause for concern, but when that worry persists it can be time to seek help.  
Here are some signs that a child's anxiety has become an issue: 
Racing heart 
Shortness of breath 
Sweating 
Difficulty concentrating 
Trouble sleeping 
Seeking reassurance ("Will we be okay?") 
Tantrums, meltdowns, or acting out 
Irritability or agitation 
Wanting to skip school 
Frequent comments about death or dying 
The Centers for Disease Control and Prevention says(opens in a new tab) exactly what causes anxiety in kids is unknown. Many factors may play a role, including biology and temperament. It is known that some children are more likely to develop anxiety after experiencing trauma or stress, when they are abused, when they are being bullied or have been rejected by other children, or when their parents exhibit anxiety. 
Treating an anxiety disorder(opens in a new tab), typically diagnosed upon signs of anxiety in middle school, usually requires an individualized plan for a combination of interventions, the American Academy of Child and Adolescent Psychiatry says. Treatment may include cognitive-behavioral psychotherapy, family therapy, and in severe cases, a combination of therapy and medication. 
Helping Kids Deal with Anxiety
While it isn't possible to eliminate anxiety completely, the goal is to help your child develop the tools they need to manage their anxiety. When occasional worry turns into chronic anxiety, most children will watch their parents for cues to determine when and how much they should worry. Reassure your child that everyone has stress and anxiety and demonstrate how you handle anxiety calmly and with the assurance that you can work through whatever it is together. 
A certain amount of anxiety can be helpful(opens in a new tab) and can motivate us, but research has proven that, left unchecked, anxiety can have a negative impact on the body(opens in a new tab). 
Let your child know that it's okay to be afraid, but that they have the strength and courage to get through difficult situations. Openly discuss your child's fears and anxieties, then help your child talk through some ways to manage them. 
What to Do for a Child with Anxiety
Child psychiatrists suggest parents can help a child with anxiety by talking about it and then gradually exposing them to what is upsetting them. They should validate their child's fears so they will feel free to talk about them.  
Don't characterize your child's feelings by asking "Is this making you anxious?" or "Are you scared about this?" Instead, encourage your child to express their own thoughts. Say, "I wonder what you're thinking about it, and how you're feeling about it." 
Once you identify a situation that may cause your child anxiety, try to expose him or her to that situation tactfully. Start with minimal exposure. If there's an upcoming event or change in their life that worries your child, read books or articles about similar events. Take them to where it is to be held. Maybe drive by one day and, if it's allowed, stop and visit another day before the event takes place. 
On the day of the event, encourage your child to attend for a predetermined amount of time, and be ready to go or to pick them up at the agreed-upon time. They may surprise you and decide to stay. 
Gradually exposing your child to a situation that may cause anxiety helps them work on coping skills. 
How to Reduce Anxiety in Kids
Consider these tips for how to manage everyday anxiety in kids:
Establish a routine.
Having a general idea of what to expect each day can be comforting. Whether your family is distance learning for the first time or regularly attends online school or homeschools, having a structured daily schedule is beneficial. Be sure to include self-care when establishing a routine in your home. Create healthy habits that include a balanced diet and regular mealtimes, regular exercise, and plenty of sleep.
Limit exposure to media and news reports.
This is a good time to teach your child about reliable sources of information. Ask your child to come to you instead of social media if he or she has a question about issues in the news. You can also set a limit on your child's screen time(opens in a new tab) or how much news your family is exposed to each day. 
Teach deep breathing.
Studies show that slow, deep breathing can help(opens in a new tab) curb physical symptoms of anxiety, like a racing heartbeat. Teach your child to stop and take a few slow, deep breaths in through their nose and out through their mouth. Teach young children by reminding them of blowing bubbles with a wand and how softly they need to blow to get a nice big bubble. Teenagers might engage in other self-help, like yoga or other physical exercise, or use a mindfulness or meditation app, like Headspace(opens in a new tab) or Calm(opens in a new tab). 
Hug it out.
Human touch, especially between parent and child, can do wonders(opens in a new tab). Physical touching releases oxytocin, a feel-good hormone, and reduces cortisol, a stress hormone. Give your child a long hug, and you'll feel them relax. During the hug, empathize with your child. Afterward, tell them that when you're not there, they can hug themselves or hold their hands together and they can start to feel better.  
Understanding Kids and Anxiety and Spreading Awareness
Often, when learning how to teach kids to cope with anxiety, it is helpful to seek professional help and resources. Anxiety differs from person to person, and treating social anxiety could require different techniques than treating generalized anxiety or specific phobias.  
To help online students find the most success both in the classroom and in their personal lives, Connections Academy® offers access to licensed counselors and mental health experts who are here to give students the tools they need to get a handle on their anxiety.  
If you would like to learn more about how to help kids with anxiety, here are some additional resources for you and your family: 
Related Posts