How to Conquer Social Anxiety in K–12 School Children
by Beth Werrell
3 min to read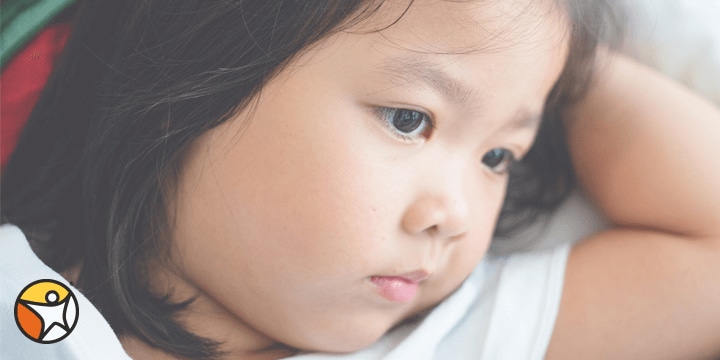 Colorado Connections Academy student Grace Davis was diagnosed with leukemia at age five and then went through two and a half years of cancer treatments. Grace found it difficult to transition back to her local bricks-and-mortar school after her treatments ended, and she began to experience anxiety. When her school organized a cancer fundraiser, she felt her anxiety increase and wanted out.

What are the signs of anxiety in K–12 children?
Typically, children who are experiencing anxiety have physical symptoms and complaints, which may include:
Not wanting to go to school
Stomachaches and headaches
Crying
Tantrums
Lack of focus
Understanding social anxiety, and how and why it rears its head in "normal" situations, can be surprisingly difficult. Perhaps you don't understand why your otherwise happy, smart, and articulate child doesn't play with other children at recess, has trouble making friends, or hates eating in the cafeteria.
While you will need to go to a doctor for a diagnosis, and some of these symptoms may mask bullying, there are some steps you can take to help your child understand his or her triggers and use some coping strategies to deal with anxiety in school:
1. Don't completely opt out of social situations
While it may be tempting to just take a pass on participating in after-school soccer, for example, your student will miss out on developing critical friendship building, problem-solving skills, and exercise. Experts at the Child Mind Institute say that avoiding social interactions can make anxiety worse in the long run.
2. Rehearse how to handle new scenarios
Like the Scouts say, "be prepared." This applies to children with anxiety as well. If your child is starting at a new school, for example, and you have the opportunity to attend an open house to meet the teacher and classmates, that gives you a great chance to walk through the school and build familiarity with a new routine. Show your child where his or her seat will be and review the daily schedule.
3. Explore school-based accommodations for anxiety
You may not be able to handle your child's social anxiety without help from the school counselor or other health professional. In addition to checking in with your pediatrician or another primary health-care provider for advice, you can ask the school to provide accommodations through a formal process for identifying children with special needs.
While your child may or may not qualify for a full Individualized Education Program (IEP), he or she may qualify for special accommodations like preferential seating, early arrival and dismissal from class, a quiet space for working or decompressing, or small lunch groupings sometimes called "Lunch Bunch" to help him or her navigate challenges during the school day.
4. Consider changing schools
Even walking into the classroom was a challenge for Grace, so her parents chose to look for another school. Now, instead of making that walk, she logs into her courses online. "Grace is reading the same thing as her counterparts in bricks-and-mortar school," said Jennifer Davis, Grace's mom. "Online school is just a perfect option for her."
A traditional public school may not work for your child. If you've tried all of the above steps and have worked with a professional to mitigate your child's anxiety, you may want to consider changing schools. Private schools, while an option, can be expensive and require extra commuting.
Connections Academy may also help a child suffering from anxiety. Your child can have access to your state's approved grade-level curriculum but receive his or her education in the comfort of your home. Some families choose to have their child participate in clubs or group activities either online or in person to keep a sense of connectedness with peers.
View our online school eGuide to explore how Connections Academy, the tuition-free online public school for grades K–12, works.
Related Posts