Online Teacher vs. Learning Coach: What's the Difference?
byStephanie Osorno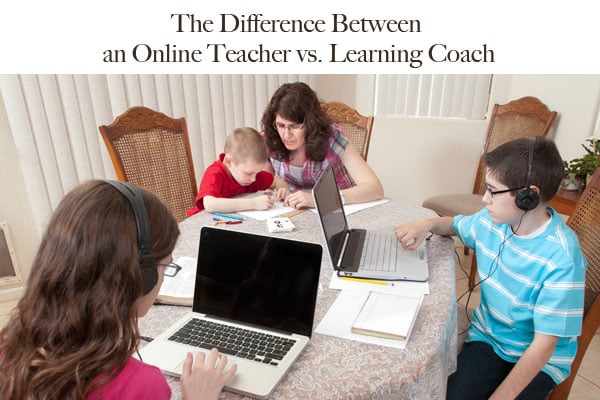 Teacher and Learning Coach: what was your initial interpretation of these titles? Did you have to think twice because they seemed similar? At first glance, these titles could be construed as synonyms since each involves a degree of leadership for students. When it comes to virtual school, however, teacher and Learning Coach represent two distinct roles.
So, as the parent of a virtual school student, which role should you be playing? Teachers and Learning Coaches are accountable for several duties that they handle differently, but both collaborate to enhance the student's online learning experience. If you're considering online school for your child, we are here to help you determine how to stay within the Learning Coach bubble. Take a look at the various differences between teacher and Learning Coach below to learn more about your specific duties and the ways each role can complement the other!
Online Teacher vs. Learning Coach
Virtual schools have certified teachers who are dedicated to helping students succeed—that means a Learning Coach serves as a guide, supporter, and motivator to further stimulate learning and establish a suitable structure for the school day at home. The role of a Learning Coach evolves over time as the student gains confidence and develops more academic skills.
Among other things, teachers and Learning Coaches oversee daily learning, provide assistance, and monitor progress in different ways.
Daily Learning
Breathe easy; it is the teacher's responsibility to teach and provide students with learning material. A Learning Coach is not required to plan any lessons. Instead, he or she should make sure that the student stays focused each school day. Here are a few examples of tasks teachers and Learning Coaches complete to facilitate daily learning:
Online Teacher
Leads the class during real-time virtual classroom sessions
Presents new material
Plans various lessons for specific subjects
Determines which topics will be covered each day
Learning Coach
Encourages breaks throughout the day when appropriate
Motivates the student to complete lessons
Makes sure the student has enough rest and nutrients for a productive school day
Asks the student what he or she learned at the end of each day to maintain open dialogue
Questions and Assistance
Since teachers lead the class, it is important that major questions be directed at them—after all, that is what teachers are there for! Learning Coaches can help with small concerns and questions such as, "Am I on the right track?" or "Am I being clear in this essay?" The more students reach out to their teachers, the more they will grow to be independent learners. Here are a few examples of tasks that teachers and Learning Coaches complete to effectively assist students:
Online Teacher
Answers the student's questions in the virtual classroom, or via phone or WebMail
Can offer support through individual online sessions
Personalizes lessons based on the student's needs
Clarifies any confusion or misunderstanding
Learning Coach
Prompts the student to communicate with the teacher when needed
Answers minor questions and assists with assignments but does not resolve the problem or do the work on the student's behalf
Reassures the student when he or she is having trouble understanding a concept
Implements some learning activities that might help with areas of weakness
Progress
Teachers and Learning Coaches both play a key role in monitoring a student's progress. The two are encouraged to stay in contact throughout the school year to discuss how the student is doing. Here are a few examples of tasks that teachers and Learning Coaches complete to properly monitor a student's progress:
Online Teacher
Communicates frequently with the student to ensure that he or she understands the material before moving on
Contacts the Learning Coach to discuss the student's progress
Analyzes student performance
Works with the student and establishes a plan to tackle subjects that require more practice
Learning Coach
Documents the student's attendance on a daily basis
Assists with organization and time management skills
Stays in contact with teacher for regular updates and suggestions
Ensures that the student is working at an appropriate learning pace
Even though teachers and Learning Coaches play different roles, the student's journey to success is a team effort!
Related Posts