Online School Grad Works to End Bullying
byConnections Academy
4 min to read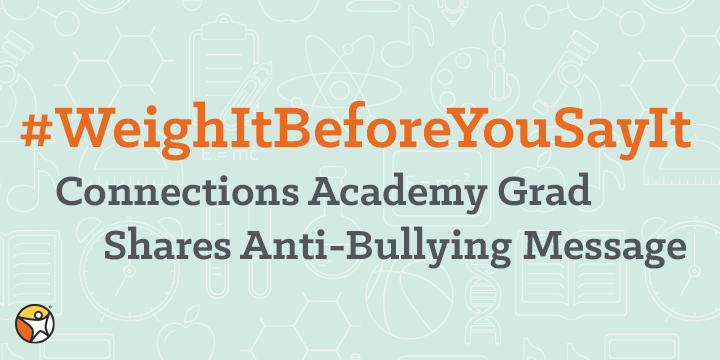 MacKenzie Haarlow is a Connections Academy online school graduate and the founder of Weigh It Before You Say It, a nonprofit organization focused on ending bullying. She was Miss King County Teen USA in 2018 and used her reign to spread her anti-bullying message. Now a political science major at Liberty University, MacKenzie took time from her busy schedule to write a special guest blog post to share her story with other families who have experienced bullying and are considering online school.

Prior to starting school at Connections Academy, I had both a traditional homeschooling experience and had completed my sixth-grade year at a private school. Learning has always been a bit of a challenge for me because I am affected by attention deficit disorder/attention deficit hyperactivity disorder (ADD/ADHD), which makes school an interesting experience.
Sixth grade was exceptionally hard due to the fact that my parents decided that for the first time, instead of homeschooling, I would attend private school. Not only was it difficult because I don't learn at a fast pace, but the other students saw me, the "new kid," as a target for bullying.
I knew by the end of the first semester that attending "normal" school wasn't for me. My grades, emotional and mental health, and overall outlook on life all suffered because not only was I unable to learn at the speed that the material was being taught, but also because I had become a victim of bullying.
Success After Bullying
After the school year was over, my family and I decided to pursue the option of attending a different school. As a family, we weren't really sure where to turn. Traditional homeschooling wasn't challenging enough, and regular school wasn't taught in such a way that I could benefit from any of the lessons.
We conducted research and Connections Academy came highly recommended, so we decided that it was worth a try. Almost immediately after beginning online school, my family, my tutors, and I saw a change in my grades and also my attitude toward school. I found the information easier to absorb, and I was actually enjoying school.
Switching to Connections Academy for online school was an amazing decision—and five years later, I graduated with honors.
Helping Others Who've Been Bullied
After my experience with being bullied, I decided to create my own campaign, #WeighItBeforeYouSayIt Let's END Bullying. I started #WeighIt because I know how tragic bullying can be and the helplessness that overcomes a victim when he or she is facing such events that make you feel so hopeless.
I decided to turn my negative story into a positive and use my testimony to remind students why we need to be kind and loving and stand up against bullying. I have been able to use my own story to relate to other students and give fellow victims of bullying the hope that they need to overcome such horrific events.
Advice for Bullied Students
Being bullied truly changed how I look at life and how I view others, and gave me a new perspective on what it means to be an advocate for other people. Since developing #WeighIt at age 15, my campaign has been recognized by several newspapers, news stations, and local politicians—Washington State Governor Jay Inslee even declared October 1, 2019, statewide #WeighItBeforeYouSayIt Day.
I am constantly being asked what advice I would give students who have been bullied. I know from personal experience that when you're faced with the challenge of bullying, it's hard to accept advice because in the moment you feel like nothing will ever make things better. The best advice that I can give is just to own who you are, be kind to others, and weigh your words—because you never know what someone may be going through.
Ready for Future Success
I have always had the dream of being a cast member on Saturday Night Live. I am a lover of comedy and believe that laughter is the best medicine when facing something as horrible as bullying. My hope is that one day I can bring joy to a student who might be facing the same challenges that I did by spreading laughter and happiness from the Studio 8H stage in New York.
In the past few years, I have also discovered my passion for politics! After watching my dad lobby on Capitol Hill and growing up having passionate political discussions around the dinner table, I discovered a love for the American democratic process. Once I graduate from Liberty University, I plan to earn my master's degree in constitutional law and international studies and eventually go on to law school. My hope is to be able to put my degrees to use in the West Wing one day!
With a school that's the right fit, students can prepare for a bright future, just like MacKenzie did. To learn more about online school for grades K–12, visit Connections Academy®. Or to learn about online private school, visit Pearson Online Academy 's website.
Related Posts