How National Honor Society Works in Online High School
by Beth Werrell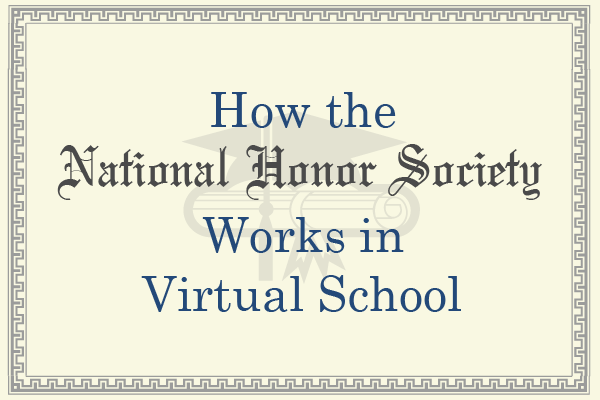 Each year, schools across the nation offer students various opportunities to further explore academic and personal interests. Among these opportunities is a long-standing and esteemed organization that promotes leadership, academic excellence, and initiative, the National Honor Society (NHS).
While this prominent group may be known for being "traditional," it is available in select virtual schools—and Connections Academy was one of the first to host NHS chapters. If your child is interested in joining NHS, we've provided a rundown of how NHS works in online high school.
NHS Eligibility for Online Students
Just as in traditional schools, students have to qualify to become an NHS member. Those who are looking to join the National Honor Society during online high school need to submit an eligibility form and meet certain standards, including maintaining a high grade point average (GPA) and completing volunteer service hours.
Within a set range, eligibility requirements may vary slightly for each NHS chapter in order to meet the specific needs of the school. To give you an idea, here are a few specific eligibility requirements for NHS in California Connections Academy schools:
Members must have a 3.5 overall GPA.
Members have to complete a minimum of 50 hours of volunteer service within the past 12 months from the application date.
Volunteer service must fall into four categories: school service, community service, student leadership, or character building.
Since grades are checked at the end of each month and semester, students have to maintain their GPA throughout the school year to prevent a period of probation.
The selection process takes place twice a year. In the fall, students in grades 10, 11, and 12 are eligible to become members of NHS. In the spring, students in 10th, 11th, 12th, and second-semester 9th grade are eligible to join NHS. Induction ceremonies are held virtually in the NHS LiveLesson® room or even in person, depending on the school. Once a student has been inducted, he or she remains a member throughout high school as long as he or she meets all NHS requirements each semester.
Benefits of Being an NHS Member
NHS can be extremely beneficial for high school students, not only throughout their academic journey, but also in their chosen future paths. NHS activities can help members quickly learn what it takes to achieve a goal or to overcome a challenge both individually and as team.
Connections Academy teacher and NHS advisor Amber Cambria says, "We strive to empower our members to take on accountability and teamwork so they can ultimately be leaders in their classes, at field trips, etc. The hope is that the skills they learn transfer to their outside-of-school lives." Here are some of the benefits of being an NHS member:
Social interaction—NHS members often collaborate on projects, campaigns, and events. They learn how to work in groups and develop long-lasting friendships in the process.
Preparation for college—The work that is completed in NHS is very useful during the college application process. Members are encouraged to build an ePortfolio, which showcases all of their accomplishments for colleges and universities.
Leadership development—Even though the organization is run by school faculty, each NHS member plays a significant leadership role in the group. Members look up to one another for guidance, support, and encouragement.
School pride—Being an NHS member helps to form a sense of togetherness and community among students within the virtual learning environment. Students tend to feel more connected to, and find themselves more engaged and involved with, their school when they are a part of a group.
Responsibilities of an NHS Member
NHS members are responsible for several duties throughout the school year. They are viewed as leaders amongst their peers and are highly regarded for the contributions they make as an NHS member.
Active participation and involvement is what makes being an NHS member such a valuable and worthwhile experience. Some of the responsibilities of an NHS member in online high school include:
Attending meetings via the NHS LiveLesson room
Completing 100 hours of community service
Participating in school events such as the beginning-of-year picnic
Regularly writing on the NHS message board and website
Completing several service projects
NHS Activities in Virtual School
NHS members participate in many virtual and in-person activities that build character and inspire new interests. Members are able to explore their creativity and improve their organization skills as they help to plan projects during NHS meetings.
Not only do students get to help execute each project and activity, but they also get a chance to give back to the community when they partake in volunteer service activities. Here are just a few examples of activities NHS members from different chapters participate in:
Virtual service projects such as implementing an anti-bullying campaign online
Independent service projects
Walk Against Drugs Parade
PBS studio tour: College and career readiness
VA hospital gift deliveries
Make Valentine's Day cards for Baltimore Hospital
Assist schools with different community outreach events
Beach cleanups
Leadership training
Although virtual school is not conducted in a physical classroom, NHS is still a significant part of the online school experience through virtual meetings, active contribution and engagement, and even some in-person activities.
Related Posts