How much screen time is too much for K–12 students?
by Beth Werrell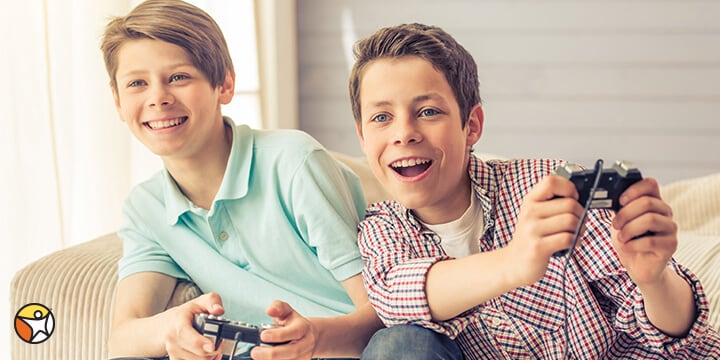 With many of our K–12 students doing school online, we've seen a corresponding increase in screen time. But should you be worried about how long your child is spending in front of a screen? 
We use screens in most of our everyday activities, in ways that previous generations couldn't have envisioned. Our K–12 children go to school online, play games, meet up with friends in online chats, and connect with family.  
So rather than setting strict guidelines on the number of minutes children can spend online, the American Academy of Pediatrics (AAP) has  screen time recommendations for parents of school-age children and teens.  
1. Look for high-quality educational content
Ideally, your child should engage with educational content that is age appropriate. Math games, typing apps, science and nature videos, and e-books are some examples of online content that fill kids' demands for screen time.  
 
But not all content is created equal. Just because a game says it's educational doesn't mean it delivers on that promise. You may want to read reviews for different games to get a sense of how much educational content a game has. The Food and Drug Administration approved a video game for the treatment of ADHD, a move that shows online content can be beneficial. 
2. Set screen-time limits to make time for healthy activities
While the AAP says that parents don't need to sweat over the amount of time older children are online, parents do need to set limits for screens so that their children have play time, fulfill family commitments, do schoolwork, exercise, and eat healthy. These six tips can help improve your child's social and emotional well-being. 
 
3. Establish screen-free zones
Experts also suggest creating screen-free zones, like at the dinner table. These times should be strictly off-limits for iPads and gaming devices, to allow children time to interact with family. 
 
4. Schedule brain breaks 
Even if your child is spending time with learning apps and taking online summer courses, you'll want to schedule brain breaks. Brain breaks are little bursts of time stretching, tossing a ball, swinging or running outside, and more. The idea is to increase students' focus, improve energy, and boost their mood to help them focus better on work. And if your child is playing video games or watching TV, going outside for PE activities is a great way to break up the day. 
5. Teach children about online privacy
When you decide to allow your child to spend time online, you may want to have a talk first to prepare your child. There are a lot of resources to help you teach your child about online privacy and safety. 
6. Go online with your child 
To get a sense of the content and the types of socializing your child may be exposed to, the AAP recommends that parents go online with their children. Find a game that you both play or set up the computer in a common area where you can monitor your child's online activities. This way, you'll know exactly how your child is spending time engaged in online social activities with peers. 
In other words, how much time your child spends online is not as important as how your child is spending that time and the other types of activities your child does during the day. To make the most of your child's online experience, explore how K-12 online school students socialize. 
Related Posts