Trivia for Kids: 5 FREE Apps to Keep Your Students Learning
byStephanie Osorno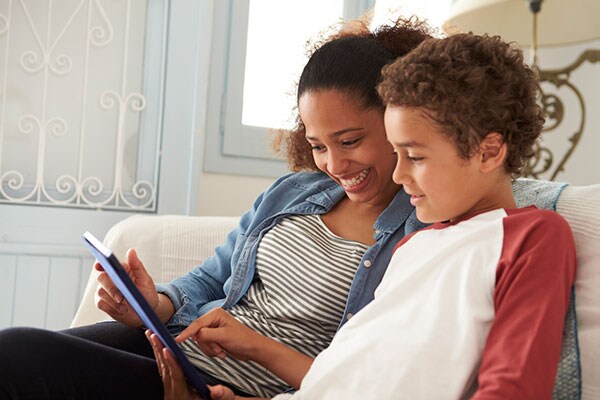 Kids these days seem to be born with an innate ability to operate technology. It's common to see even toddlers wandering around with a screen in hand. And the technology can do more than just entertain. Your kids can get more from their devices than just crushing candy or watching their favorite YouTube clips over and over again. Kids can stretch their minds, improve their memories, and increase their knowledge of a variety of topics with trivia apps.
Whether you're waiting at the doctor's office, stuck in traffic, or simply spending some downtime at home, trivia apps can entertain and teach your kids. The competitive aspect encourages children to learn more and try harder in order to win, and you can benefit from the break as your child is entertained, occupied, and learning—all at the same time!
Naturally, it's always recommended that parents visit a website to be sure it is appropriate for their students. Be sure to remind them to follow Internet safety practices, too!
QuizUp – FREE
QuizUp allows you and your kids to put your knowledge to the test of just about any topic under the sun. This means there are quiz categories for everyone in the family. Whether you've got a kid with the geography bug or a young budding wizard obsessed with Harry Potter, your family will love going head-to-head against each other and against challengers from across the globe.
Regardless of the category, each quiz is timed and is seven multiple-choice questions long. Users have about ten seconds to answer each question. QuizUp has a lot of replay value, but seasoned players may notice some of the same questions starting to pop up again if they stick with a particular category. So encourage your young learners to stretch themselves and try to master new categories.
With over 10 million downloads, QuizUp is one of the larger trivia apps on the market. Users are able to do as many quizzes as they'd like, so if you want to limit screen time, it may be best to set a timer when using this app.
Family Trivia – FREE
This family-friendly app is designed for players ages 3 and up. Players will answer questions from seven categories: cooking, letters, animals, music, numbers, world traveler, and human body. The app allows for multiple players.
Family Trivia Free is an educator-designed app with questions adapted to various age groups so the whole family can get involved. The game progresses with fun characters you can meet, dress, and customize throughout game play. Many questions use cartoon-style pictures, so even if your little ones can't quite read yet, they can join in the fun.
There are no in-app purchases or advertisements, making this game safe for your children to play without using additional device settings.
Jeopardy! World Tour – FREE
Fans of the popular game show will love sharing this classic game with their kids. Join Alex Trebek on a trip across the virtual globe with this free app.
Jeopardy! World Tour will test your children's knowledge of a wide variety of topics. You might find that your house is full of "fun facts" after they've played a few rounds, as even wrong answers lead to greater knowledge.
The app offers some of the game show's tried-and-true features, like the daily double, but it also introduces power-ups like extra time to answer in order to accommodate users and improve their experience.
The app is free, but there are opportunities for in-game purchases. So if you are worried about that, make sure to enable the proper settings to block purchases on your device.
Trivia Quest™ Kids Trivia – FREE
This trivia app was designed specifically for children. With new trivia added daily, your kids will enjoy hours of fun answering questions geared toward their age group.
Trivia Quest™ Kids Trivia is free and easy to use. It features a straightforward layout and simple vocabulary with large buttons that work perfectly for young children. The app will present your kids with multiple-choice questions that offer more than one attempt to get the question right. Players earn "gems" according to how many attempts it took to correctly answer the question.
You lose a "life" every time you answer a question incorrectly, but the lives regenerate over time.
The app does offer in-app purchases and ads, so be aware of that when you download it onto your device.
Trivia Crack – FREE
Trivia Crack is built with six broad categories—art, sports, entertainment, science, geography, and history. Users can choose to play against their Facebook friends or random challengers from around the world. You can also connect with other players who do not have a connected Facebook page by searching for their usernames.
The object of the game is to collect the six characters that represent the different categories before your opponent is able to do so. Players are able to collect up to three characters in a round by answering questions correctly.
This app allows users to start up to three new games per day, which will automatically limit how much time your child will be able to play on the app.
Keep It Fun; Keep It Educational
An educational app can be a great supplement to a child's education. But if you get an educational app for your students that they love, they may not notice that they're actually learning something—because they'll be having so much fun!
Related Posts