5 Ways That Online School Teaches Children Independence
by Beth Werrell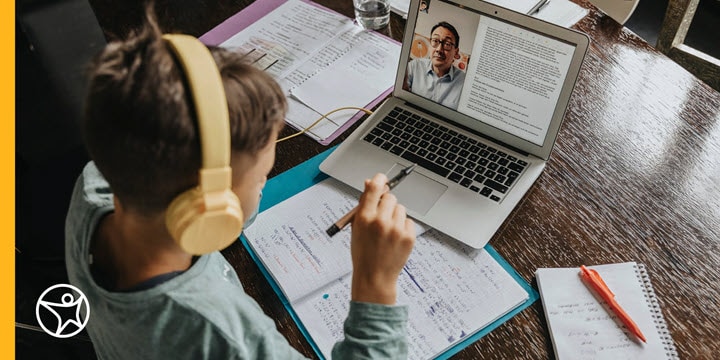 From teaching your child to fix their own breakfast to letting them walk to a friend's house by themselves, encouraging students to become more independent is both hard and rewarding; it is also extremely important! Children who learn how to be independent have more confidence in themselves and their abilities, and are more resilient when faced with adversity. Gaining independence from parents and learning how to be an independent student also teaches the soft skills many employers are looking for, including leadership and problem-solving skills, as well as the ability to adapt quickly to changing environments. 
But in today's world, how do you help your child be more independent while also keeping them safe and letting them know you are there to support them every step of the way? 
Online schools like Connections Academy® are a great place to let your student stretch their wings and test their independence with you being just close enough to step in if they need support. In online school, students learn how to be resourceful, adaptable, and resilient, which builds the independent skills they need to find success later in life.  
Here are five ways that online school teaches students how to be independent: 
1. Flexible Daily Schedules  
One of the key benefits of online school is flexible daily scheduling. While students have to spend time each day completing their online school lessons, they can choose to start and end their school day at times that work best for them. They can also add the daily breaks they need to be successful.  
Students having a say in creating their daily schedule supports their growing independence. Learning Coaches can help by talking with their student about their daily school obligations as well as what needs to be accomplished throughout the semester. Students can then create a schedule that helps them meet those requirements. This not only teaches them independence, it's also a great way to teach them time management. 
Students are responsible for following the schedule, just like they will have to later in life when they head to college or wherever they go after high school. If something happens to disrupt the schedule, students will learn how to make quick adjustments to ensure they continue meeting their school obligations.  
2. Self-Paced Learning 
In traditional school environments, students follow the curriculum at the pace set by the teacher. In online school, students can learn the curriculum at their own pace. For lessons they grasp quickly, they can move on to the next topic. For lessons where they need more time to understand the concepts, they are empowered to take that time.  
This ability to have control over the pace of their lessons helps students gain an understanding of what works best for them, which is critical for becoming a successful, independent person. This self-pacing encourages them to make meaningful choices that have a direct impact on the outcome of their classes. It also teaches them how to be resilient in sticking with a lesson until they understand the concepts.  
3. More Opportunities for Unstructured Playtime  
Students today have so many opportunities to participate in structured activities, but in a structured environment, they are often told what to do and where to be, which doesn't foster independence.  
Unstructured play gives children the freedom to explore, create, and discover, and helps spark their curiosity. With flexible daily schedules, online school students can enjoy unstructured playtime at various times throughout their school day. Unstructured play helps children learn how to amuse themselves, how to play well with others, and how to decide what games to play—which allows them to get creative in making new games. Children learn problem-solving, social, and independence skills when they are given the opportunity for unstructured play.  
4. Personal Interactions with Teachers  
At K–12 online schools, teachers are specially trained to teach in the online environment. They get to know your student personally and nurture children throughout their school journey. Because of the relationship they build, students are empowered to reach out to them with questions or support with lessons. Teaching your student how to talk to other adults on their own is an important way to help your child be more independent. They build their confidence and are more adaptable when they know they can use their own voice to help solve a problem they are having.  
5. Daily Opportunities to Learn Life Skills  
Online school typically takes place in a student's home. With flexible daily schedules, parents can help their students become well-rounded, functioning adults by teaching them the basics of keeping a household running. Things like doing the laundry, running the dishwasher, making their own lunch, or taking the dog out are really important skills to have. These daily chores build their self-esteem because they see they can do things themselves! They also teach time-management. When children play an active role in running the house, they will know how to be independent and take care of themselves when they are out on their own.  
Preparing Students for What Comes Next 
Online school offers students more than just learning the curriculum. It prepares students for their independent and successful future, whatever path they choose to follow. If you are interested in learning more about how online school can benefit your child, attend a Connections Academy Information Session and speak to one of our counselors. It's never too late to make the switch to a new school experience.   
Related Posts