Do They Get It? Ideas for Checking Comprehension
by Beth Werrell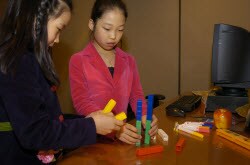 It's a joy to witness your child reaching academic milestones, like learning to read and acing his or her first big exam. Even though Learning Coaches (parents of virtual school students) get a unique front-row seat to their children's education, some breakthroughs may not be as easy to spot.
You can use some simple techniques to help watch for milestones and communicate your observations back to teachers to ensure your child gets the best individualized learning experience possible. Below are a few ways to help determine if and when your student has grasped a particular concept:
During everyday conversation with your student, listen for whether or not he or she is using vocabulary that was encountered in lessons or readings.
Use the words yourself so your student has more examples and is encouraged to utilize what has been taught.
Ask your child to name a current event influenced by something recently learned.
It helps some students to physically demonstrate what they are learning. For example, if your student is studying anatomy, pretend that you are blood cells traveling through the four chambers of a heart by walking through four rooms in your house. Have your child explain to you what he or she is thinking while acting out each step of what happens when the heart pumps.
Math concepts can be easily reinforced by manipulatives—tangible (and preferably familiar) objects that a student can touch and arrange. Spare change, for instance, helps demonstrate the use of decimals.
Graph paper and whiteboards give students extra room to draw out and work through more complex math problems—no need to confine your work area to just a worksheet or textbook!
Use these strategies to gather information about your child's comprehension level, and share any of your concerns with your teachers. It can help your teacher better address your child's needs and personalize your student's learning material with a variety of suggested lesson activities.
After a while, these practices become second-nature, and everyone involved in the learning process should feel more relaxed and confident.
Related Posts