Celebrate Computer Science Education Week
by Beth Werrell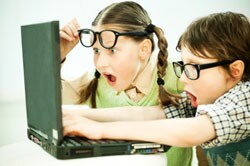 Kids really can do the most extraordinary things. As a parent, you've undoubtedly caught yourself thinking, "Wow, when did my child learn to do that?"
Computer science skills enhance the things your children are capable of achieving. Some use them in really impressive ways, like Thomas Suarez, the 12-year-old who developed apps for the iPhone,® iPod Touch,® and iPad.® You and your kids can enjoy watching Thomas speak about his apps in this truly inspirational video(opens in a new tab)!
No matter how your kids use it, having a solid understanding of computer science is hugely important in today's technology-centered world. Computer Science Education Week (CSEdWeek(opens in a new tab)) was created with this idea in mind. This event takes place from December 4th through 10th. To get involved, you and your online learners can try some of these fun activities:
Have your child create a skit or commercial that highlights how computer education has changed his or her life. This can include education-based things like, "I can go to class without ever leaving the house," or everyday uses such as "I can look up the weather to see if we can go to the park to play."
Do some quick online reading about prominent computer scientists, and have everyone in the family choose whom they relate to best. It's a time-friendly, fun way to learn more about the people who shaped computer science throughout the years—and you might learn something new about your family members, too. Who knew that mom always thought she'd be great at creating robots?
Brush up on your magic skills. Yes, you read that correctly. Computer Science Unplugged, a website that contributes to CSEdWeek, explains a card flip magic trick

(opens in a new tab)

you can do with your kids to enhance their understanding of how computers work. In addition to being fun, it helps explain how computers determine when errors occur in their data storage systems. The trick is easy to do, so once you impress your kids with it, you can teach them how to do it too. (Find the instructions on pages 32-33 of this PDF

(opens in a new tab)

)
Find out if there are any CSEd events going on in your area. Events are going on all over the country, from workshops and contests to demonstrations, presentations, and celebrations. Visit the events page

(opens in a new tab)

and enter your ZIP code to see if there are any near you.
If you have older students attending online high school(opens in a new tab), the CSEd website has tons of great resources that can help them explore computer science from a higher-education and career-based standpoint. Check out the whole list here(opens in a new tab).
Having a solid computer science education can help give your kids a real advantage in life! Take this week to learn a few new things about computer science. Maybe you and your children will even discover new ways to use it in your everyday lives.
Related Posts