Top Reasons Why Online Schools Work for Parents
by Beth Werrell
4 min to read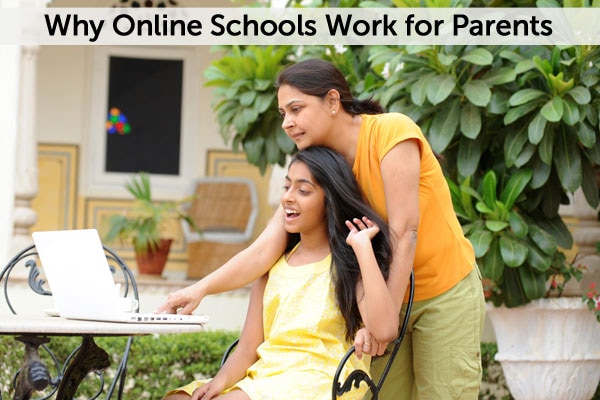 Imagine yourself in the shoes of a parent with a child who has asthma. Sometimes, asthma attacks keep your child out of school. He misses classes, homework, and tests—which means he has to work extra hard to catch up. This happens multiple times per year, and it's starting to take a toll on your child and your family.
Now think about the flip side of this scenario: with online learning, your child's asthma attacks don't hold him back. Instead, your child gets schoolwork done at home in a time line that works for you and your family. No more missed tests, stockpiles of homework, or anxiety on account of falling behind.
As a parent of a child in virtual school, you have access to greater flexibility and control. You set your child's daily schedule. You decide if your child can go on a family vacation and still get schoolwork done. You decide when the learning day starts and when it stops.
These are just a few of the many benefits parents can experience when their child attends school online. Over the years, many parents have told us that Connections Academy works well for their family when they can:
Dedicate time to keeping the student motivated throughout the day
Provide ongoing guidance and encouragement
Help monitor student comprehension and progress
Organize and structure the learning day
Maintain regular contact with their child's teachers
Encourage their students to interact with others through field trips, clubs, and community activities
Don't Take Our Word for It … Hear It from Real Parents
Learning about what Connections Academy can do for your family is great, but it's not the whole picture. We want you to have all of the facts, both from the source and from those with firsthand experience, so you can make the right decision for your child and your family.
Take a look at some of the reasons why online school works well for parents, as told on the Connections Academy Facebook page:
Parent Involvement
One of the most common reasons parents appreciate online learning is the extra time it unleashes to spend time with family. In particular, parents have communicated to us that it provides them with the opportunity to take an active role in their children's learning. Parents don't just act as the "homework helper"—if they wish, they can take a more proactive approach to what their children learn, like these parents below:
"It gives us as parents the opportunity to see how our kids learn. Usually we rely on the teachers, but [now] I know for myself what works and what doesn't."—Carmisha W.
"It allows us to spend more time together, learning together. It allows my role in their education to be more than a homework nag."—Amanda M.
"My kids can focus on learning rather than the taunts of the many bullies in an overcrowded classroom."—Kimberly B.
Flexible Scheduling
Online education provides a much more flexible environment than a brick-and-mortar education. Even though roles and activities are carefully structured to ensure that students develop a love of learning and gain skills essential to their future success in school, parents can choose the daily routine and learning atmosphere for their children.
"My boys can stand up, walk around, or bounce on a ball while learning. No sitting and listening to lectures. We have active discussions, which provides ample time for questioning and a deeper level of understanding."—–Jennifer C.
"We have been able to really work with the flexible schedule. They have been to Groundhog Day in Pennsylvania, will get to go on an Alaskan cruise before the brick-and-mortars finish for the year, and have been able to travel with me for work and still get the schoolwork accomplished!"—–Darla T.
"We can alter our schedule around trips and still not get behind on work."—–Elizabeth R.
"My child can work when she needs to, she can enjoy her hobby freely, and I get to have her around me during the day."—–Cricket C.
"I appreciate that he can work when he isn't feeling great because of his asthma. Sometimes he feels like he isn't sick enough to need a sick day and still wants to work. In brick-and-mortar [school], he would have been sent home and then be forced to catch up on missed work when he was able to return. Connections Academy allows me to monitor his health and well-being while continuing to let him thrive!"—–Amanda M.
Are you a parent of a child attending Connections Academy? We would love to hear your perspective on why online school works for your family in the comments below.
Or if you are considering enrolling your child in an online education, learn more about Connections Academy today.
Related Posts