School Choice Helped Ohio Connections Academy Student Coriaunna Meyer Realize Her Potential
by Beth Werrell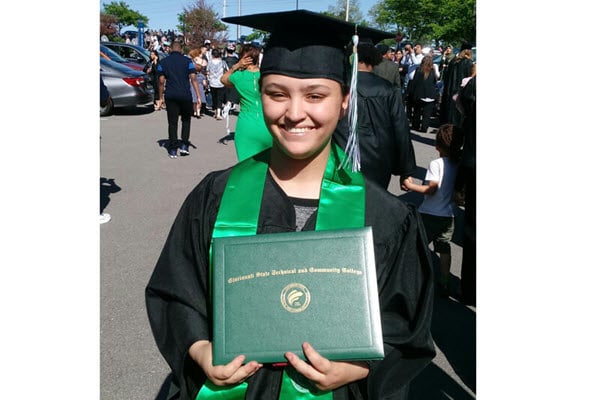 Ohio Connections Academy (OCA) senior and soon-to-be high-school graduate Coriaunna Meyer and her family chose online public school for K–12 to motivate and challenge her. Did it ever! Coriaunna will graduate June 8, 2019, with both her high school diploma from Ohio Connections Academy and an associate degree in psychology from Cincinnati State. She wrote the following as a scholarship essay:
Why Should Families Choose K–12 Online Public School?
"When I was in the fourth grade, my father would often ask me what I learned in school that day. After I gave a few simple answers, he quizzed me with more in-depth questions on history and math. As many of his questions were followed with blank stares and confused looks, he was convinced a change was needed.
My father enrolled me in a virtual online public charter school, Ohio Connections Academy, and ten years later, I understand why: he knew I wasn't being challenged and that having the ability to work at my own pace would keep me engaged."
Getting Used to Virtual School
"As with any change in school, the first year was the most difficult. The technology was different. The format was different, and at the time, virtual charter schools were still relatively new alternatives to traditional public schools.
As time went by, we learned to navigate around the digital platform and understand the live online classroom while my parents assumed their role as 'Learning Coaches.' It wasn't long after that when we started to realize the benefits of going to an online school."
How Online School Supports Student Growth
"Some of those benefits were being able to refer back to previous class sessions for clarification. Through email, I could contact my teachers with questions, request a phone conference, ask questions during classes, and collaborate with other students. The biggest benefit was having my parents actively involved. They would often expand on the knowledge through their understanding while instructing me how I could start to become resourceful on my own. Having someone who has a personal interest in my education and future success makes all the difference in the world, and as a result, I managed to make the honor roll and have done so every year since starting at Ohio Connections Academy."
How Coriaunna Knew Virtual School Was Right for Her
"As I progressed in school, the classes got harder and required more work. At the same time, I was playing travel softball, taking violin lessons, and learning a few different foreign languages. So before I started my freshman year, my father and I sat down to discuss my options. I could go to the local public high school or stay at OCA. That discussion was short-lived because by this time I had become a self-starter and was well versed in utilizing available resources to succeed academically. The decision was simple, and as my father would always say, 'If it is working, then don't try to fix it.'"
Graduating from Online High School with an Associate Degree
"By the end of my sophomore year, I had completed all my high school requirements and did well enough on my state tests that I did not have to take additional classes. It was then that my counselor at OCA approached us about enrolling in College Credit Plus for the remaining two years of high school. I took advantage of this great program and enrolled at Cincinnati State Technical and Community College, where I made the Merit List for Spring 2018 and Dean's List for 2019. Now as a high school senior, I'm looking forward to graduating from Ohio Connections Academy with honors in June, but not before receiving my associate degree in psychology this month from Cincinnati State."
Finding Success After Online School
Looking back, I don't think I could have achieved so much and gone so far had I continued in a traditional classroom setting. The support I received from my family, along with the involvement of my teachers and counselors at OCA as well as my softball coaches, has allowed me to gain the mind-set of becoming an independent, hardworking student who recognizes the value of teamwork.
Being a high school graduate and achieving an associate degree at the same time brings me a sense of great accomplishment and motivation. There are no plans to stop here as this is only a milestone. I was accepted into Xavier University for my undergraduate degree in psychology. From there I intend to obtain my master's and then go on to get a doctorate.
I don't believe I could have been afforded the opportunities I've realized without the support of my family and the ability to choose the learning environment that best met my academic needs."
Congratulations to Coriaunna and to the entire Ohio Connections Academy Class of 2019!
Related Posts