Motivational Journal Prompts and Craft Idea for Students
by Beth Werrell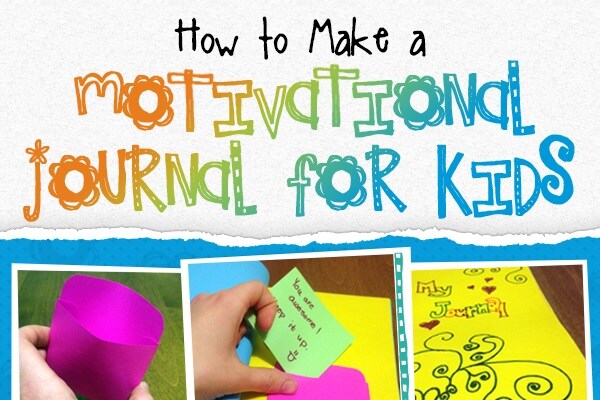 Creating a journaling schedule for your child early in his or her education can make a noticeable difference in the development of writing skills. Journals provide a safety net for early writers, so they can gain confidence in their writing abilities and practice writing skills without the fear of messing up.
It can be tough, for children of all ages, to journal regularly. Sometimes, it may feel like there isn't anything to write about. To many students, finding a topic may just seem too daunting. But it doesn't have to be difficult! Below, you will find some resources to get your student started journaling, including homemade motivational journal instructions and writing prompts.
To begin, print the motivational pockets template and click the image link below for instructions on how to make a motivational journal with your student.
Get Writing!
Here's a little bit of inspiration for your student's journaling schedule. Take a look at the motivational journaling prompts below and choose any that apply to your child. Feel free to add your own as well! Write, or print out, each prompt on individual slips of paper and place them in a jar or other container. Your student should schedule 30-minute increments on one or two days each week for journaling. A new prompt may be chosen out of the jar for each new journaling session.
Expressing Emotions
My happy place is _______, because…
I was proud when I…
My hero is…
I am afraid to _______, because…
My dream vacation is…
My family is…
The thing I wish people understood about me is…
Getting Creative
Create a new sandwich and give it a name. What are the ingredients?
What if television didn't exist?
Write a story titled "The Sloth Who Never Slept."
What if you woke up and you were ten feet tall? What would life be like?
The three most important items to take on a camping trip are…
Invent a monster and describe it.
What I know about dinosaurs is that…
Acknowledging and Establishing New Goals
What excites you?
I wish I could learn _______, because…
Something I put off doing last year that I want to do this year is…
Is there a difference between dreams and goals?
Do you like to take risks? Why or why not?
What are you looking forward to the most?
What do you consider your greatest accomplishment?
Related Posts