Teach Children About Sustainability for Earth Month
byChristopher E. Nelson
6 min to read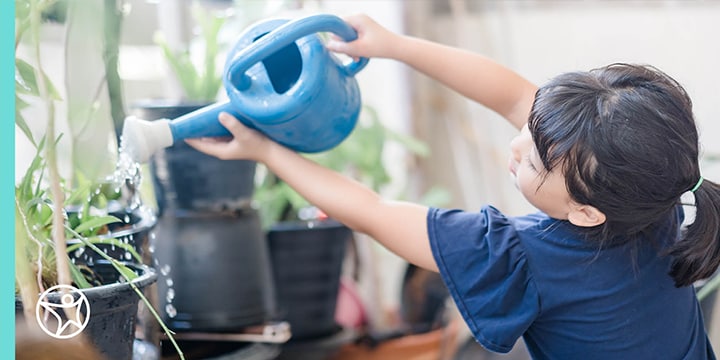 Earth Day marks the anniversary of the birth of the modern environmental movement in 1970. It was originally set for late April to capture the attention of college students before they left school for the summer. Here's a short PBS video about the first Earth Day suitable for grades 6 through 12.
Today, Earth Day is a worldwide educational and activism event marked by more than 1 billion people every year on April 22, according to EarthDay.org.
Many organizations celebrate the weeks leading up to Earth Day as Earth Month. It is an opportunity to take part in activities and learn about sustainability and climate solutions. Below, we take a look at some lesson plans, activities and books with sustainability ideas for kids that you might enjoy exploring with your children as part of their online school science curriculum.  
A Sustainability Definition For Kids
Sustainability has become a mainstream topic in the 21st century, and its application to our daily lives takes many forms. One sustainability definition for kids says sustainability refers to using resources in such a way that they will continue to be available in the future. Practicing sustainability takes into account the economic, social, and environmental impact of a decision or action. This applies to:
Water conservation to ensure continued access to safe drinking water. Water conservation is also especially important in agriculture, because growing food for the world consumes much more water than any other activity. Here are some home garden sustainability projects to share with your school-age child.
Sustainable energy production through the use of renewable resources, like solar power, wind power, and waterpower (hydroelectricity).
Sustainable development of our physical environment through infrastructure and housing construction that uses recycled materials as well as site selection and building design that work in harmony with the local ecosystem.
Sustaining the air we breathe by limiting emissions of carbon dioxide and other long-lived greenhouse gases that build up in the atmosphere. 
These are broad issues with widespread impact that, in the long run, will be positive or negative depending on how well they are accepted, understood, and addressed. They may seem complex for kids focused on dealing with k-12 subjects in an online or virtual classroom environment. But when we define sustainability for kids as ensuring that resources continue to be available in the future, it's their future we're talking about. Let's get our kids thinking about their future.
An Earth Month Sustainability Curriculum
The U.S. Environmental Protection Agency has rounded up a trove of science-based lesson plans, activities, ideas, and resources for teaching sustainability and the environment. Materials suitable for different grade levels are presented on printable PDFs and may require some introduction, set up, and instruction from your child's Learning Coach.
Here are some lessons and activities about water, air and energy sustainability, waste, and recycling that you and your student might enjoy:
Grades K-6. (Also available in Spanish.) When rain falls and trickles into a nearby body of water, different things can happen to the rain along the way. This three-part lesson module gets students outdoors to map and simulate their own watershed. They'll learn:
What a watershed is and how it works
Characteristics of ecosystems, such as forested area, creek, pond, field, etc.
How humans can change their behavior to protect local watersheds and to describe solutions to problems associated with their local watershed.
Grades 6-8. This book is written at a 6th grade level, and its language, concepts, and experiments may need adapting for other grades. It offers essays, experiments, and activities intended to help students better understand the science, cause and effect, and regulatory and citizen actions that are part of understanding and addressing acid rain.
Grades 6-12. This interactive board game developed by EPA scientists teaches the costs and benefits of the energy choices we make. Players compete as they explore energy choices and their impact on the environment and learn the considerations and costs that go into deciding what type of energy generation system to build. Click through above for printable game boards, game pieces, instruction manual, and an instructor's guide, plus a tutorial for playing online via Google Jamboard.
Grades K-8. Here's more than 200 pages worth of fact sheets, games, activities, journal writing assignments, and other educational tools designed for various grade levels, plus teachers' notes in PDF form. A separate table of contents helps you find and print out relevant material about natural resources, consumer products, waste, and source reduction and recycling.
Sustainability Books For Kids
Reading is the best way to learn. Here are some books about the environment and caring for Mother Earth.
Coco has a problem in this online PDF for kids ages 4-8. He is a chameleon, but he cannot change colors, and his asthma is acting up. Read how Coco and his friends at Lizard Lick Elementary solve this mystery as they learn about air quality and how to stay healthy when the air quality is bad.
If your child is interested in environmentalism but not quite ready for "Silent Spring," this is an award-winning elementary-grade level biography of the pioneering scientist and environmentalist – a tale about a strong and brilliant woman. "Carson emerges as a proud, conscientious woman who never allowed the constraints of her era to interfere with her convictions," Publishers Weekly said.
This is the book that launched the environmental movement when it was published in September 1962. Reaction to Rachel Carson's passionate concern for the future of our planet forced the banning of DDT and spurred changes in law that affected our air, land, and water. However, a critic's re-reading in 2011, which called it a "profoundly important book" that is "brilliantly written: clear, controlled and authoritative," also said, "I was relieved to get to the end of it: awful warnings have a way of making you feel awfully low-spirited."
Have you ignited the fire under a budding climate activist? Help them get up to speed about air pollution with this introduction to the 1990 Clean Air Act, the most recent version of a law first passed in 1970 to clean up air pollution. This 20-page summary explains different types of air pollution and how they occur and covers some of the important provisions of the 1990 Clean Air Act and how it may affect the reader.
Originally founded in the post-World War II art world, minimalism has evolved into an Earth-friendly lifestyle focusing on the three Rs (reducing, recycling, and reusing) to minimize one's carbon imprint. Is your teen ready to do their part to save the environment? The guide explains how and why to embrace minimalism with hands-on activities, tips, and real-world examples from practicing minimalists. It's available for Kindle readers, of course.
Here are eight more hands-on Earth Day activities for kids, and a Composting 101 for young recyclers. And don't forget, we're not alone on this planet! Here are some ideas about how kids can help animals for Earth Day and Earth Month.
Related Posts