Earth Day Activities for Students
by Beth Werrell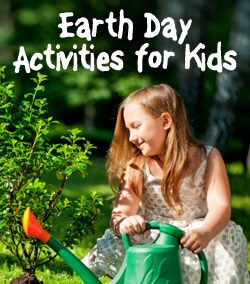 Don't let Earth Day go by without celebrating! Earth Day is a wonderful opportunity to help your child learn about a variety of environmental issues. Some of the significant topics you can explore on Earth Day, April 22nd, include:
Food
Water
Energy
Waste
Deforestation
Transportation
Global warming and climate change
Reading books, watching documentaries, and having discussions are a few ways you can cover these issues. But if you have some time and flexibility, engage your student in hands-on learning. Here is a list of Earth Day activities you can try.
Purify Polluted Water
Nearly all of the water on Earth is saltwater, and some of our freshwater is "trapped" in glaciers. That leaves a small portion of usable fresh water, which decreases as pollution increases and population grows. Help teach your student about these issues by trying this water filtration activity(opens in a new tab) created by the Environmental Protection Agency (EPA).
Organize a Community Cleanup
On Earth Day, coordinate a group of people to spend a few hours picking up trash in the community. You can clean up neighborhoods, local parks, or roadsides that are a safe distance from moving traffic. This is a great opportunity to gather friends, family members, or other virtual school students in your area.
Attend an Event or Volunteer
The EPA has a list of Earth Day events and volunteer opportunities(opens in a new tab) all over the country. Recycling drives, festivals, and hikes are just a few of the events you could attend. If you can't find an event near you, consider organizing one yourself!
Make Earth Day Crayons
Creating Earth Day crayons(opens in a new tab) can teach your student how to recycle objects around the house. It's just like the Super Crayon activity we shared in our previous blog post about rainy day crafts for kids, except this one uses certain colors to make the crayons look like Earth.
Visit a State or National Park
The National Park Service offers several resources to help you and your student learn more about nature. You can take a nature walk, explore ways to get involved(opens in a new tab), and see if a forest ranger can help you learn more about local ecosystems and what you can do to preserve them. Find a park(opens in a new tab) near you, and don't forget to show your child the WebRangers(opens in a new tab) site for kids.
Go on an Earth Day Scavenger Hunt
A scavenger hunt encourages students to explore environmental concepts through hands-on learning. If you have children from different age groups, this can also be a good way for them to work together. You can set up the scavenger hunt or have your older children create it for their younger siblings. Some ideas are to look for endangered animals at the zoo; plant and animal species at a park; or even eco-friendly—or not-so-eco-friendly—products and practices around the home.
Build a Homemade Solar Oven
In this activity, your children can make a solar oven out of a pizza box and actually cook food in it! By making the oven, students can understand the benefits of solar power firsthand. You can extend the lesson by discussing other kinds of natural, renewable power resources, such as wind power and hydro power.
Plant Real "Family Trees"
Help your student understand the benefits of trees(opens in a new tab) by planting one. After finding a lot of seeds from the same type of tree, plant several seeds in one spot. Then divide up the rest and mail them to relatives across the U.S. (you may want to choose a hardy type of tree that grows almost everywhere). Encourage your child to record the "family trees" on a map and keep track of their growth by staying in touch with distant family members.
Related Posts