How Kids Can Help Animals on Earth Day
by Beth Werrell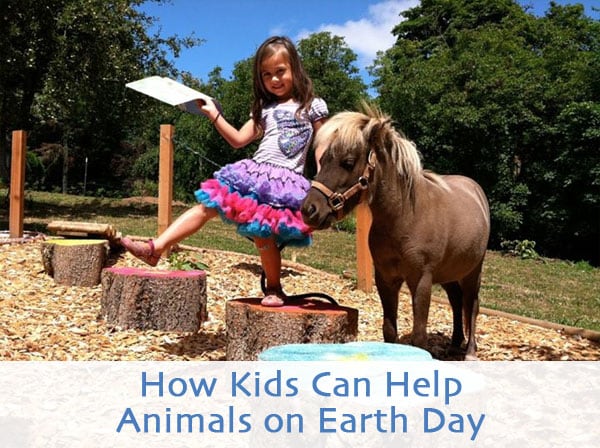 On Earth Day, celebrated annually on April 22nd, many kids try Earth Day activities such as volunteering in the community, finding new ways to recycle, or planting trees or other types of vegetation. But don't forget about helping animals, which is another great way to give back to the environment.
Helping animals, whether wild or domestic, is a fun way for your child to build his or her "nature smarts," or understanding of the natural world. Take a look at the Earth Day animal activities listed below to find some ideas.
Help Animals in the Wild
There are many hands-on opportunities for children to help wildlife in your community. Do the following activities with your child to make a difference in your own backyard.
Volunteer to clean up litter that could harm wildlife.
Avoid using fertilizers and pesticides in your yard.
Work with your child to create some green household cleaners that are safe for kids as well as wildlife. Safe ingredients include lemons, vinegar, water, baking soda, and salt.
Plant a garden that helps animals

(opens in a new tab)

by providing food or shelter.
Help your child make a bird feeder to hang in the yard.
How Pets Can Help Your Child
Children can spend time helping animals on Earth Day, but animals can also help children. Here are some of the ways that children can benefit from spending time with pets or other animals.
Having a pet can help teach your child responsibility. Asking your child to walk the dog or clean the cat's litter box can help him or her learn how to take care of something. It can also teach your child to be proud of a job well done.
Pets teach children compassion. Children learn compassion by doing good things for others, even if it's simply helping to take care of a dog.
Children stay active when they have a pet to play with. Encourage your child to play with the family pet every day by playing fetch in the yard with the dog, using toys to entertain the cat, and so on.
Pets help children learn. Researchers have discovered that children who practice reading aloud to dogs

(opens in a new tab)

improve their reading skills faster than those who do not.
If your family cannot have a pet, your child can still help animals by volunteering. Older children can volunteer at local animal shelters, and children who are too young can help by collecting donations or supporting fundraisers through organizations such as PAWS(opens in a new tab).
Is your child ready to test his or her Earth Day knowledge? Ask him or her to take the Earth Day QuizBowl Trivia Challenge online(opens in a new tab).
What are some ways your family helps animals, both inside and outside your home? Share your experiences with us.
Related Posts