How Summer School Works in Private Virtual School
byStephanie Osorno
5 min to read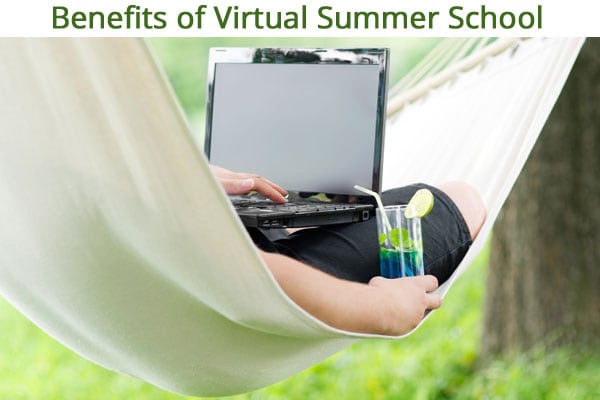 As the spring semester comes to a close, you might be considering summer school options for your student. Online summer courses can be beneficial for many reasons, including gaining credits to accelerate graduation, retaking a course without falling behind, catching up because of a busy schedule, or simply continuing to enjoy learning throughout the summer.
You may already know that Pearson Online Academy, Connections Academy's online private school option, can be a great choice for students who live in a state that does not offer a Connections Academy®—supported public school, or for students who live abroad, but did you know that it can also be a great option for summer school?
Pearson Online Academy 's flexible online summer school program offers students in grades K–12 a wide range of courses—with certified online teachers—at an affordable price. To familiarize yourself with Pearson Online Academy 's summer school program, read below and learn how Pearson Online Academy 's summer courses benefited four students!
Getting Ahead of Schedule: Emma Gaydos
Emma Gaydos is a current student at Colorado Connections Academy. She spends a lot of her time on fun hobbies such as writing and playing tennis.
Emma has taken summer courses with Pearson Online Academy for two years in a row. She decided to take a geometry and an algebra course so she could get a head start on precalculus as a sophomore. Now she will be able to take AP®* Calculus next year. She would like to be two years ahead in school, and taking summer courses is helping her reach her goal.
Emma found her teachers to be very friendly and supportive. She's a self-motivated student, but she liked knowing that they were there when she needed them. Emma likes that the courses are rigorous and challenging, and that all the information she needs to complete her schoolwork is available in one spot. Emma also appreciates being able to see her grades and progress online.
Even though she took summer courses, Emma was still able to enjoy other activities that she is passionate about, including tennis, music lessons (piano, violin, and voice), reading, and writing. She still had time to swim at the pool every day and hang out with friends as well.
Improving Grades: Myla Abernathy
Myla is a current student at Arbutus Middle School. She has a passion for dance and loves to choreograph dance routines.
Myla had been struggling with math, so she decided to enroll for a summer math course at Pearson Online Academy to get some extra practice and help before beginning middle school. She appreciated that her teacher regularly connected with her via phone and email throughout the summer. Myla also enjoyed having classmates from many different states.
Taking the time to focus on one subject over the summer was greatly helpful for Myla—her math skills improved, and she also received all A's this school year! Myla was so pleased with Pearson Online Academy 's summer program that she plans to return for another summer semester.
Preparing for the School Year: Reagan Harwood
Reagan is a current student at California Connections Academy @ Ripon. She is an active ice skater with hopes of competing in the Olympics one day.
Reagan chose to take Spanish, US history, geometry, algebra, and statistics over the summer through Pearson Online Academy . Being able to get specific credits out of the way allowed Reagan to focus on more difficult courses during the school year.
Reagan keeps busy with ice-skating practice 20–30 hours every week, so the flexibility of Pearson Online Academy 's summer program was really helpful. Since summer courses are quicker (four or five lessons a day) than regular full-time courses, Reagan's teachers were much more understanding about deadlines for assignments and were very supportive.
Making Up Credits: Barry Gans
Barry Gans is a current senior at INSPIRE, the Idaho Connections Academy. He is a talented dancer and was accepted into Juilliard's dance program.
At a previous school, Barry had a Spanish teacher who didn't end up giving him credit for a course he took, so he needed to make up a semester of Spanish to apply to his top university choices. He chose summer school at Pearson Online Academy because he was already familiar with Connections Academy. Barry felt that the transition was simple because his teachers helped him find the best option for his busy schedule.
Taking an Pearson Online Academy summer course was a perfect fit for Barry. Even though he only had two weeks to complete the course due to his intense dance schedule, he signed up for a two-and-a-half-month class—but he was able to successfully finish the entire summer semester in just two weeks by working closely with his teacher and completing seven lessons a day! Barry was assisting his dance teachers, teaching dance classes, and performing with a dance company for a show called Project Flux while enrolled at Pearson Online Academy .
Barry appreciated the availability of the teacher, as this made it easy for him to understand the material. When Barry called with questions, his teacher would always answer promptly. The teacher was very personal and approachable. Barry also found out that he and his teacher were from the same city, so they had an extra connection.
Taking summer courses at a high-quality private virtual school such as Pearson Online Academy can help your student achieve his or her goals, whether those include getting ahead, improving grades, preparing for the upcoming school year, or making up credits. If your student attended summer school with Pearson Online Academy , tell us what you liked best about the experience. We want to hear from you—share your story in the comments!
*AP is a registered trademark of The College Board
Related Posts