Get Reading! 5 Ways Reading Can Improve Your Child's Mental Health 
by Valerie Kirk
4 min to read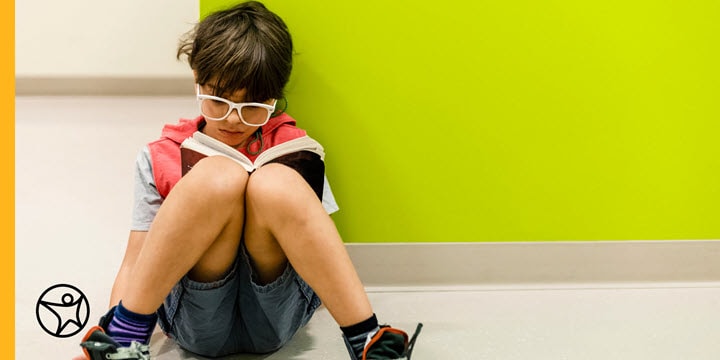 You may know about the many academic benefits of reading, but did you know that reading can improve your child's mental health? Many children and adolescents experience mental health issues as they navigate the changes that come with growing up, including feeling depressed, isolated, and anxious about the future.  
To help your child persevere and work through their feelings, visit your local library or grab a book from your bookshelf! Here are five ways reading can improve your child's mental health, along with book recommendations for students of every age.  
Reading Reduces Depression  
Reading is an escape into a different world, where your child can connect with characters that are on great adventures. Getting lost in a fun story can bring laugh-out-loud moments—and offer a long-lasting boost to your child's mood to help fight off feelings of depression.   
Check out these fun books that will help improve your student's mood: 
Reading Provides a Safe Way to Explore Emotions   
Children can feel a range of emotions as they grow up, which could affect their mental health. Sometimes they may think they are the only people who feel the way they do or who have ever gone through what they are experiencing, which can be isolating. They also may not know how to handle the emotions they are feeling in a positive or constructive way. Books about the emotions they are experiencing help show that they are not alone, and that what they are feeling is perfectly normal. Reading about others' experiences also offers tips on how to work through issues on their own.  
Here are a few titles to help students understand the emotions they may be feeling:  
Reading Helps Students Wind Down Before Bed 
Kids today are bombarded with information—and constantly on the go! Between school, homework, cell phones, and extracurricular activities, it's hard to shut down at night and go to sleep. Students need sleep for their overall well-being. Reading is a great way to calm the mind and relax, which helps students fall asleep. Even 15 minutes of reading each night can help children fall asleep.  
Here are some great books for your student to read before bed:  
Reading Reduces Stress 
Students are experiencing unprecedented levels of stress in recent years, leading to a spike in associated mental health problems, including anxiety. Reading is a great way to escape the issues happening in their lives and gives them an escape into a new world. Reading focuses your mind, taking it off of the issues that are causing stress and anxiety. There is also a study that shows 30 minutes of reading could reduce stress as much as a 30-minute yoga session! 
Here are several titles to help relieve a little stress:  
Reading Helps Children and Adolescents Make Connections 
One of the contributing factors to mental health issues in kids and teens is the feeling of isolation, which was exacerbated during the pandemic. Kids often feel disconnected with friends and struggle maintaining relationships. Reading brings kids into a world where they can feel connected with the characters. It takes them to a place where they feel like they are part of the action. Another benefit of reading is that kids learn the nuances of relationships, which will help them form more meaningful friendships in their daily lives. They develop empathy, a trait that will help them make better connections with friends and classmates. 
Here are some titles to help kids learn about relationships:  
Other Resources to Support Your Student 
Navigating the adolescent years can be hard for both you and your child, but know that you are not alone. Connections Academy® offers a community of parents, staff, and teachers that are invested in supporting your family and ensuring the well-being of your student throughout their educational journey. Find additional support resources on the Connections Academy Resource Hub. 
Remember to grab a book with your child to celebrate National Read a Book Day, National Reading Day, and Read Across America Day. It's good for your mental health!
Related Posts