Gold Medalist Nathan Chen Shares His Experience with Online Learning
byCorissa Hennessey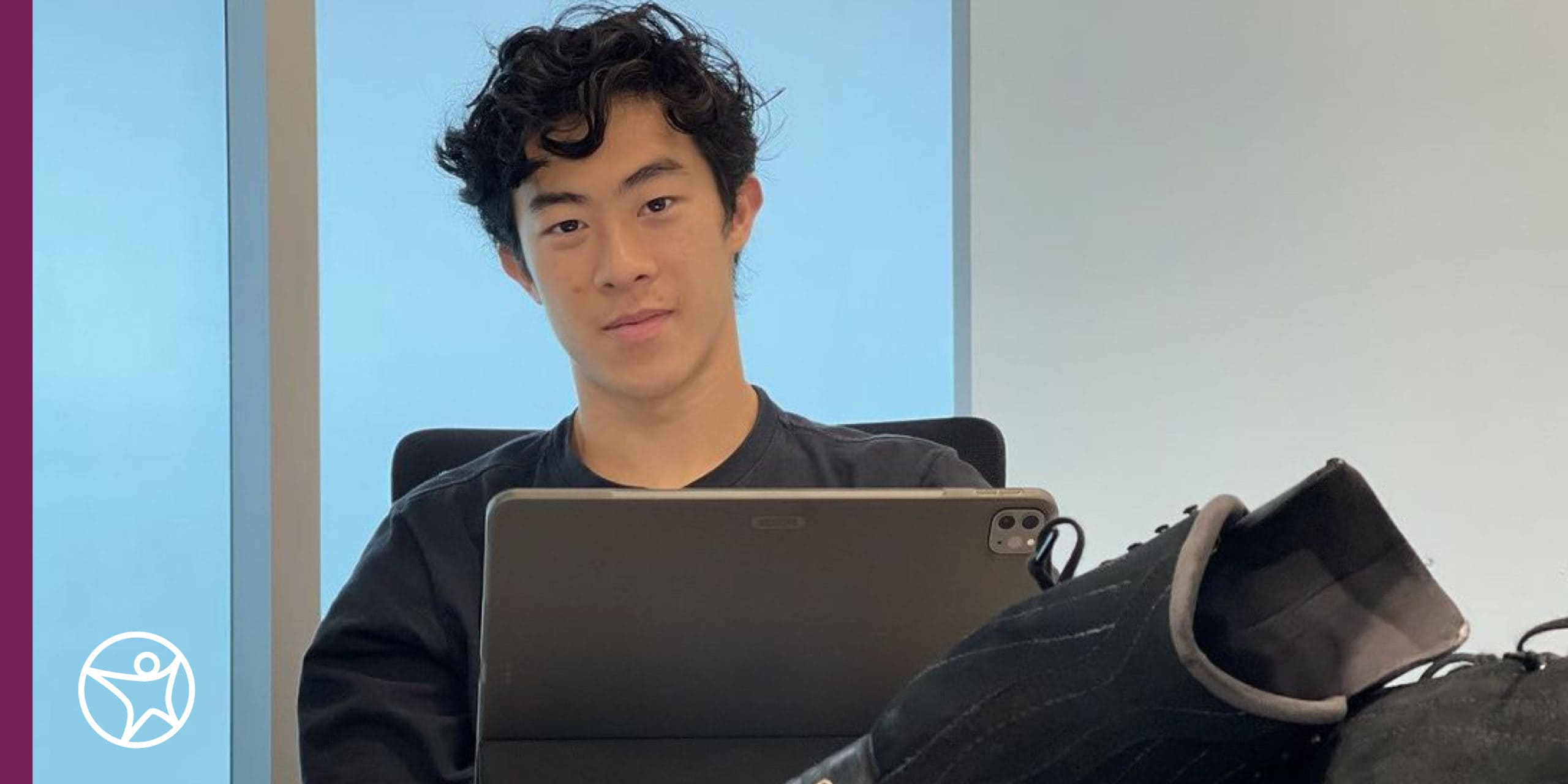 Becoming an Olympian is a long and arduous path for anyone. From rigorous Olympic training schedules to mastering new skills, it takes a lot of time and determination for athletes to reach the world stage. For many Olympic athletes, finding an education program that allows them to train and continue their K–12 education is critical.  
If you tuned in to the Winter Olympic Games this year, you're familiar with American figure skater Nathan Chen, whose unforgettable performance at the Beijing Olympics earned him a gold medal. But what you may not know about Nathan is that he's a graduate of Connections Academy®. Nathan took time out of his schedule to chat with us about his firsthand experiences with online learning and how it helped afford him the time to commit to the sport he loves. 
Nathan Chen's Experience with Online Learning
Nathan first enrolled in Connections Academy in 2013, and he "knew it would be the right fit" for him. Prior to his enrollment at Connections Academy, he attended traditional in-person schooling. When his training schedule became more rigorous, he and his family wanted a schooling option that would allow him to dedicate more time and energy to training while still receiving a world-class education. That's when they discovered Connections Academy.  
Today, Nathan attends Yale University and is expected to graduate in 2024. He credits Connections Academy's online learning approach for preparing him for the rigor and independence in college saying,   
"Connections Academy's platform prepared me really well for the independence needed in college, while still providing the one-to-one support I needed to learn." 
While many have preconceived notions about online learning being easy, Nathan said Connections Academy is "just like any other public school—it has a challenging curriculum and high expectations of its students." 
How Connections Academy Provides Solutions to Unique Challenges
The pandemic created significant barriers to traditional learning, and students, parents, and teachers had to make sudden adjustments, often turning to virtual learning as a solution. At the start of the pandemic, Yale went virtual, and it brought Nathan back to his Connections Academy days that he says taught him how to be resourceful—a skill that he was able to carry over when his college shifted to online.  
"Connections Academy helped me learn to be resourceful and that was a skill that directly carried over as college went online." 
As many traditional schools attempted to adapt during the pandemic, it created a lot of confusion about how online learning works. Online learning does not mean that you do everything on your own or without teacher and peer support.  
In fact, Nathan's experience is a testament to Connections Academy's supportive faculty—he received support and guidance from teachers who were in frequent contact with him through email messages, phone calls, and the live online classroom where he was able to interact with not only with his teachers, but his classmates, too.  
Connections Academy students have many opportunities to socialize through live online classroom sessions, field trips, clubs, activities, and more. Many students also get to do more extracurricular activities, just like Nathan and figure skating. 
"Connections Academy has a great support system of faculty and staff that really catered to the needs of my learning and scheduling. I felt that I could learn at a pace that was individualized for me." 
Connections Academy helped Nathan prepare for college academics and an unexpected pandemic. It also provided a flexible, virtual learning solution for his unique circumstances, including a busy Olympic training schedule.  
"Connections Academy prepared me to be able to balance many different activities at the same time while being able to focus on academics." 
Nathan Chen's Advice to Current Students
1. Budget Your Time.
Between receiving an education, figure skate training, and everything else on his plate, Nathan's experiences have taught him a lot about managing priorities and being resourceful. When it comes to studying, he recommends that students learn skills for budgeting time as things get busier. Learning to budget his time has helped Nathan prioritize his work throughout the day to be more efficient. 
"Connections Academy allows for flexible scheduling, so when you have the time, you can make the most of it."  
2. Be Accountable for Your Work and Ask for Help.
For students entering Connections Academy, Nathan suggests staying on top of deadlines and leaning on your Learning Coach to help you keep track of assignments and upcoming exams. He encourages students to ask for help anytime they need it, enjoy the process of learning, and take breaks from time to time.
3. Communicate Clearly.
Nathan also shared a helpful tip for current students who want to achieve goals and pursue a dream, encouraging students to lean on their support system and be communicative about how they can work together to overcome challenges. 
"Be open in communication. Teachers, parents, coaches, etc., all want the best out of you, so let them know how they can help you." 
About Connections Academy
After reading about Nathan Chen's experience with Connections Academy, you may have some questions of your own. If you're curious about online school, here are a few frequently asked questions (FAQs) along with answers: 
What is Connections Academy, and how does online school work?
Connections Academy schools are full-time, online public schools for students in grades K–12. It means students go to school at home full-time and get all the benefits of a public education, including a close relationship with state-certified teachers and a high-quality curriculum. 
Plus, it's a public school, which means it's free!  
Why choose Connections Academy?
Families choose Connections Academy for many reasons. 
Some families choose Connections Academy because their student needs a flexible schedule like Nathan did to allow time for figure skate training. Others attend Connections Academy because they receive more tailored instruction or are advanced learners and can learn at their own pace, and more. Learn more about the ways that Connections Academy supports all types of students.  
Are parents the teachers, like homeschool?
Connections Academy schools are public schools, so they have state-certified teachers who are specially trained in online instruction. Just like in a traditional school, teachers provide instruction, grade student work, and provide feedback and support. Parents are involved as Learning Coaches and help support student success. 
Still have more questions about Connections Academy and how it works? Check out our FAQs here. Or, take our online quiz to see if virtual school is right for your family.
Related Posts