8 Most Common Questions Parents Ask Teachers about Virtual School
by Beth Werrell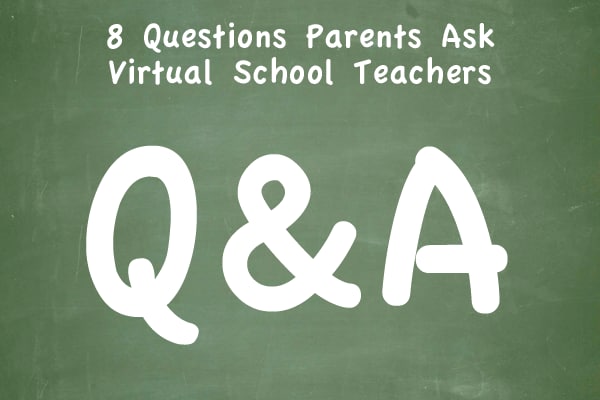 Starting or even considering something new, such as a new virtual school for your child, can be a bit nerve-wracking. If you find yourself with a growing list of questions, don't worry, you're not alone! Many other parents are wondering about the same things.
To help ease your mind, we've compiled a brief Q & A with commonly asked questions teachers receive from parents who are researching this exciting and rewarding way to educate students from home!
Curriculum and Online Work
Q: Is the curriculum Common Core–based?
A: The virtual school curriculum includes language arts/English, math, science, and social studies courses for each grade. The curriculum is adjusted according to state-specific requirements, so if your state has adopted the Common Core State Standards, the curriculum will be adjusted to meet them.

Q: Is all of the schoolwork completed online?
A: The amount of schoolwork completed online depends on the student's grade level. In general, elementary school students mostly complete offline work, with opportunities to use manipulatives and to do other hands-on activities. Middle school students complete a blend of on- and offline work as they transition to being more independent. High school students who have become more independent learners complete mainly online work.
Teacher Availability and Extra Help
Q: How available are teachers for students who may need extra help? How much individual time, if any, is given to the student?
A: Online teachers are dedicated to helping each student succeed. For example, when a student begins online school with Connections Academy, teachers will conduct an assessment to evaluate strengths and weaknesses, and better get to know the student's learning style. By doing this, teachers can identify gaps in a child's knowledge or skills and help fill them. Teachers also personalize the lesson to fit each student.

Online teachers communicate and check in frequently with students (and their Learning Coaches) through WebMail, phone calls, and real-time online sessions. They can work one-on-one with the student if he or she requests extra help on a particular concept, or provide additional resources and opportunities for practicing skills.
Parental Involvement
Q: How involved is the Learning Coach?
A: In general, we suggest that the Learning Coach base the level of involvement on the student's age and how well he or she is progressing. While young students get accustomed to virtual school and begin to develop academic skills, they will most likely need more hands-on help to remain motivated. When students reach the high school level with more knowledge and confidence, the Learning Coach can step back a bit and take an advisory role.
Transferring Schools
Q: Can the credits from my student's current school transfer to online school? If so, would she have to start at the beginning of the school year or jump in whenever needed?
A: The academic placement team will work with your family during the enrollment/transition process to evaluate your student's previous schooling and determine appropriate grade level and courses for his or her needs. During the school year, high school students work with school counselors to ensure that they are on track for graduating on schedule.

Starting on time at the beginning of a new school year or semester is ideal because it gives students the best opportunity to succeed. Although catching up on missed schoolwork can be challenging, many online schools do accept midyear enrollees. Make sure to check with the school that you're looking into for specific cutoff dates!
Individualized Education Program (IEP)
Q: Does Connections Academy enroll students with IEPs? How does an IEP work with online education?
A: Students who have IEPs are welcome to join the virtual school community and may benefit from the personalized approach to learning. During the enrollment process, the special education team will evaluate a student's IEP to determine how his or her needs can be supported well in a virtual environment. Online teachers also collaborate with the student's special education teachers to help establish an academic plan that will be most beneficial for the success of the student.
Pacing and Advanced Learners
Q: In an online school, is more time taken to learn the curriculum than in traditional schools?
A: One of the pros about online school is that students have more flexibility to work at a pace that suits their needs and learning style, as long as they stay on track for completing course assignments by the end of the year. If needed, they can take additional time to better learn a specific concept. Similarly, if the student grasps the material quickly, he or she has the option to move on without waiting for classmates to catch up.

Since online teachers are not limited by a classroom bell, they may have the opportunity to take more time to explain the course material.

Q: Can a student be accelerated if he or she is advanced?
A: A high-quality online school like Connections Academy will offer many opportunities for qualified students to accelerate learning, including Honors, Advanced Placement®, and Gifted and Talented courses. These courses provide advanced learners with the proper amount of challenge, complexity, and depth to further develop their academic strengths and unique skills, and reach their full potential.

If the student is making great progress and doing exceptionally well, the teacher and Learning Coach may decide that he or she is ready to advance to a higher grade level.
With more knowledge about virtual school, you'll feel less anxious and experience a smoother transition.
Editor's Note: This blog post was updated on July 26, 2016 to reflect that Learning Coach tasks may vary by state.
Related Posts