6 Steps to Preparing for Virtual School Lessons
by Beth Werrell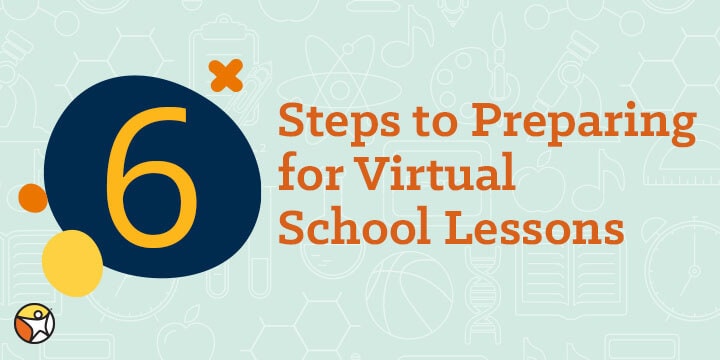 Be prepared! It's the Boy Scout motto, but it should also be the pledge of every new Learning Coach. Taking some time to organize for virtual school lessons will help you get your thoughts together and enable you to facilitate the school day smoothly. Planning ahead will also give you the opportunity to think about ways to enhance and individualize your child's learning experience. Additionally, getting prepared is a proactive step you can take to help ease the (thankfully temporary!) anxiety that's fairly common among new Learning Coaches.
Although it is key to virtual school success, preparation shouldn't require lengthy amounts of time each day. Some Learning Coaches set aside an hour or two each weekend to prepare for the entire week. (This may take a bit longer when starting out—or if you have multiple children.) Others prepare for the following day while their students are working independently. The ideas below should help you get a handle on how to get ready for a great day of online learning.
1. Preview each lesson.
Open your student's lesson plan or course guide and skim through it. Be sure to read the lesson objectives so you understand what your child needs to learn. You may want to take a few notes to jog your memory later. If there's something you don't understand, be sure to consult the teacher.
2. Consider your child's abilities.
For lessons in your student's areas of strength, consider whether additional challenge(opens in a new tab) will be needed. If the lesson relates to an area of weakness, will your child need additional assistance to master the concepts? If more practice or enrichment is required, look for optional learning activities in the course guide, or contact your child's teacher.
3. Determine your level of involvement.
Will instruction be provided in the virtual classroom(opens in a new tab)? Will your student be able to work independently, or will you need to guide your child through the lesson? Be prepared to adjust your personal schedule for the day to provide the amount of hands-on support your child requires, at the time he or she needs it.
4. Prepare materials.
Print any rubrics, worksheets, practice problems, or other handouts your child will need. Gather the required materials, such as texts, rulers, DVDs, index cards, etc. Note any supplies that are needed or must be replenished soon, and add them to your shopping list along with a deadline. Consider if supplemental resources would be helpful for the lesson, and, if so, gather these as well.
5. Estimate the time needed.
Consider how long it will take for your child to complete the lesson and learning activities. You may need to adjust your child's schedule to accommodate a longer or more challenging lesson. If you suspect your child will whiz through a particular lesson, be sure to have materials handy so he or she can move on to the next lesson or to another subject.
6. Make a checklist.
Some virtual schools provide a schedule(opens in a new tab) for each day so your child can mark what he or she has completed. If your students share a computer, you may prefer to create a daily checklist of assignments on paper. List the specifics of each assignment, such as "Read pages 50–60 in science text and answer questions 3 and 5," or "Complete social studies lesson 5." Having a complete list will enable your child to move on to the next lesson if he or she finishes faster than you anticipate!
Alexander Graham Bell once said, "Before anything else, preparation is the key to success," and look how much he achieved! By following his great advice, and incorporating these six suggestions into your life as a Learning Coach, you will be well on your way toward launching your student into this outstanding new way of learning.
Related Posts